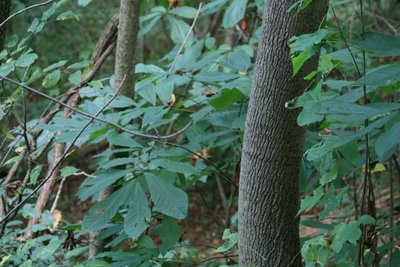 I'll admit it. As a card-carrying denizen of Appalachia, the first pawpaw I ever picked and ate was this year. I can tell you it will not be the last.
The pawpaw (
Asimina triloba)
is an ancient tree in the Annonaceae (Custard-Apple) family that I had known only as an understory shrub, a gangly, thin-trunked thing that holds its huge ovate leaves in fives and sixes and rarely fruits.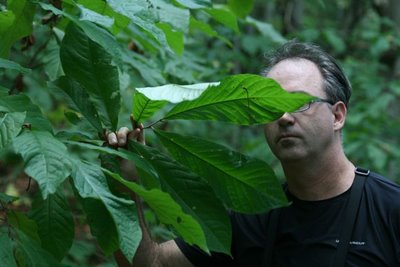 On a recent trip along the bike trail from Athens to Nelsonville, I finally saw the Real Pawpaw. (Above, the Real PaPaw, hiding behind a pawpaw). Juvenile leaves, called shade leaves, are enormous; mature trees dial leaf size back to something more normal. Leaf size is influenced in large part by the amount of sunlight reaching the tree. Less sunlight stimulates the tree to put out huge, thin leaves in an attempt to gather as much light as possible.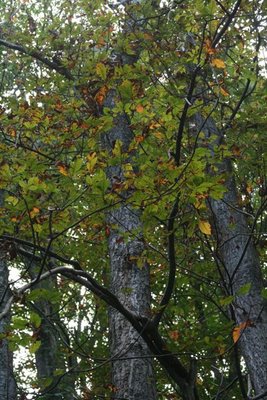 These mature pawpaws were enormous trees stretching up into the canopy, their bark flaked with big ovoid defoliating patches;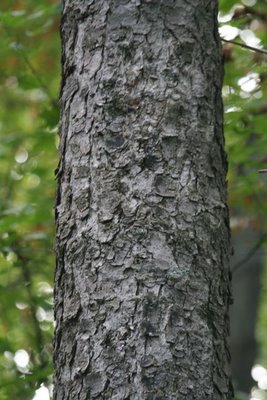 their tired autumnal leaves going burnt brown. Huge trees with green fruit the size of new potatoes hanging beneath the leaves. Real pawpaws.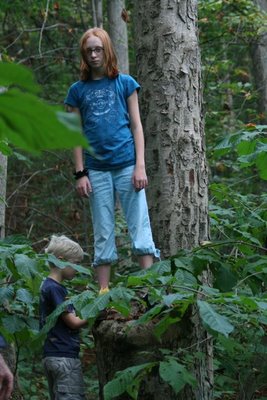 I am happy to say that I had a handsome caveman with me, who was only too happy to hurl some branchtes at the trees to try to dislodge the still-green fruit.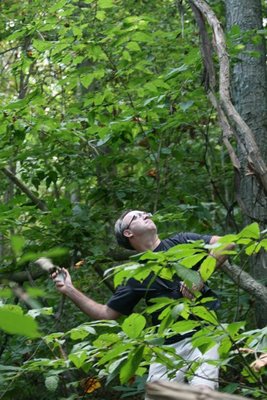 Ragnar want pawpaw!
Urrf!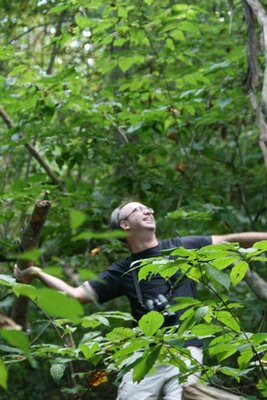 We'd been told by a friendly biker with his pockets full of pawpaws that we could shake the trees to dislodge the fruit, take them home, and wait for them to ripen like bananas on our windowsill. Clearly, he had been shaking the smaller trees all afternoon, so it was thin pickings for our little band of hungry gatherers. And over a certain DBH (diameter at breast height), you don't shake a pawpaw tree. We worked at it for awhile, though. It was hard to believe the rock-hard green ovoids would ever yield delicious flesh, but we shook a bunch of small trees and hurled sticks at big ones until we had about a dozen pawpaws in our backpack.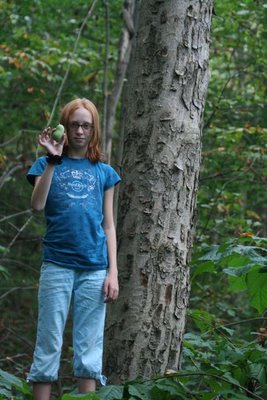 It's been a week now, and the aroma of ripe pawpaws fills the kitchen. Peeling the fruit yields a hopeful orangey flesh.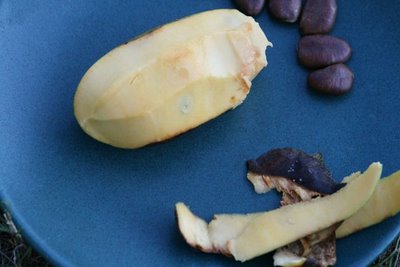 I was shocked upon cutting into my first fruit to find it stuffed so full of seeds that it was barely a fruit. It was more of a soft capsule of seeds, cushioned by flesh. What in the world?? What could all the fuss be about, when it's more seeds than fruit? This'n had nine seeds the size of Fordhook limas inside. Phew!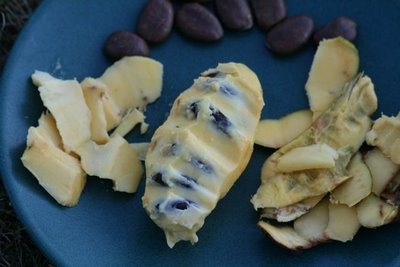 It was only four inches long. That's a lotta seeds. Edible slices to the left, peels to the right, seeds from a prior conquest above.
What little flesh was there, though, was so succulent, so richly redolent of mango, banana, and pineapple, that I found myself tearing off little bits of it and stuffing them into my mouth. With considerable difficulty, I convinced Liam and Phoebe to at least try it, and immediately found myself fighting them for the last scraps. Kids know good stuff when they taste it.
So I thought about pawpaws in a new way.
What does the pawpaw want?
It wants someone or something to disperse those enormous seeds.
How does it accomplish that goal?
It cushions the seeds in a fruity pericarp so delicious, so sticky, so irresistible, that medium to large-sized mammals wolf it down, and swallow the huge, slick seeds in the process.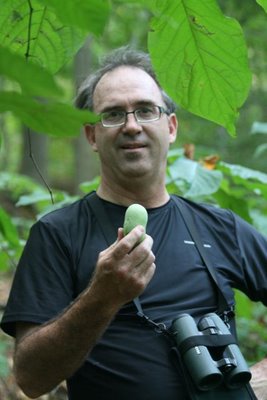 Exhibit A. Large mammal, or pawpaw dispersal agent.
I came close to swallowing two pawpaw seeds in my quest to separate them from the delicious flesh of the fruit. I'm sure they'd have passed along just fine, despite their size, for they're as slick as Chinese chestnuts. However, I'm not sure that our septic tank is precisely where the pawpaw hopes they will end up. For that, it prefers to dupe raccoons, opossums, deer, coyotes and foxes, who will gorge on the sweet fruit and poop out its seeds somewhere else the next night. This photo, from January. I'm not at all sure where the coon found pawpaws in January; ours get ripe in late September. Someday I may solve that particular mystery.** But there are so many mysteries, I usually have to work on a bunch at once.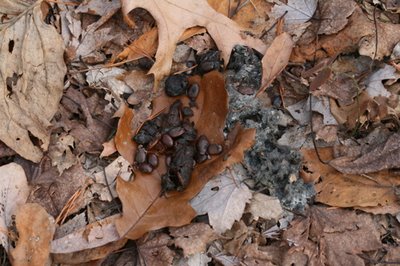 Large mammal gobbles fruit, ingests seeds, takes them elsewhere, plants them in a dollop of rich fertilizer. That is what the pawpaw wants.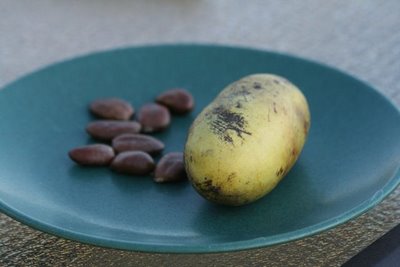 And what I want is more pawpaws.
**Since writing the post above, I have made further observations on pawpaws. And I can say, with a sample size of three large mammals who have been repeatedly polled about what my mother would refer to as "regularity," that the pawpaw apparently wants said mammals to carry its seeds a long, long way before depositing them. One would think that stuffing oneself on a sweet, delicious, pulpy fruit would have a swift and possibly explosive impact. This appears not to be the case. Bananas are the only other fruit I can think of (with the possible exception of persimmons) that have a binding effect. Perhaps the folk name "Missouri banana" describes more than flavor.
Buhhhmmer.
Oh. My God. That poor, poor January raccoon.