It is time for a Baker fix, don't you think? Chet Baker went to see Dr. Lutz not long ago for his vaccinations, in arrears since (gasp!) May. I had kind of a busy May. So along about early October I loaded Chet in the car for the drive to town. Chet Baker loves to go to the vet's office. He loves the vet techs and most of all he loves Dr. Lutz.
Chet whiles away the waiting time in the exam room by watching out the window, where dogs being boarded are taken for walks.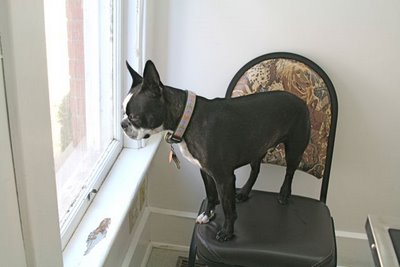 Mether. I see an animal. I am not sure if it is a cat or a skunk.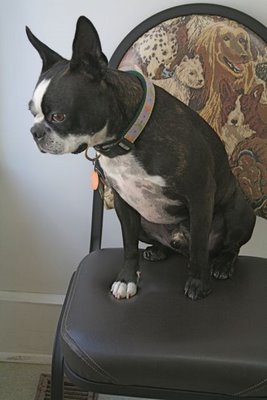 It cannot be a dog.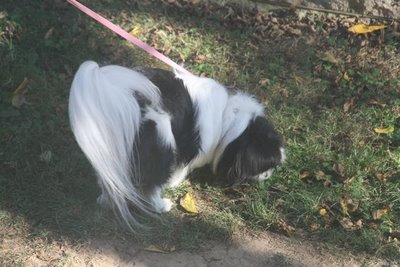 Despite the flowing hair, Chet Baker, that is a dog. Maybe it is a Shih Tzu. I'm sure my readers will tell me if it isn't. Mether is German. So she is a short-haired dog sort of person, not up on the dustmoppy breeds.
That is a dog?? Get out of town.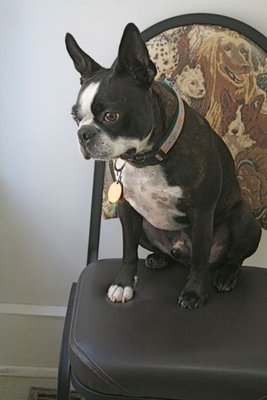 It looks like it needs to be chased, chased very fast until it runs up a tree or threatens to
spray me.
Let's not do
that
again, Chet Baker.
Mether. I hear someone just outside the door. Maybe it is Dr. Lutz.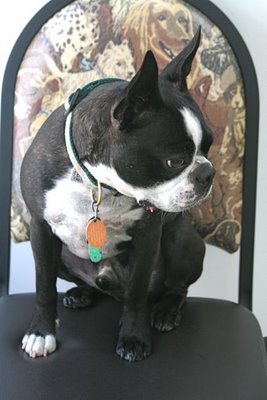 It is. It is! It is Dr. Lutz! Oh, boy!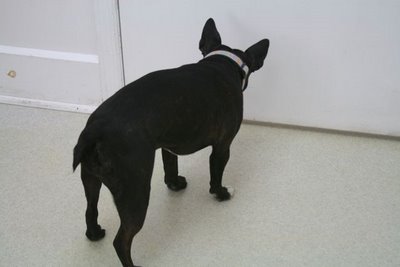 I always forget how much I hate this table she puts me up on.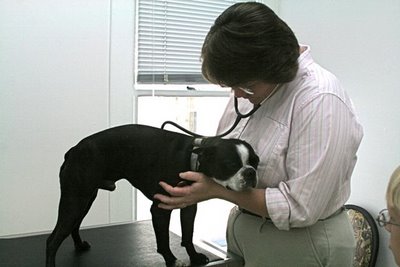 But I will stay perfectly still for her, because she is my favorite.
She also has very good taste in dog posters.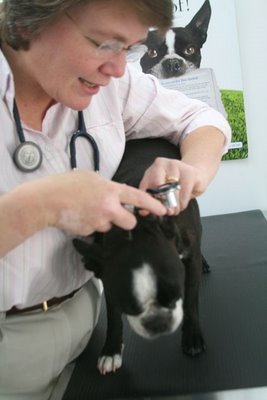 My forehead blaze is a little wider, but this handsome doggeh could almost be me.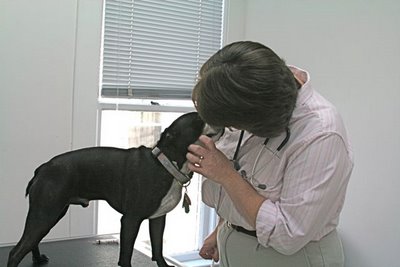 Even though this exam table gives me doggeh shrinkage, I still love my Dr. Lutz.
As long as we're talking Bostons, take a look at this logo for The Ohio Tuition Trust Authority.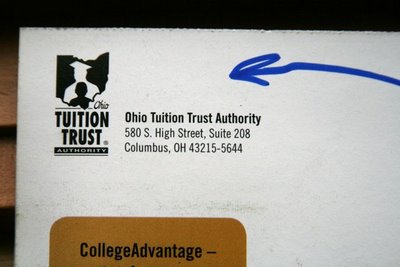 Bill of the Birds spotted this first and drew the blue arrow. I saw the logo before I saw his note, which read, "Is it just me, or does this logo look like a Boston terrier?" I grabbed the letter eagerly before realizing that it wasn't from the Dog Poster Talent Scouts, looking for my puppeh.