One of the reasons I love fall birding more than any other season is the preponderance of young birds passing through. Not only are they in confusing plumages, made to order for a Science Chimp to puzzle over, but they do the neatest things. Having raised so many young birds, I understand that a big part of learning what to eat is trying everything at least once.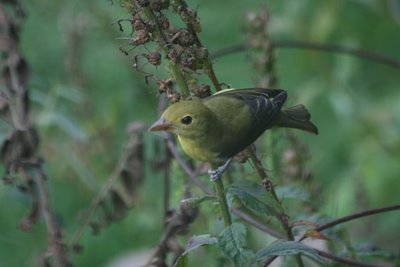 So when an immature scarlet tanager landed on the spent cardinal flower stalks and began prying at the round seed capsules, I watched with great interest. Knowing that lobelia is poisonous, at least to mammals, I was intrigued. Birds generally "know" that stuff. How, I have no clue.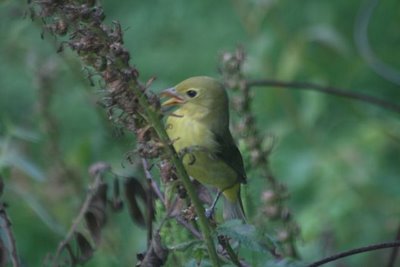 He (his black wings gave away his sex, even at this tender age) twisted and pried, but the tanager failed to dislodge a capsule. Wonder what he'd have done had he succeeded? Swallowed it down? Knowing tanagers, he probably would have masticated it with that stout bill to see how it tasted first.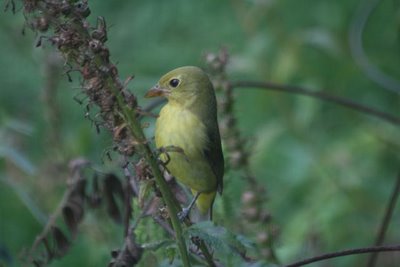 Hmm. Not very fruity.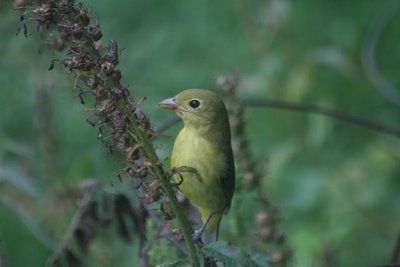 Bleh, in fact. Not food. Next?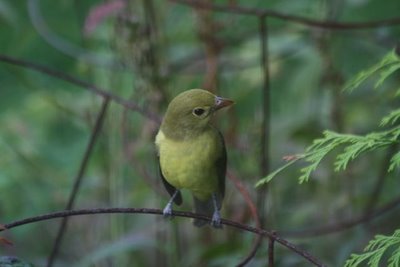 I love his little blue feet in this shot. Cute undertoe.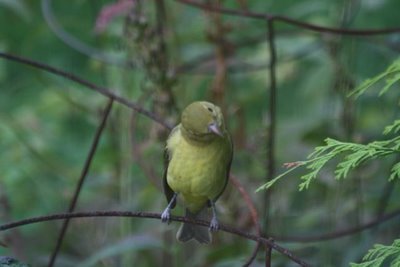 Cuter yet. He's lookin' for bugs now, about 5' from my lens, under the studio window. Wonder what he'll come up with?
Next: Eek! What's he got?