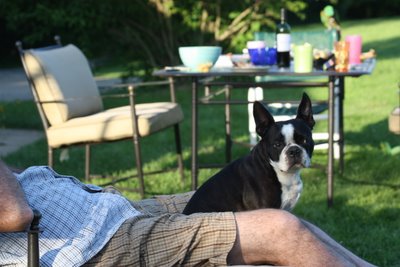 Chet takes the evening air while Charlie preens on a chair, the rubble of dinner all around.
This is a love letter to July, with a p.s. to June, the most beautiful Ohio June and July I can ever remember, with warm days and clean blue skies and evenings whose slanting light and cool air bring me to my knees. Star-sprinkled nights and dewy grass and mornings cool enough for sleeves. I know that New England has been drowning in rain; I know that the deep South has been broiling, but somehow the weather gods have grinned on Ohio. I know it will all end in a hot, humid flop but until then every single day is a gift.
The days are heartbreakingly beautiful, but it's the evenings I live for, when Bill comes home and we flop exhausted into our lawn chairs and breathe and breath, deep gulps, rinsing our lungs of the dross of our days.
We haul everything outside for dinner, and last night when I had the screen door propped open we let a hummingbird in by accident and Phoebe caught it a little shakily but expertly as it buzzed against a window, my bird-saving understudy. Even with all the carrying out and the hummingbirds flying in it's always worth it to eat our garden lettuce, peas, beans and tomatoes against a backdrop of golden sun and indigo bunting song. We listen for the yellowthroat and the scarlet tanager, the wood thrush and as evening creeps on, the whip-poor-will.
We watch Phoebe and Liam run and ride their bikes, roll and chortle and scream, and one of us always gets up to play with them, and it's not me.
The lightning bugs come out and when there are as many as there are stars in the sky we know it's time to go in.
And we feel blessed.