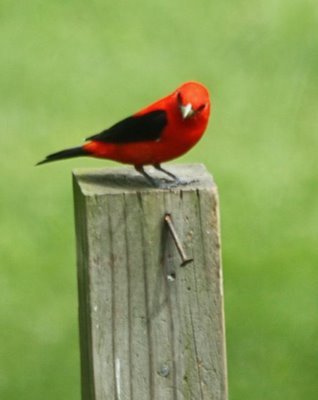 This is a post about a scarlet tanager settin' on a post.
The post stands outside my studio window, and I can't remember why we put it up. Maybe to hang things off'n. I recollect a hanging basket on that nail there.
On this fine day there is something sitting on the post that's hard to miss. He seems to be comparing his reds to those of the geraniums.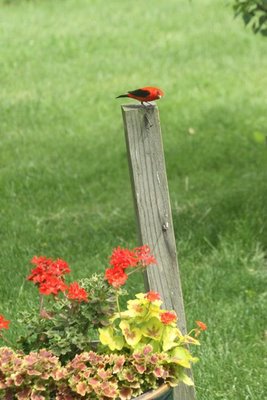 In truth, he's considering a bath.
I have just cleaned the Spa and since he keeps an eye on it and on me, I know he'll be around soon after I put away the Comet and the scrub brush.
If I had silken plumage the color of a ripe jalapeno, I'd be fussy about where I bathed, too.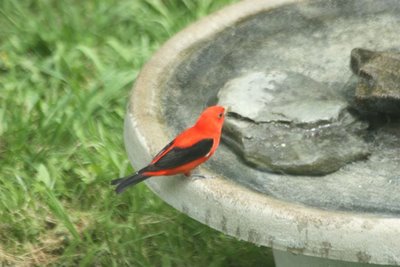 Inside, I am hyperventilating, hoping to catch a few more exposures of him with the red gerania.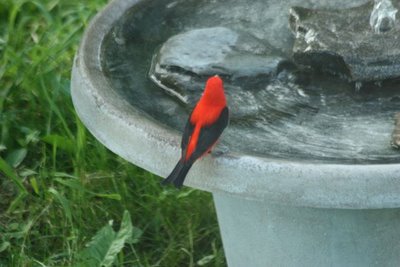 I am not disappointed. He shuttles between the post and the Spa, perching, preening, ruffling, then diving back in.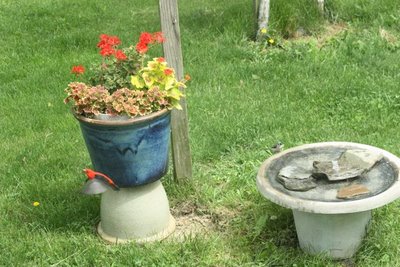 He is a rocket, a smooth scarlet packet of beauty. And this bubbly Bird Spa has lured him out of his forest fastnesses.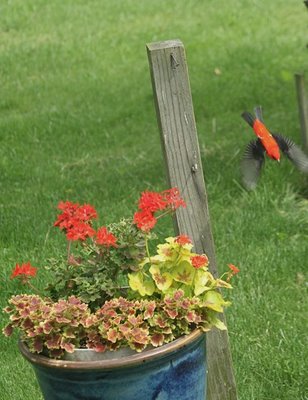 Well, that, and a scrub brush and some Comet. Never think that the birds don't appreciate the many things, big and small, we do to make them happy.