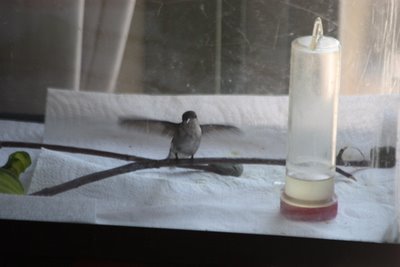 The injured hummingbird was feeding herself a much more wholesome preparation of Nektar-Plus by Tuesday
afternoon, and when I saw her hobble over to the feeder and insert her bill for the first time, I smiled and said, "You can stay as long as you need to, as long as you can do that."
She tried to fly, little buzzing sorties against the tank walls, and as she fussed it became clear that she had problems beyond simple starvation and exhaustion. Her head tilted to the right, and when she tired, she wound up in a heap again, tail spread, wings out, lying on her belly. It would be awhile before I'd know if she'd be releasable.

She was to spend nine days fretting in her tank, so excitable that I had to keep her in the back bedroom during the day lest she buzz and buzz herself to exhaustion. Her injury was a concussion with brain swelling, probably from banging her head on a ceiling while trying to find a way out of the chemical plant. She had trouble using her right foot, and her head canted well over to the right.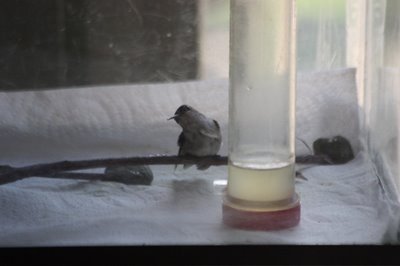 But the tilt lessened day by day, and when she was able to hold it straight most of the time, she graduated to the soft nylon flight tent that I've used for several other hummingbirds and most notably for six chimney swifts and a pair of orphaned phoebes. Available from Campmor, 17 x 19 x 7', and intended to keep mosquitoes and flies off the picnic site, It's the best $100 I've ever spent.
She was very happy to have more space, and happiest of all to see the pots of flowers I had moved into the tent before releasing her.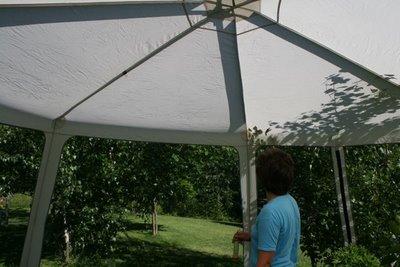 You can see her hovering right over my head just after release. I haven't even hung up her feeder yet.

She took right to the Million Bells petunias, the blue Laurentia, my peach hibiscus named Mary Alice, and the upright fuchsia called Gartenmeister. When she'd drained them of nectar, she came back for her Nektar-Plus.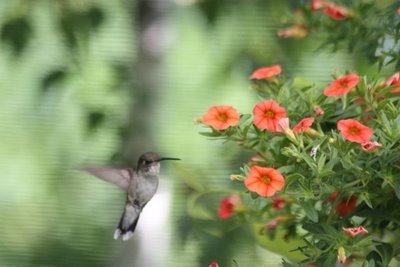 Here, Phoebe and Liam wait excitedly for the moment of release. First we must zip the sides closed!