Recently, I joined the
Nature Blog Network.
It's a consortium of nature bloggers, the brainchild of the estimable Mike Bergin of
10,000 Birds
. It's the first such group I've ever joined. I live under a cyber-rock, if you haven't noticed by now. When memes or awards go around, and people are kind enough to tap me, it's like throwing that meme or award into some kind of black hole. The meme stops here. I am sorry. So I don't know nothin' about webrings or chatrooms or guilds, and I kind of like it like that, to be truthful. Picture me in a little lace cap, flailing my apron.
Anyway, the Nature Blog Network's central concept is to get all these good blogs in front of other bloggers, and thereby get them read by more people. It's easy to join, even for a Luddite like me. Just click on the link! I salute you, Mike Bergin. It's a noble goal. There are so many people putting the good stuff out for free every day. It blows my mind. I could easily spend all day every day reading blogs, but I don't, because I have to like, do a lot of other stuff, and somehow squeeze a decent post out 5 days a week. It's the same reason I don't watch TV,
except for American Idol.
A girl has her needs.
So imagine my giddy and totally overblown delight when my blog shot to #1 on the Nature Blog Network for a shining day, meaning it was getting the most hits of any of the blogs
so far signed up
. I even displaced Mike. Oh! The ecstasy! So I got all uppity and started thinking I was really something. But it was short-lived, because then some Real Blogs joined the network, and smooshed me back down to #7, where I struggle to stay. I don't know how these blogs get all those readers. 10,ooo page hits a day? Their writers probably do not live under rocks. They probably pass around memes and awards and read everybody else's blog and comment like crazy and do all those nice-person things I avoid. They probably lead upright, wholesome lives and visit shut-ins, delivering casseroles. They probably know all about webrings and chatrooms and Wiccan Web practices I am too incurious to investigate. I know when I'm beat. Visiting the Nature Blog Network for me now is an exercise in much-needed humility. But there's more.
In that narrow window when I was bouncing around between #1 and 2, tromping all over the other Nature Blog Network members, and loving every minute of it, someone posted the following review of my blog:
Sometimes some great bird photos and commentary, but more often lots of personal stuff about Julie's farm, kids, and especially her pet dog.
Pause to reflect. Hmmm. All that is true. Sometimes I get a decent bird photo. I'm not a bird photographer, but if a monkey bangs on a typewriter long enough...Sometimes I write something interesting enough to spark some discussion. Sometimes. But more often...uh-oh. Lots of personal stuff about my farm (minus the chickens and cows, I guess), my kids, and especially my pet dog.
One of the completely ridiculous things about tending a blog, and its resultant Web presence, is getting caught up in rankings and hit counters and numbers of comments and, in some strange bit of alchemy, turning all that in your mind into some real assessment of your personal worth. So I read that review with a small snort, and it still makes me laugh every time I read it. There's something about the words, "especially her pet dog" that sound so...I dunno...like maybe the reviewer doesn't exactly dig my potatoes. Like, just don't bother with this one. It's a thinly disguised--errrp---mommypetblog.
So, like the craven, groveling person that I truly am, I scrambled around and posted a whole bunch of my less crappy bird photos and tried to think up some great commentary. (Love me! Love me! I don't know who you are, Anonymous Reviewer, but maybe you'll like THIS?? or THIS?? Wait! What if I paint a huge bird picture and tell you all about it? Will you like THAT??) I was like Sally Field, accepting her Oscar. "You love me! You truly do love me!"
(Minus, of course, the Oscar, and the uh, love.)
Finally, I admitted to myself that it's true. I'm not a bird photographer, and I don't actually aspire to be. If I took fabulous photos of birds, I'd probably stop painting them. I need to keep painting birds.
I do like taking pictures of birds so I can share them with you. I like writing about birds, but there are too many other interesting things in the world to focus solely on feathers.
I like writing about my kids, especially as they discover the natural world. Except for a couple of lapses in which I gave too much information about their effluvia, I don't think I've crossed the line into mommyblogging.
I like taking pictures of Chet Baker, because it is obvious to me that you, my admittedly small but growing bunch of regular readers, enjoy seeing him and reading about his adventures.
It's true. What you're gonna get here more often is
lots of personal stuff about my farm, kids, and especially my pet dog.


And so I return to my roots.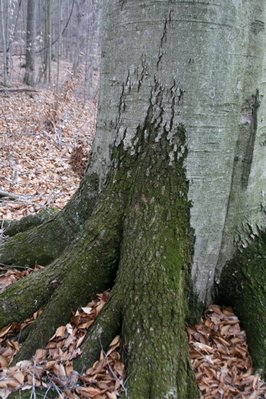 Some of the beeches on the bit of forest I've been walking lately are old enough to wear pants. Cool how the bark looks like any other tree's on this beech's pants.
A bit of Boston terrier trivia: The breed is an American original, said to be the product of a cross between a white rat terrier (an extinct breed) and a bulldog. I see elements of both personalities in Chet Baker. He's got that kind of kooky terrier energy, that go-for-it nature that I love (and, in my own flabby way, would like to think I share). The energy is balanced by the bulldog's phlegmatic, comfy, loving nature, and is most often expressed when Baker flops down and sleeps for 12 hours straight, waking up only to get snorgled or move his lazy carcass to track the puddle of sun on the floor.
On a recent walk on our new ground, I stopped to marvel at a beech tree that was little more than a shell, with some pretty vivacious looking sprouts miraculously emerging from the rotted, hollow trunk. Chet Baker immediately sensed its critter-housing potential, and set about exploring it as only a nutty Boston terrier can. He vanished. I could hear snorfling and scratching, but Baker had been engulfed by the tree.
Clearly, he smelled coon and squirrel in the rotted hulk. There had to be a way up in there.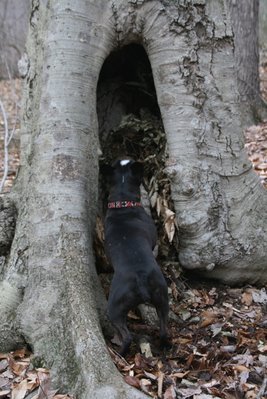 Using his rocket-propelled hinders, Baker launched himself up into the heart of the beech.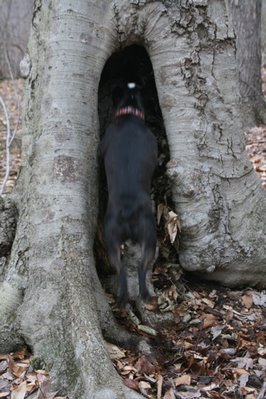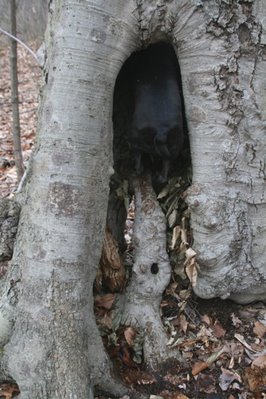 Meanwhile, I went around to the other side to peek in a rotted hole, and saw this: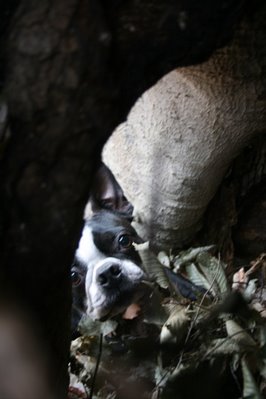 I could see the wheels turning. Chet came around to my side and tried out that entrance, too. It looked like a breech birth.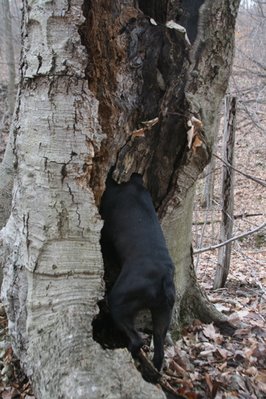 So I ran around to the front of the tree and got this image of his soft, ottery throat as he gazed up into the hollow trunk: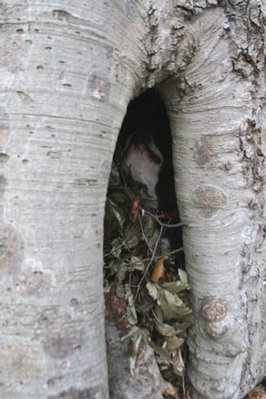 What a little goofball. Even though it's blurry, this is my favorite shot from the session: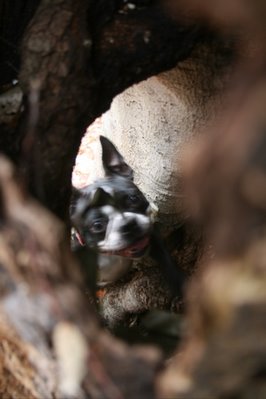 That, my friends, is the terrier in the Boston terrier. Because I am a primitive blogger, and my first attempt to embed a video will likely end in failure, I will refer you to a link for a video of the anthem, "
God Loves a Terrier
," sung by Eugene Levy and Catherine O'Hara, from
Best in Show
, a movie I would have been perfect for. I could step right into Catherine O'Hara's role without even STUDYING. Songs like this get sung in our kitchen every day! I am a Crazy Dog Lady. Christopher Guest, are you listening?
Dang! I think I figured out how to embed a video! It is my valentine to you, gentle readers.