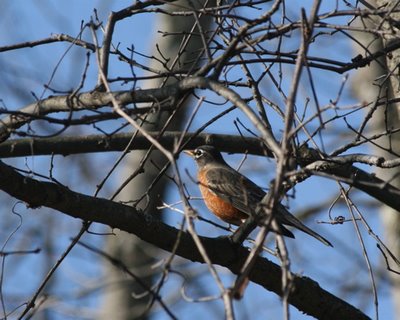 Robins have never left our area this winter. It's been a long time since the robins hung around all winter. I often wonder if they know something we don't about the relative severity of a winter. Then I remember that it's all about food. Although most of Ohio was in a bad drought last summer, we got a bunch of small showers that made it less severe in our area. As a result, there's still a lot of fruit in the woods. So there are a lot of robins and waxwings, flickers and hermit thrushes. About ten days ago, I was shocked to see a brown thrasher hurtle across the driveway in front of me. And yesterday, there was a jay-sized bird tossing sunflower and millet along with the jays--but entirely the wrong color.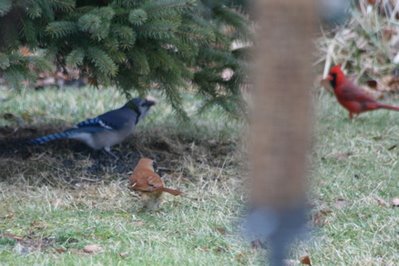 It was our first winter brown thrasher. Thrashers usually migrate to the southern US in winter, but a few hang around here and there. Seeing such wonders, I tend not to think of some freaky trend due to global warming. I think about fruit crops.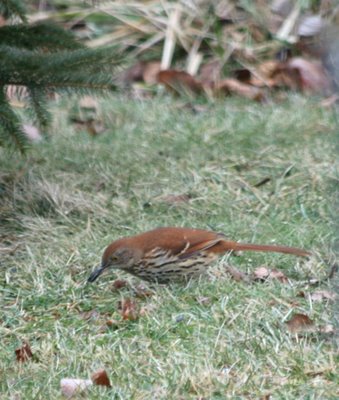 What a fine sight, one I usually have to wait until March 16-28 to see. When the thrasher sings, though, spring is truly here. This one has been silent.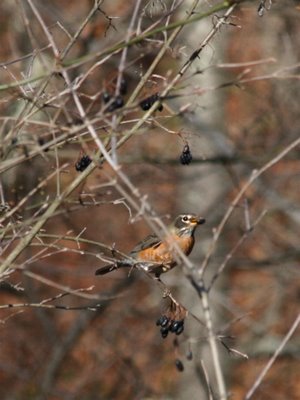 I see robins every time I walk, but on this sunny walk I was lucky enough to see them foraging in a viburnum. I may be mistaken, but I think this is
Viburnum lentago,
 or nannyberry. Thanks to Tom from Ohio and Tom from Wisconsin (if I ever get a Science Chimp, I'll name him Tom) for steering me in the right direction on that ID!   It's a big bush, maybe 12 feet high, and I could tell it was a viburnum by its opposite branches. And that was about as far as I got. But with guidance from the Toms and the gorgeous web site of the
Robert W. Freckmann Herbarium
at the University of Wisconsin, I think we've got it nailed down.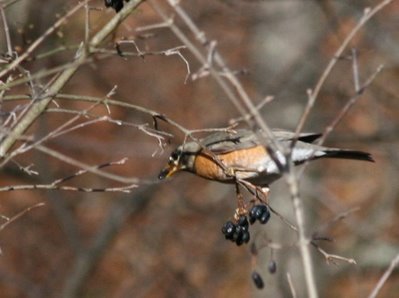 They were leaning over, plucking the big black fruits and choking them down, giggling and whisper-singing like robins do in February.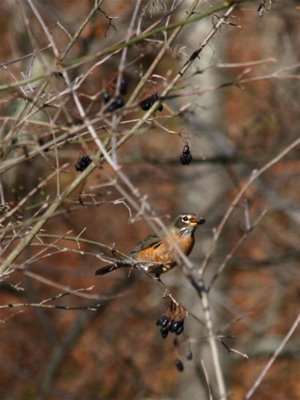 Robins tend to migrate in same-sex flocks, at different times from each other. I love early spring, when the all-male flocks come through. It must be nice for the birds to meet up again on the breeding ground after having hen and bachelor parties all winter. These were mostly females, with their paler breasts, laced with white feather tips. But there was a handsome black-headed male in among them, too. What a thrilling bird the robin is. I have never once been tempted to take robins for granted. I always look and marvel at these hearty big thrushes, and I'm thankful that they are so common. What a great bird, to be so common. That it has one of the most simply eloquent songs of all is just perfection on perfection. George Sutton said his favorite song of all was that of a robin, right after a thundershower. At the risk of being a copycat, me too, me too.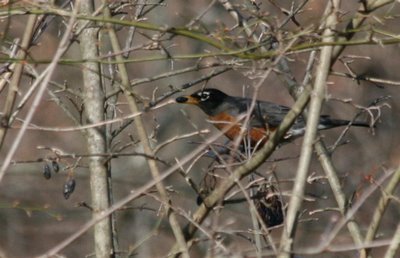 Other things seen on our sunny walk: The Slingshot Tree (Phoebe's name). Maybe Giant John could use it. I'd love to know what happened to this tree, to shape it so.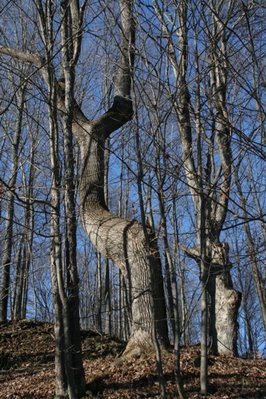 As we made our way home along Dalzell Road, we paused to rest in the fragrant needles under some white pines. Phoebe and Chet watched for squirrels and the infrequent cars that came along (hence Chet's unaccustomed confinement to a leash). In six four-mile hikes, he's only taken off after deer once, and he came right back. When we're on unfamiliar ground, Chet sticks close. The more walks we take, the farther he ranges, learning things untold about our route. It's good to have a dog you can trust to come back. But you'll never be able to trust him to come back unless you make that leap to trust him in the first place. Just in case, I carry acorn caps in my pockets. A pair of thumbs on an acorn cap makes an ear-piercing whistle that always brings Chet hustling. The leash only comes out when there are dogs, cars or cattle near.
Liam sacked out in the sweet carpet of needles, little lizardboy.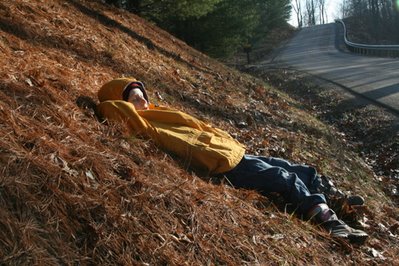 Everyone who drove by stared at us. It's very unusual to see families out walking in this area. Everyone assumes there must be something wrong, for people to be on foot. So we give them bright smiles and happy waves to tell them there's no need to stop. Nothing to see here. Move along, move along.
I spent some time contemplating my Smartwool socks--the only sock worth wearing--and Keen Cortina Mid boots. After only a year and a half, I had worn the soles almost completely smooth, rendering these fine boots useless for the steep slopes along which I scramble. The uppers, made of split leather, aren't anywhere near wearing out; they're just getting broken in. Keen's not making this model any more. To my chagrin, all of Keen's new hiking boots seem to be Goretexy creations, still nice, but too sneakerlike for the harsh handling I give them. So, for about half the price of a new pair, I had them resoled at Cobbler John's in town. They ground what was left of the soles off them, and glued on new Vibram soles, with good luggy treads. Kind of like getting a crown for a worn tooth. Now I have grip again. I need grip, like I need robins, and winter walks in the infrequent sun.