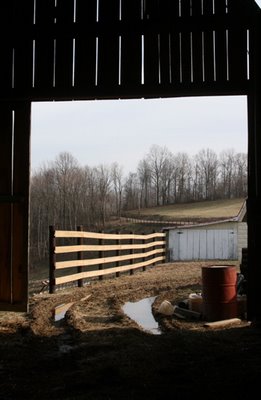 Lines, and a bit of captured sky, a perfect red oil drum for color. I wheel around and see the scene, perfect.
A walk needs a destination, I think, even if it loops around and comes back home. As I've shown in previous posts, a restlessness for new ground has set into my soul and I've ranged miles from home, borne only by shanks' mare and my lust for discovery. That quest was richly rewarded when Shila and I came upon an old barn, recently purchased and well-cared for by a new owner. He's put some new windows in it, and though I prefer the old, I have to admit that a barn is only as good as its roof and its windows. The view through the new little window was hypnotic: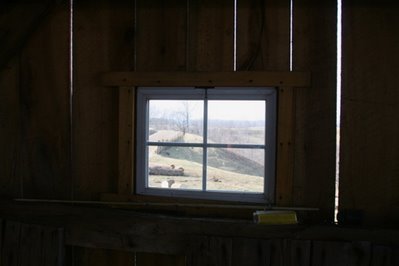 These Appalachian foothills, when scraped of their trees and put under cattle, have a sculpted beauty that I find incredibly poignant. Would I rather see them wooded? Yes and no. I remind myself that a much greater percentage of them are wooded now than ever before in our history except pre-colonial times, and that's why we're seeing bears and bobcats, coyotes and cougars where they haven't been before. That's why we're not seeing meadowlarks and bobolinks, Henslow's or grasshopper sparrows, upland sandpipers, harriers or short-eared owls. This land has a history of clearcutting and pasturing that makes my
augenblick
on the planet look entirely insignificant. All these thoughts and more, running out over that denuded but lovely landscape as I gaze out the little new window.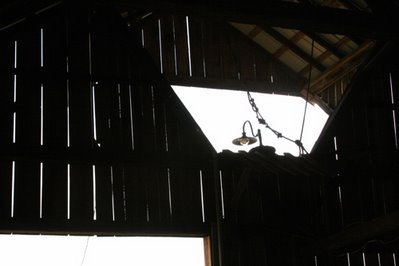 Ah, the grace of an old gooseneck barn lamp. We have new imitations on our porches. I guess we're carrying the style into the 21st century.
It's the light coming through in lines that kills me, that makes me want to stop my life in its tracks and sit down and make a watercolor. I'm sure these interiors will show up in my paintings. When I start to berate myself for not packing along palette and paper, brushes and water and easel, I step back and remind myself that there is a time and place for everything. It may take years for me to get around to that barn interior painting, but it will happen. For now, I'm just grateful to have a camera that can save the moment for me. Breathe deeply and take in the sweet hay, hear the gutteral coo of a pigeon, the clatter of its wings as it dives into the sky through a broken trapezoid in the boards.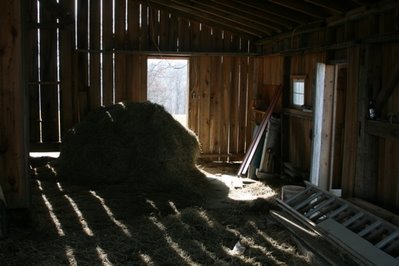 Jagged bits of sky, light in lines
splashes and stripes of sunlight
Here, the sky caught in twin ruts
Puddle, or hole in the firmament?
A small window frames the surreal countryside
Stripped of trees and carved by cattle
Meandering tracks leading to its own dark heart.
Pigeons clatter out
and circle, wings whimpering, waiting for me to leave.
Cement poured on a summer day
holds dainty prints of kittens, long grown into cats
who themselves have moldered away.
The hay is still sweet where the sun paints it gold
and I would lie down in it
But for the rustle and peep of mice.