OK. Nature. Nature. Enough on the navel-gazing, enough on the local rokkers. I'm a nature blogger. Right. Look around room, since it's 18 degrees and snowing again, and the kids are home for yet another snow day. Ah. Orchids: Exotic plants that do exotic things right on your windowsill.
February is a time of anticipation for orchidkeepers. February is when a lot of plants decide, through the stimulation of lengthening days and intensifying light, to put out bloom spikes. Nine of my plants are cooking up something wonderful as I write. Like most orchid collectors, I count quite a few seedlings and new starts among my 50-odd plants. I also have some old soldiers.
One of the oldest is a
Dendrobium phalaenopsis
var
. alba (
which simply means, auf Latin, a Dendrobium that has a bloom that looks like a Phalaenopsis bloom, and happens to be white)
.
It lived for about three years at the Bird Watcher's Digest office, where it bloomed reliably and delighted everyone. And then it died. I took it home, snapped the living shoots or keikis off the top, rooted them, and put the corpse of the mother plant in sick bay for a year. You see, orchids rarely really die. They're incredibly long-lived plants, lasting for decades, even centuries. And they are tough, tough, tough.

The mother plant threw out some new shoots and even came into bloom on my birthday the following year. I gave it back to the BWD office, freshly repotted, growing, blooming. It hung on for about another year, and then it died. Again. I brought it home and put it in sick bay once more. It sulked for a year and a half. I don't blame it. I'd sulk if I'd died twice, too.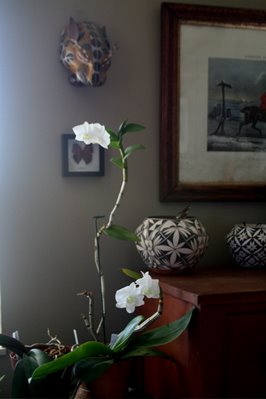 At this point it wasn't the most gorgeous plant, but I thought it deserved a third crack at life. I promised it that it had finally found a Forever Home. It thanked me by throwing out a ridiculous shoot atop an old cane (the one that starts level with the top of the Acoma pot) and blooming, all 2 1/2 ungainly feet of it. You gotta love a plant like that. The big lush leaves at the base belong to another plant. The old girl probably has
only
six leaves to her name.

I think it looks fabulous, flowering there next to my Acoma pots and my jaguar mask from Isla Mujeres, Mexico. That's the mask that came with its own wood-boring beetle larvae that made a strange grinding sound in the night. Science Chimp found frass on the dresser top, put two and two together, did not want to be the person who introduced the next Emerald Ash Borer to our fair country. So Science Chimp put the mask in the freezer for a week. No more grinding, no more frass.

Part of being a true orchid lover is appreciating the plants' resilience. Part of it is being willing to put up with topheavy, dopey-looking canes and straggly air roots; even finding a certain beauty in them. Part of it is respecting the plant and listening to it when it asks you for help. And most of it is not giving up on them.

When I visited my friend Cindy in New Hampshire in mid-October 2007, I fell in love with a miniature Dendrobium that was blooming wildly in her airy, well-lit studio. The fragrance got me, a perfume to die for. I asked if I might cut a shoot off the plant to root at home. I took the only shoot that wasn't blooming, and did a bad job of cutting it off. I carried it home in my backpack and dipped it in rooting powder and put it in moist medium. It shuddered and dropped its leaves. Not a good sign. I kept watering it. It withered and shriveled. And then it put out a bloom spike. No. This little four-inch-long withered cane, severed from the mother plant four months ago, with no roots or leaves, blooming?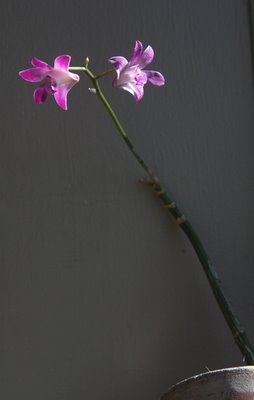 Yes, and not only is it blooming, but it's putting out the same heavenly perfume I smelled last October. It's drawing all the resources for this superbotanical feat from its shriveled little stem. I do not deserve this plant. You see, it thinks it's dying, and so it's trying to throw some seeds out into the world before that happens. It may well be dying, but I'm not going to give up on it until it turns brown and snaps like a twig. I owe it that much.
Shila and I go to an orchid show at the Franklin Park Conservatory every spring. Well, we're planning NOT to go this spring, because we're completely out of room in our respective houses, and we cannot look at a beautiful orchid and not buy it. It's a real problem. It's like going to the pound and looking into a puppy's eyes and saying, "Nope, sorry, I'm not in the market for a dog." The answer, if you don't want a dog, is to stay the heck away from the pound, right? Right. So we're not going this year. Right. So that's settled.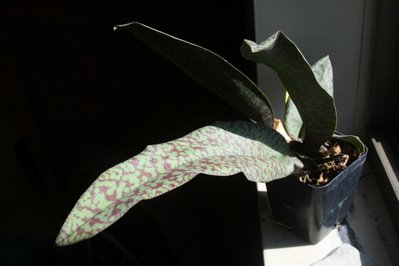 Not going...But LAST year I bought a little seedling of an orchid called
Psychopsis
Mendenhall "Hildos." I was buying a bunch of other plants in full bloom from a really cool couple from Broadview Heights near Cleveland who call themselves Windswept in Time Orchids. Kimberley leaned over and said, "Psst. I have a couple of
Psychopsis
seedlings here if you're interested." Having just seen one taking all kinds of blue ribbons for beauty and weirdness in the show in the next hall, my antennae went up. "It doesn't look like much, and it may take a few years for it to bloom, but you will not be sorry."
$25.00 for two little leaves. Hmmm. I looked at the red marbling on the leaves, tough as split steerhide. And bought the plant. The picture above is how it looks now. Last summer, it threw out the two bigger leaves.
The other day I was washing my plants and trays. Several times a year, I put them all under a lukewarm shower, wash their leaves, check for bug infestations, spray them with pyrethrins, and scrub the humidity trays (which get disgustingly eccchy with this green gloopy algae that smells like, of all things, patchouli). Feh! As you might imagine, with 50 orchids and more than a dozen humidity trays, this is the job of an entire Saturday morning. As I was washing my
Psychopsis
--no jokes, please--I found THIS: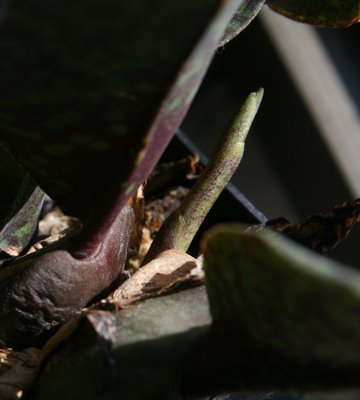 Which can only lead to THIS: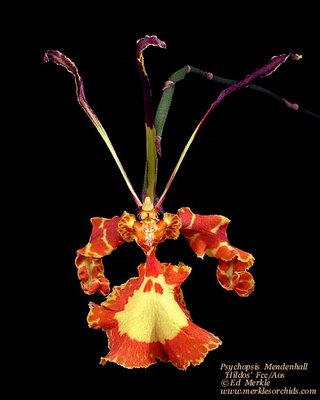 a crazy little Spanish flamenco dancing lobster. At least that's what it looks like to me. Upon looking closer, I expect to see THIS: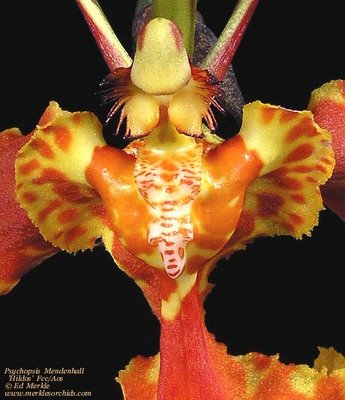 and you will be the first to know when I do. Aggggh! Much hooting and happy dancing, excited phone call to Shila, who also bought a
Psychopsis
that day. I just spoke to the grower, who told me that, although a
Psychopsis
plant will put out only one bloom at a time, the SAME SPIKE may throw flowers consecutively for six or seven years. At the same time, other parts of the plant will throw out more flower spikes, so the reward just gets better the longer you tend the plant. It's like finding out you're pregnant and you're going to have a beautiful FLOWER!!
Thanks to Ed Merkle for these terrific photos, cribbed from
his web site
.