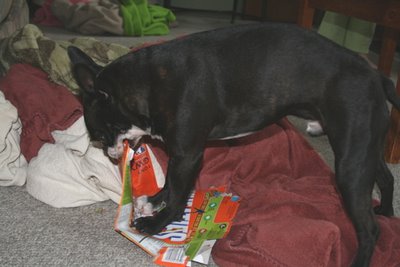 You know how, when you've had a dog or cat for a few years, they have these things that they do? The kind of things that, when you have guests over, you realize are just flat-out strange, and you hear yourself saying things like, "When Chet hears me tearing something, he thinks it's for him?" and then you hand your dog a Wheaties box that you were about to put in the burn bin, and he grabs it and trots into the living room and shreds it into itty bitty pieces,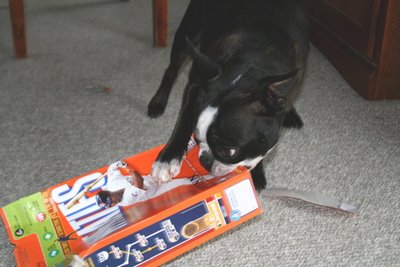 and your guest thinks, "What the hell is this woman doing with this dog? Why would anyone want to pick up 565 shards of a cardboard box spread all over the living room carpet?" and then maybe your guest is bold enough to ask, "Why do you do that?" and you find yourself thinking, "Why am I doing this?"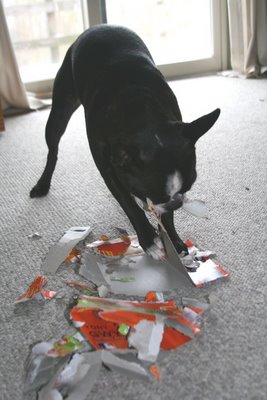 and the answer you should give your nosy guest is: "I know. I am insane. I am seeking therapy. But until then, I let my dog strew bits of cardboard all over my living room rug. It doesn't make sense, does it? (giggle)...."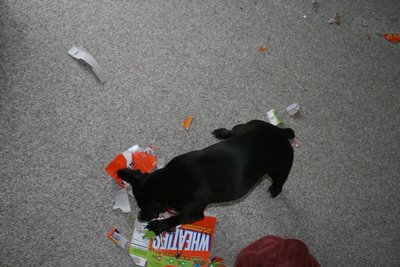 But what comes out of your mouth is simply, "Because Chet Baker likes to tear up boxes!" and that is when you know you are rapidly headed for Crazy Old Dog Lady status. At that point you might as well get about 17 more Boston terriers and let them poop wherever they like and just spread newspapers all over your floors about six layers deep instead of carpet and you should take your guest by the arm and tell her the idiosyncrasies of each of your 18 Boston terriers until her eyes roll back in her head and she backs slowly out the door, then turns and runs.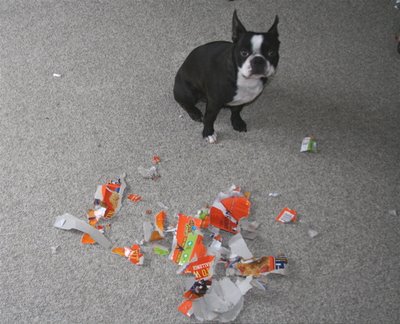 I have processed this Wheaties box for you. It is no longer a danger to you. My fondest wish is that you would give me a full one someday. It would not be that much messier.
Does anyone read their Edward Jones prospectus when it comes in the mail? You do? Woo. I don't. I hand it to my dog, lest any useful financial information impinge on the endless merry-go-round of largely useless biological trivia whirling in my head.
So now it's not just cereal and cracker boxes but junk mail that gets shredded.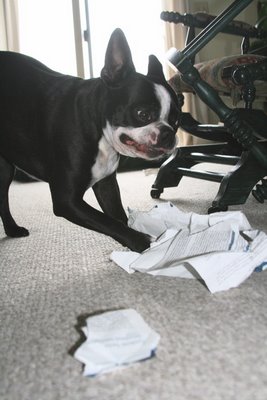 Since this had staples I stood over him and eventually took it away before he got that far. He probably got more out of it than I would if I tried to read it. In fact, I'm putting Chet Baker in charge of my investments.
So, anyone got a Boston terrier for me? I need a couple of dozen more, because at this point my house is still marginally livable.
I am joking, of course. Please, do not send me Boston terriers. One is more than enough.