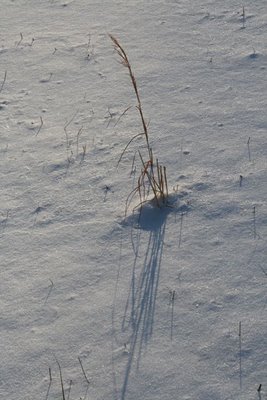 Living in the country has its drawbacks. When the power goes out in an ice storm, you're in for three days, minimum, which is what we dealt with this past week. I'm watching it all melt off now, enjoying reading by incandescent light and the resumption of my electronic addictions.
When it's snowy and cold and the power's off and all your favorite toys need to be plugged in, it's time for the Amish Wii,
Bill of the Birds'
new term for amusing oneself in a power outage. (Is it any wonder I leave the pet naming to him? He's a genius.)
We chose Sledding on our Amish Wii and off we went.
While walking with the kids this month in a dusting of snow, we took a route across the hayfield/cow pasture near our mailbox. And it hit us that for 16 years we have been living on top of the best darn sledding hill on the planet, and didn't even realize it. We'd always taken the slope in our yard, which ends abruptly and painfully in a tangle of multiflora rose and sumac. Yow! Nothing like a face full of Ninja stars at the end of a thrilling run. The kids and I looked at this smoothly mown hayfield and resolved to make it ours in the next decent snowstorm.
I made them pull me out to the end of the driveway. It's good for them.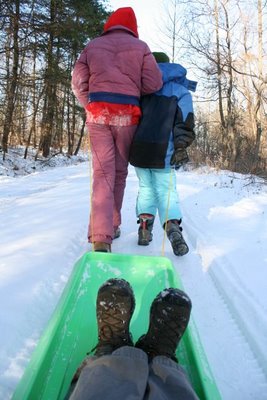 Then we hoofed it across the flat until we reached the Bowl. You can see the dropoff at the left side of the picture. We followed their track from that morning, when I was busy doing something else.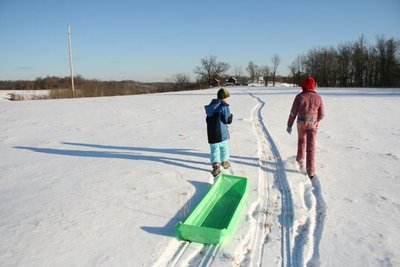 It's a heck of a hill. The huge oak tree is on the very southeast corner of our land, which is doubtless why nobody has cut it down. It's a line tree, and it's our line tree. It will stand until it decides to fall down. I smile every time I see that tree. Although we have only a pie-slice of land that it stands on, I also put a bluebird box up near the oak, further marking our territory in a gentle way.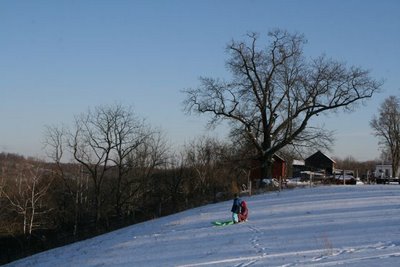 Bye, kids. Be careful. Just remember Mommy loved you.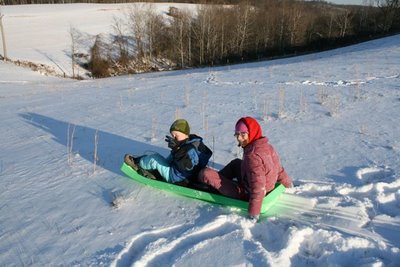 We loved you, too, Mommy. Farewell.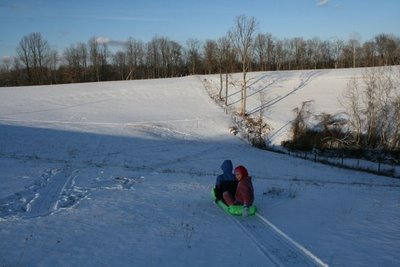 Talk about a long run...you go and go and go.
There's a wonderful steep berm that gets you really moving. Here, Liam's trudging back up.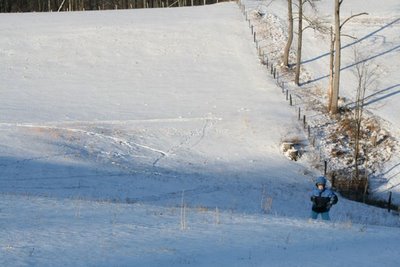 It's the long trudge up that limits the number of runs you do. I'm usually good for about six before I start thinking about popcorn and hot cocoa.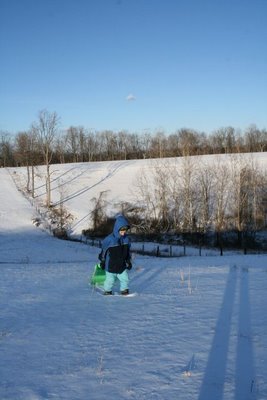 And roses and freckles.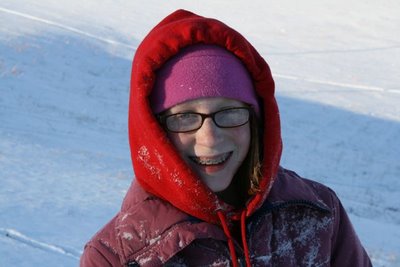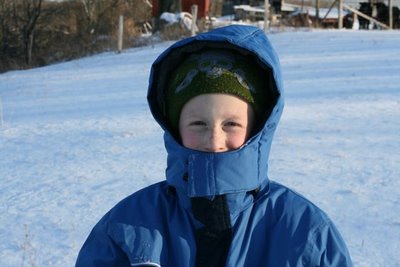 We always draw a cowd.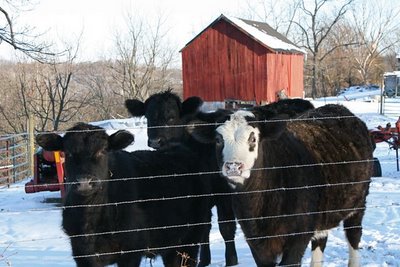 In this particular episode, we hit a frozen cowpie that stood up about six inches--a deadly mogul, taken at speed. I took it right on the tailbone and wasn't right for two weeks. It's finally better today and we're going for one last run before the snow melts off. I am going to stuff an Ugly Doll down my pants just in case.