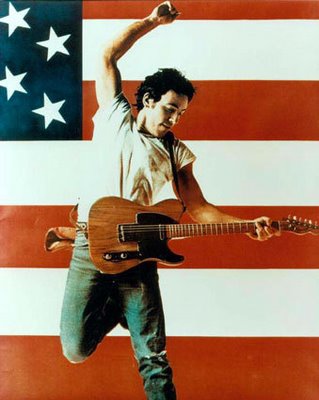 I've never been a huge Bruce Springsteen fan. Like many who came of age in the late 70's, I was overexposed to
Born to Run
and Clarence Clemons' nattering saxophone solos. But I always liked the line, "Wrap your legs 'round these velvet ribs/And strap your hands 'cross my engines." There was something good in those words, something more than Jersey strut. I found myself alone a lot in the mid 80's, and wound up buying
Nebraska
, an album whose spare, bleak imagery suited me just then. That was the only Springsteen I ever sought out. The rest just oozed in over the airwaves.
Superbowl Sunday found me in and out of the kitchen, with a bunch of friends on our couch. I was in it for the chili, the laughter; for the hoot and holler of men watching the game. The screen got my attention only at the halftime show. And there he was in all his Bruceness, stomping up and down the catwalk, all in black, like a late-period Johnny Cash or Elvis. Black is slimming, but he looked bigger than I remembered, as if, to quote a line from
Gross Point Blank
, he had swelled. Maybe a little stiff, too, as if his back were acting up. Well, heck, he's been at it for thirty years. I'm wearing more black these days, too, and if I drop something on the floor, I have to work out a little plan for how I'm going to get down to pick it up, figure out what I'm going to grab to get back up.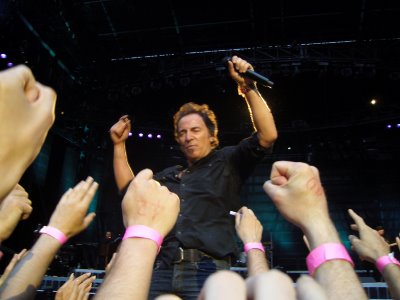 And then he did it, made a little run, dropped to his knees and started a
power slide
down the slick catwalk. And, this being the Superbowl, there was a camera positioned at the foot of the runway, trained on Bruce's rapidly approaching pelvis. The slide ended with a clunk as The Boss' goods connected with the lens; he'd attained quite a bit more momentum in nearly four decades of power sliding than perhaps anyone had counted on. After a brief moment of clobbered confusion, the camera pulled back to see Bruce, his arms windmilling as he worked to get up from his Z-bent position. His face split in a goofy, I-can't-believe-I'm-doing-this grin as he struggled back to his feet. And at that moment, now and forever, he won me over. I gotta say, I love The Boss.