I've got two camera bodies now, my old Canon Digital Rebel XTi and my new Canon Digital Rebel XSi. When I'm on a serious photo safari, I carry both bodies, one with a long lens and one with the new 18-55 mm. landscape lens. It gives a little extra weight and cumbersomeness, but it beats switching lenses in mid-stride by a long shot.
Dawn broke, and I knew I was in for a serious snow photo safari. Ohboyohboyohboy I was jumping around like a cartoon hound.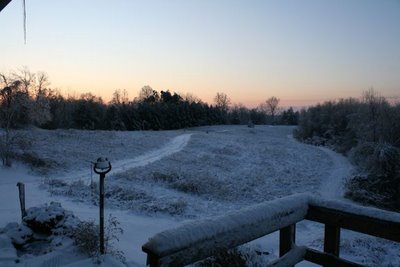 Finally, light. Finally, sun on this glittering palace of diamonds that would not last long. My chance of chances.
There were no tracks on the new-fallen snow. Time to track it up, but I snapped a record of its pristine state first.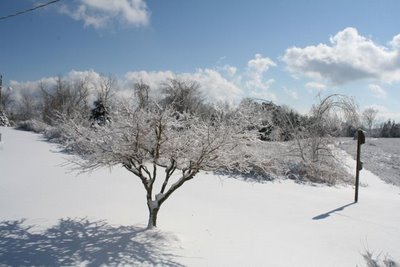 My little spready Japanese maple was once a potted bonsai. It wasn't very happy in training, so I set it free, and now it's big enough to sit under, big enough to shade the Pig of Good Fortune, and it's where Baker goes on a hot summer day. And this day, it was encased in glass.
Th' Bacon went first, tracking up the path in his doggeh way.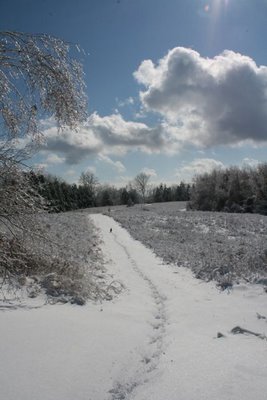 He was verra happeh to be out at last, snow or no snow. He had his football letter jacket on; he was cookin'.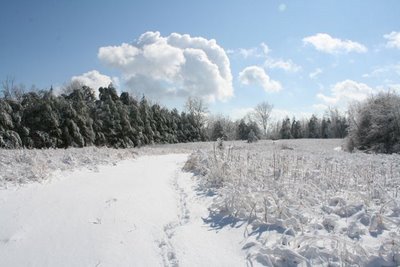 There were things under the snow that only he knew about, and he dug several deep holes down to the lairs of voles and shrews.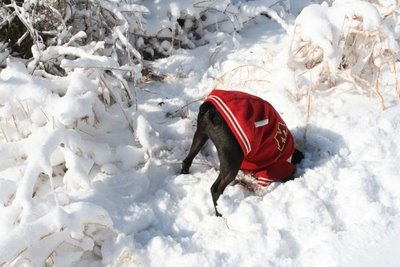 I don't know many people who would stick their whole face in the snow and enjoy it, but Th' Bacon does.
I turned around and looked back at our home, our refuge from this long storm.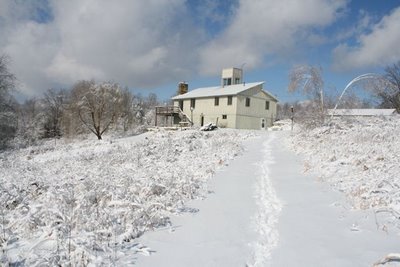 The birding tower peeks up above the roof, my little writer's chamber beckoning. With the sun, it would be reasonably warm up there, even without heat, but I had pictures to take.
Farther out the meadow, a bluebird house bore evidence of the storm. We humans take a somewhat more elaborate form of shelter, but both work for our respective species.
Egad, I've been waiting for this wide-angle lens for three years. I don't know what I did without it. Now I want to go back to Guyana and shoot landscapes. Ah well. Other times, other trips.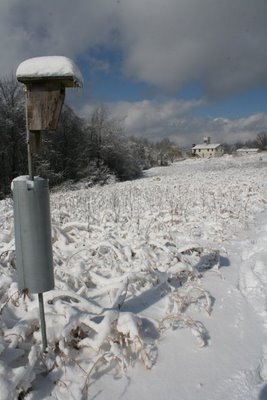 The welljack that gives us our heat and cooking gas; that makes my Garden Pod warm and keeps us cozy all year round. I love that old thing, pumping away out there with no one to talk to.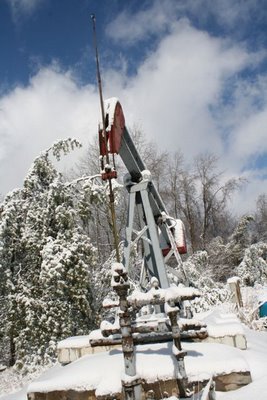 Like many in our oil-rich area, we have free gas from this well on our land. So, uh, we don't pay heating bills.
I know. I hear you New Englanders sputtering. It's not for everybody, but there are distinct percs to living in Appalachian Ohio. You couldn't get me out of here with a crowbar and a bomb. Even when the power goes off for days at a time. Maybe especially then.
Tomorrow: More wonderland, mo' Bacon.