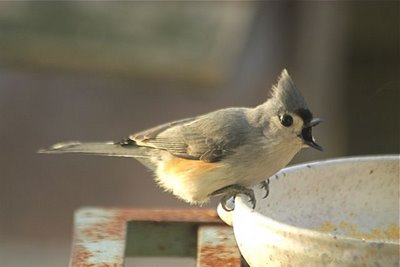 A telephoto lens can give you tunnel vision. You focus down on the bird you're after, and you may completely miss whatever's going on around it. This was a classic case of photographer's tunnel vision. I had the titmouse in my sights and was shooting away when suddenly the bird's bill opened and it began to emit a high, shrill
Seeee Seeee Seeeee!
What in the world??
I swiftly twisted the telephoto zoom, widening the field of view, to find that a Carolina wren had landed on the Zick dough bowl rim.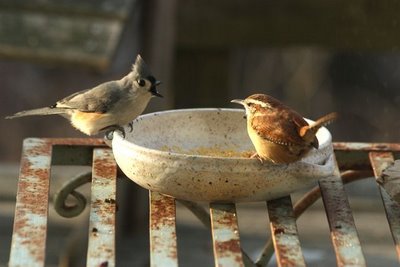 It was obvious that the titmouse didn't want to share the dough, felt threatened by the wren, or both. It stayed in its mondo-aggro pose and shrieked and shrieked.
In a comical moment, the wren turned to look at me, as if to say, "Are you getting this ? Because this bird definitely has a problem, and nobody would believe it if you don't get a shot."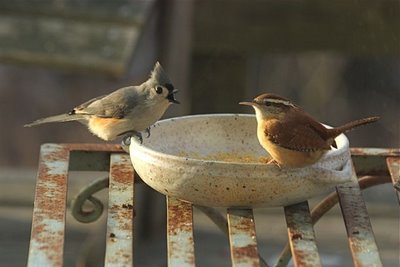 Yes, dear, and that titmouse is being a total baby if you ask me. I'm getting it.
I agree. I think I'll show him how unimpressed I am by this over-the-top display. (Scratches cheek).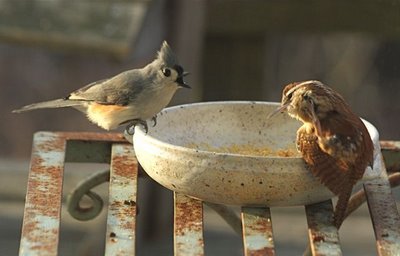 Photonote: An ISO of 1600 will freeze the blurred motion of a bird's foot!
Science Chimp note: The Carolina wren is an over-wing scratcher, and please note the white spangles on its lower back feathers. I have a theory about those, to be aired in a later post.
Eventually, the wren picked up a few nuggets of Zick dough and departed, leaving the titmouse the reigning dog in the manger.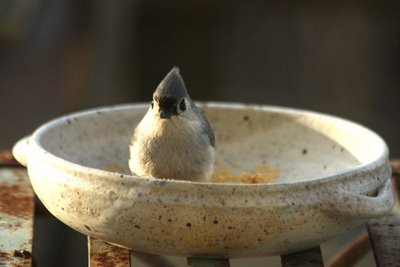 Hm. That went pretty well. You weren't taking pictures, were you?