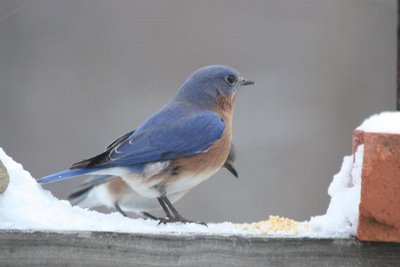 Bluebirds clean up the last of the morning's offering of Zick dough.
This post started with a note from Nina of
Nature Remains
, wondering if I'd thought about peanuts, salmonella, and birds. People can get salmonella from contaminated peanut products, and so can birds.
Birdchick
had posed the question on her blog, and even called up some peanut butter suet manufacturers to see if they could assert the safety of their products. Good question, Birdchick! Eek! Are my Zick Dough eating birds safe?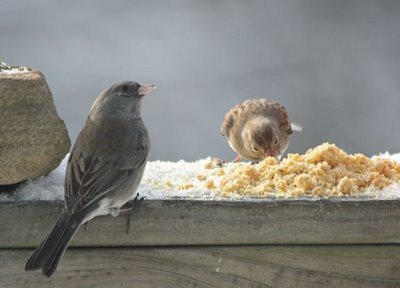 A dark-eyed junco shares with a field sparrow.
The peanut has moved squarely into my forebrain. At our Superbowl party on Sunday, two toddlers attended, both of whom have severe peanut allergies. What are the chances of that? I looked at those precious little people and it was as if everything in my kitchen was suddenly radioactive; glowing peanuts flying around, infiltrating every foodstuff that went in their rosebud mouths. Yikes. I felt a surge of apprehension, protectiveness, and a huge immediate empathy for their parents, forced to examine every label, think about everything that they offered their children, and pack Tupperwares of safe snacks wherever they went. Peanuts and peanut-based products are absolutely everywhere. If you don't think so, look at the
FDA's peanut product recall list
. It grows every day.
Now, thanks to the peanut product recall, we all have to think like the mother of a toddler with peanut allergies.
I have been checking online about the peanut-based products
I've
been consuming of late, namely Luna bars (Peanut Butter Cookie and Nutz Over Chocolate) and my new favorites, Clif Mojo Mountain Mix bars. I love these things for their convenience, especially when I'm traveling in foreign countries. Save yourself some time and money--skip the Luna bars and go directly to Clif Mojo bars. Mojo bars are delicious. By comparison, Luna bars taste like wet straw.
If my choice at breakfast on the road is some kind of sickening sweet roll, a doughnut, bagel or nothing, I'm delighted to pull a reasonably nutritious snack bar out of my pack and take a pass on the carb-laden junk food before me. So I stuff about twenty little bars in my suitcase while I'm packing for each journey, along with raw almonds and macadamias. I'm thereby assured of a nutritious start to my day, or a boost when I'm flagging. Needless to say, I buy the snack bars in bulk, 15-bar boxes. I was going to take a substantial hit if I just threw them out, and the Clif company had made a voluntary recall of its peanut-containing products just to be safe. So I spent part of an afternoon on the phone with the
Clif people.
They were terrific, and they believed me when I said I was a travel writer (and unrepentant pack rat) and had, uh, 89 uneaten possibly contaminated Clif Luna bars in my pantry. Cool. The Clif company is now sending me coupons to replace those with new, delicious and safe Clif Mojo bars. Mmmm. Good deal all around.
But back to the birds. In the recent ice storm, I kept my birds going with peanuts. Not only do I feed cocktail peanuts in a cylindrical feeder,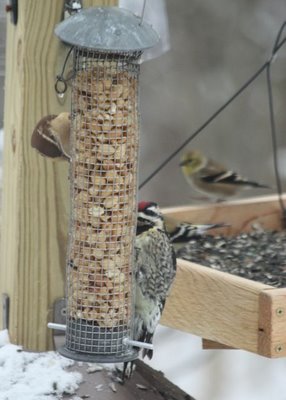 A Carolina wren vies with a female yellow-bellied sapsucker for peanuts.
but I make huge batches of Zick dough, which of course is peanut-butter based. Eight bluebirds magically appeared in last week's ice storm and began begging for Zick dough as if their lives depended on it.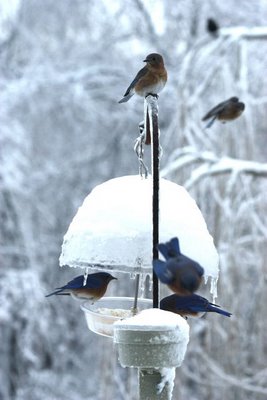 Which, in the four solid days of ice we experienced, they doubtless did.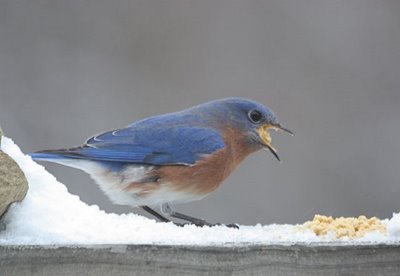 Glug, glug, glug. A male eastern bluebird stuffs himself with high-energy homemade dough.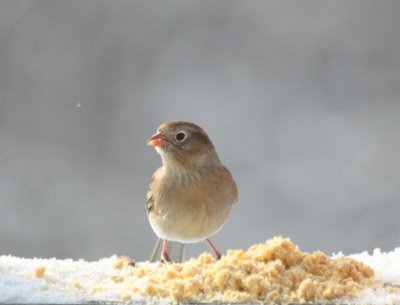 A field sparrow, most delicate and beautiful of sparrows, fills up on Zick dough.
It is clear that, at least on Indigo Hill, the peanut should have its own food group. So far, major brands of jarred retail peanut butter have been declared safe from salmonella contamination, and have not been recalled by the FDA. Big institutional tubs of peanut butter, however, are suspect. And commercial peanut-based suet doughs must necessarily be viewed with suspicion, since they may have peanut paste, peanut bits, bulk peanut butter, and other ingredients sourced from the Peanut Corporation of America, which has a
history of unsafe conditions.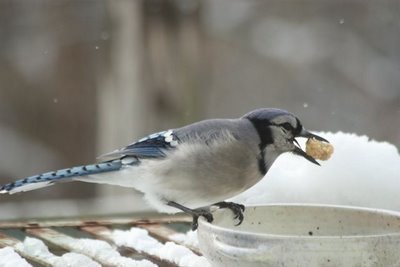 A blue jay helps himself to dough
Here's the peanut/salmonella rub: If you're feeding peanut based suet concoctions, it's best to play it safe and make them yourself, from human-grade jarred peanut butter, because birds can get salmonella just like people can. So here's the recipe for Zick Dough, once again.
Peanut Butter Suet Dough
from Julie Zickefoose
1 cup peanut butter
1 cup lard
Combine and melt these two in the microwave, in the oven, or over very low heat on the stovetop. Remove from heat and stir in:
2 cups plain yellow cornmeal
2 cups quick oats
1 cup flour
Allow to cool and harden, then chop into chunks and store at room temperature in jars. Serve crumbled in a shallow dish. Attracts bluebirds, chickadees, titmice, nuthatches, woodpeckers, jays, wrens, thrashers, orioles, cardinals, and towhees. This is an excellent supplement for nesting birds, especially in cold, rainy weather, as they will feed it to their young. However, it is not recommended for warm-weather feeding, as it is too rich and
may cause gout
. Feed only in the depth of winter or as an emergency supplement in spring.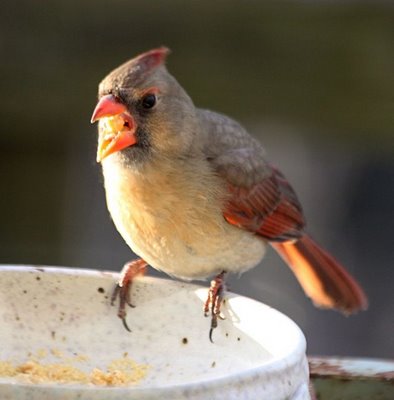 A northern cardinal likes what she tastes.
Here's Garth the red-bellied woodpecker, Ruby's mate, homing in on some Zick dough. Yes, he's still around and going strong.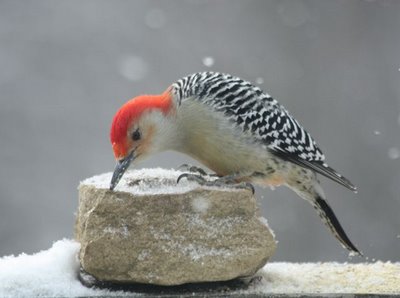 My thanks to
Nina
for sparking this post, and to
Birdchick
for raising the question about peanut safety and birds in the first place. Until your peanuts get contaminated, you don't realize how ubiquitous and valuable they are. Be safe, everyone--and make sure your beautiful birds are safe, too.