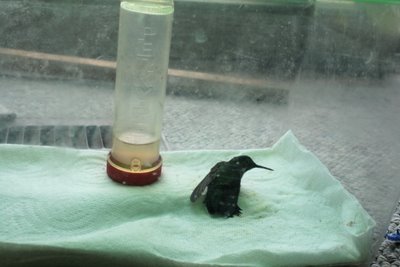 She came to me as they all do, over the phone, with a worried, uncertain voice describing her predicament. She'd blundered into a chemical plant and was found, disabled, around 11 at night. Who knows how long she'd been there, circling the ceiling, bumping her tiny head until she fell senseless at someone's feet? Repeated efforts to get her to drink nectar had failed, and she was fading fast. I met the caller in town, he on his lunch break, and he opened a makeshift containment system that consisted of two Chinet bowls, lined with tissues and taped together. She was lying on her side, curled in a C, as I would be were I a hummingbird who had been without food for 18 hours. I took the syringe of bright red nectar and inserted her bill into it, as he had repeatedly tried. I held her until she began to struggle, and in struggling her bill opened slightly. Some nectar flowed in and her tongue at last began to flicker, then lash, and red nectar poured out of the corners of her mouth as she took sustenance for the first time. Poor little thing. I smiled at the man. "The key is to piss them off enough so they cuss at you, and their bill opens, and then they get what you're trying to do."
He told me that she'd been able to fly when they first found her, as high as 12 feet in the air, but only in a tight spiral. That's OK, as long as she can fly and get altitude, I thought. As long as her wings work, she has a chance at being a hummingbird again, instead of a sad little scrap of feathers like she is now.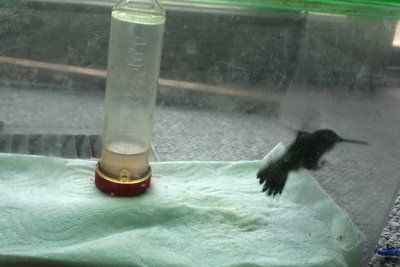 I took her home and made a place for her in a ten-gallon tank, lined with paper towels and fitted with low perches and a feeder.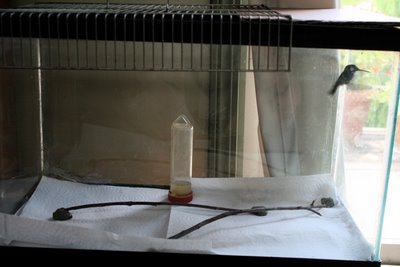 I filled it with Nektar-Plus, a hummingbird maintenance diet that includes proteins and vital nutrients—a far cry from the dyed commercial "hummingbird food" she'd been offered. I don't fault people for buying it; the labeling makes it seem so much better than simple table sugar and water, but it's not. It's horrid. If you didn't have doubts about feeding commercial preparations, check this out. She'd last had commercial nectar around 2 pm on Tuesday. At 2 pm on Wednesday, her droppings still were dyed vivid red.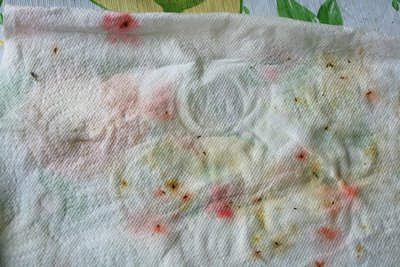 Red dye that is used to color commercial "hummingbird food" is derived from coal tar, and that dye is banned in Europe, a place where people think harder about such things than we do here in the Land of Plenty. Why would anyone in their right mind give something made from poisonous coal tar to a hummingbird? Because they've been misled by the manufacturers to believe it's better than homemade nectar made with white sugar, that's why. Bad manufacturers. All commercial nectars are is sugar with coal tar dye. It's up to you whether you want to give that to the hummingbirds in your yard. From there, think about whether you want to give your children "foods" that dye their lips and tongues bright red and blue. Bit of a pet peeve, I guess.
Posting with a high quotient of difficulty (might be the rum, dunno) from the Veranda at Asa Wright Nature Center in Trinidad, I remain your faithful blogservant
JZ