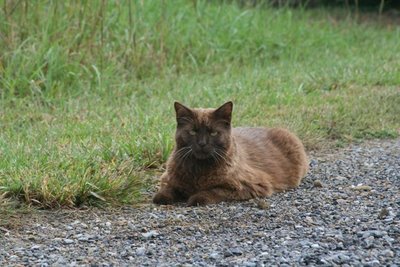 Those of you who know me know that I am not often found singing the praises of cats. In almost three years of blogging, five days a week, this is my first post about cats. That's understandable. Because we run a serious bird sanctuary here on Indigo Hill, cats who show up are personae non gratae. Chet Baker is more than happy to give them the bum's rush, and he is very good at his job. Not many hang around after he has shown them the door. The very mention of the word "cat" puts Baker's pricked ears on full alert.
But every now and then I come across a cat that deeply impresses me with its beauty and personality, and I realize that, were I to give myself a chance to get to know them, I could become a cat fan. Cats remind me of the vampires in the slightly embarrassing escapist novels Phoebe has given me to read...perfectly lovely, but for that unfortunate bloodthirsty habit. They can't help it, but there it is, and the only workaround is to keep them indoors and well away from the things they like to annihilate.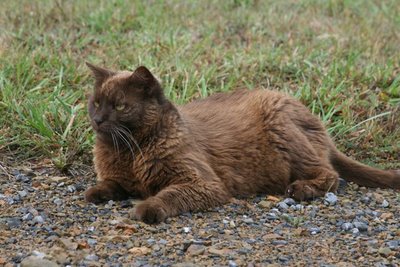 With all the selective breeding going on, don't you think someone could develop a strain, even a breed, of cats that don't care to kill birds and small animals? But then, would they still be cats? And then, what would you call them? Un-cats? Safe cats? Benign felines?
Near Berkeley Springs, WV, I met a cat that riveted my attention with its regal bearing and beauty. It strode out into the middle of our birding group and I forgot all about birds. "I've never seen a cat that color! It looks like a little brown bear!" I exclaimed, and its proud owners smiled and said, "That's what we call him: 'Bear.'"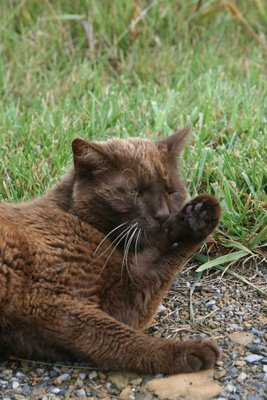 Bear set about cleaning his beautiful brown paws while I hunkered nearby, clicking away.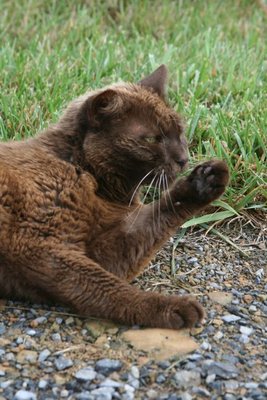 He reminded me of nothing so much as a small Alaskan brown bear, or perhaps a jaguarundi, especially in this shot, with narrowed eyes. I marveled at his beauty and self-possessed personality.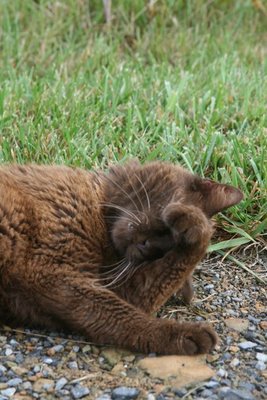 If a cat knows anything, he knows when he's being beautiful.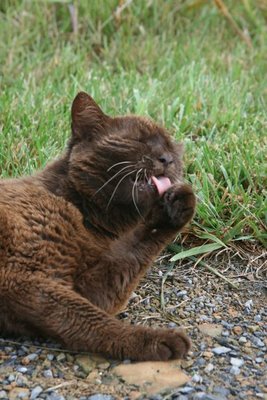 Golden-eyed, gorgeous Bear has that down. Sigh. What a guy.