ZICK ALERT

: If you happen to be in the area this Wednesday evening, October 8, 2008, I will be giving a talk and book signing at 7:00 p.m. at the hip and beautiful
Glenwood Retirement Community
, 200 Timberline Drive, Marietta, Ohio.
Call (740) 376-0535 for more information.



ANUDDER ZICK ALERT

: And, I'll be speaking to the DuPage Birding Club in Glen Ellyn, IL, outside Chicago, on Thursday evening, October 9, 2008, at 7:30 p.m. They meet at Faith Lutheran Church, 41 N. Park Blvd., Glen Ellyn.


Yass, it's crazy right now. Planes and trains and automobiles. And now to our regularly scheduled spider hit:
Perhaps I've been bitten on the neck by E.B. White, but I have a huge affection for spiders, especially those of the orb-weaving tribe that included Charlotte A. Cavatica,
the radial hub of

Charlotte's
Web

, who was a
grey orb-weaver,
Araneus cavaticus
. There are several orb-weavers around the yard at the present, and the nice thing is that they are sedentary, so you can make the rounds and visit each lady spider as you perambulate the yard. Here is the slightly crooked, utterly perfect work of an arabesque orb weaver,
Neoscona arabesca,
who lives in the doorway of our garage, Charlotte-style.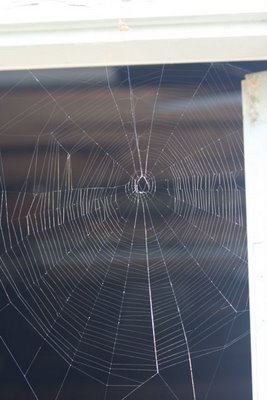 Hello, dear, and how does this cool evening find you?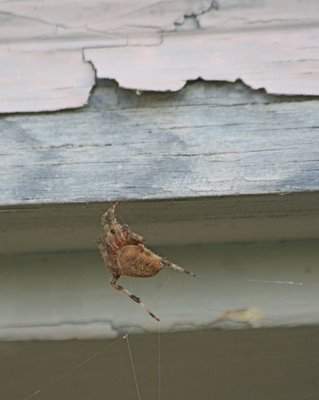 She hangs head-down, perhaps wishing there were a charismatic talking piglet in the garage instead of two smelly cars.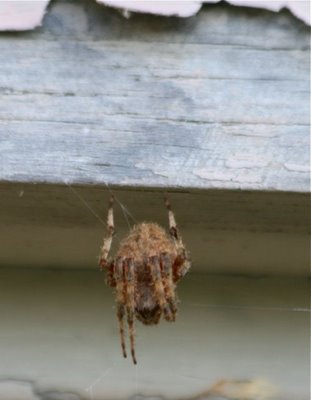 She's channeling Charlotte for me. How about you?
Here is another arabesque orb-weaver who lives in the top of a nearby ornamental grass. She is probably Charlotte's sister.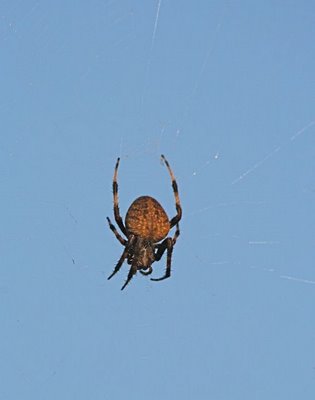 I wonder why a bird doesn't just pick these girls out of the air as they hang there, so vulnerable.
I so enjoyed visiting my Halloween orb-weaver,
A. marmoreus,
the intrepid mealworm catcher of the previous post
.
So one day, when I noticed that her web had not been consumed and replaced during the previous two nights, I began to worry. She was slowing down, getting tired, her web looking ratty. A Carolina wren had torn a hole in it, and she hadn't bothered to fix it yet. Not a good sign.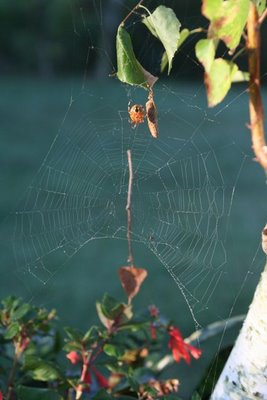 I knelt down and peered upward toward the top of the web. There she was, hiding in her rolled birch leaf, and when I threw a mealworm into the web she ignored it. Finally, anxious to make contact, I gently squeezed the leaf shelter and out she dropped.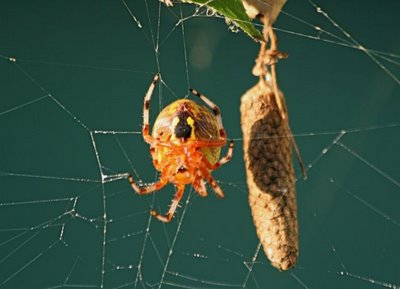 She was so much bigger and fatter than she'd been only ten days earlier, her abdomen almost the size of a nickel.
I always marvel at the solidity and firmness of spiders, crablike in their tough exoskeletons and spiny, spiky strong legs. I don't get to squeeze many spiders, but it was nice to do it through a birch leaf.
If you think her ventral surface is lovely, how about the dorsum? To me, it looks like Hindu goddess, squatting with her hands clasped in front of her.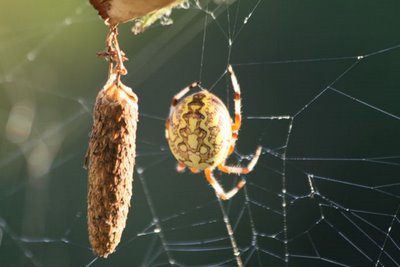 When I was done photographing her, this gorgeous creature retreated back into her leaf lair. The next day, she was gone, her leaf shelter deserted. Oh dear. I imagine I offended her and she went off to find another hide. At least I hope that is what happened. There is an awfully nosy pair of Carolina wrens haunting that area, and I know they slipped in and stole the last mealworm I'd hung in the web for the spider. I suppose it wouldn't be much of a stretch for a wren to peer up into the rolled leaf shelter, as I did, and find a huge protein package awaiting. Finding hidden spiders is their job, and they are much better at it than I.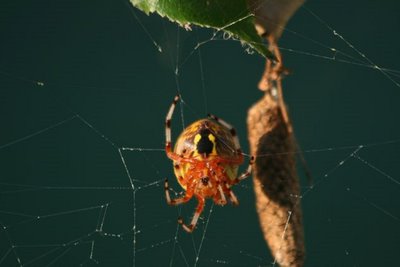 I know she was full of eggs. I hope she got to lay them.
I suppose that not many people sit around and worry about spiders that they've come to admire and love. I'm glad I got to share her with you in all her marbled, obese glory.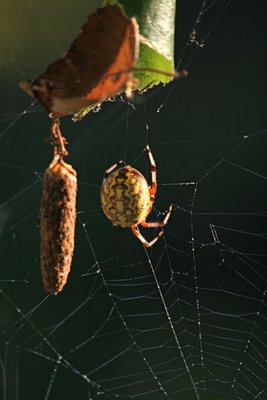 I hope you are well and tending your egg mass, good spider, somewhere that no one can find you.
I wish to thank Larry Weber (yes, that's his name) for his wonderful book,
Spiders of the North Woods,
which he gave to me when I visited Chequamegon Bay Birding Festival in Wisconsin two springs ago. Get that book!
In Ohio's Backyard: Spiders (
Ohio Biological Survey
)
by my new Ohio friend Richard Bradley, has been a tremendous help in opening my eyes to the beauty and diversity of spiders. Now Richard is buggin' me to paint spiders. Given world enough and time and a serious magnifying glass, I could paint spiders. Photos will have to do for now. Thank you, Richard and Larry, for the illumination. Opening books like these opens a whole new room in your brain.