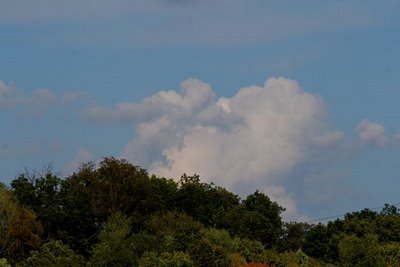 Never been much into Skywatch Friday or Wordless Wednesday. I usually have my eyes on the ground, and way too many words to get down on Wednesdays. But every now and then I see something in the sky that makes me stop the car dead and say, "Hey! Look at the guy being dragged by his pet elephant!" My kids scratch their heads, realize that I must be talking about clouds again, and patiently look while I gesticulate and explain until they see the elephant guy too. I think it's good for their brains, keeping a watch for sky elephants and their hapless mahouts. Knowing that at any moment their mom could slam on the brakes and start speaking gibberish. Keeps them on their toes.
I don't know what made me lie down on the road to take this photo; I didn't intend to make an image of a giant Percheron eating the head off an innocent paw paw festival goer.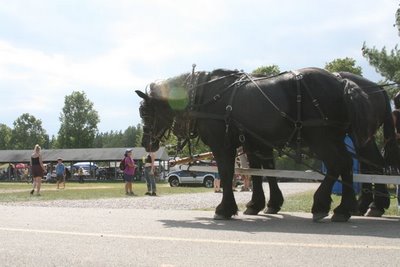 But there you have it. When draft horses attack. They nip off the talking end first and deal with the legs later.