The young tanager from the previous post made a short flight to the birch next to my studio window, where he captured an insect. Ooh, what's he got?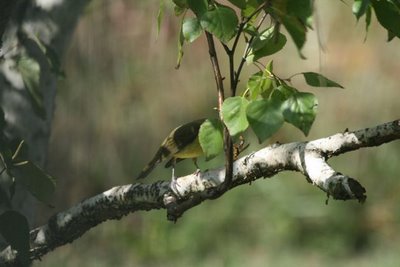 Could it be? Is it a paper wasp? Eeek!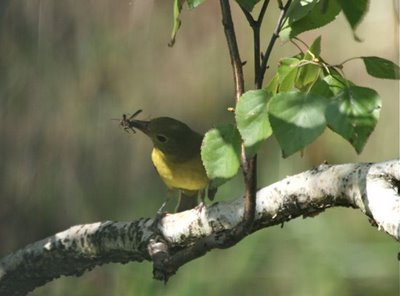 Durn tootin'. It's a wasp. Yikes. Notice how he's holding it? By the bidness end. And he's biting it for all he's worth.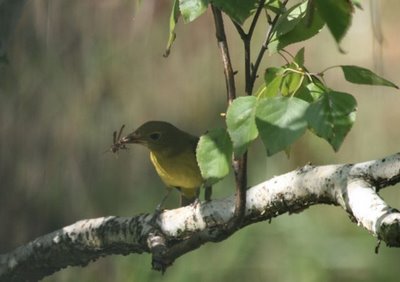 The crushing power of a tanager bill is considerable. I'm sure he disabled the stinger the moment he grabbed it. That's one of the benefits of having hard lips. Sometimes I think how cool it would be to have a beak. You could open bottles and cans, pre-drill holes, remove tags, henpeck your husband when he needed it.
Even more mastication of the abdomen.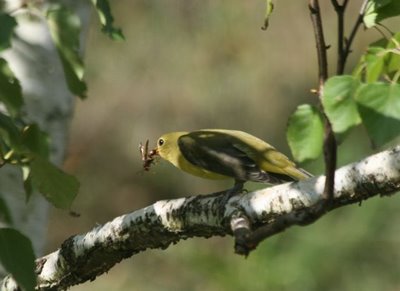 Only when the abdomen was thoroughly crushed did the bird move on to processing the thorax and head.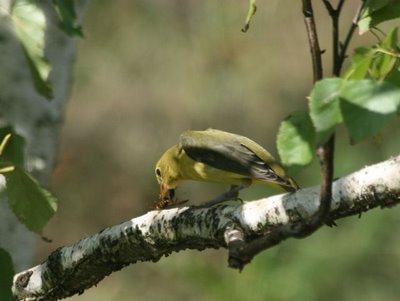 This is the last shot before he swallowed his catch. Look how he's got the wasp's abdomen all mooshed out.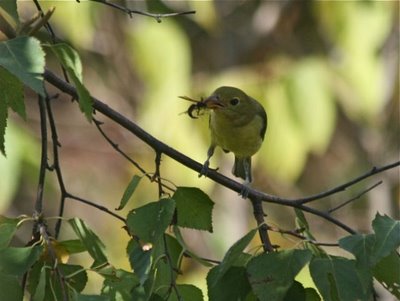 Tanagers as a genus are well-adapted to feeding on bees and wasps. In fact, most Augusts see a young male summer tanager or two, perched on one of our high backyard snags, leaping up and catching yellowjackets and wasps as they sail by. They'll repair back to the snag to bite and hammer the bug into stingless submission before swallowing it down. I have a friend in Connecticut who had a summer tanager spend most of the winter in his Old Lyme backyard, nailing honeybees as they emerged from the hive for a look around. Those bees kept the tanager going through quite a bit of cold and snow. Hank was glad to donate to the redbird's cause.
And that is what I know about tanagers and Hymenopterae.