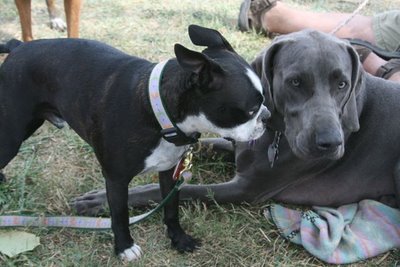 Here's Chet at the pawpaw festival, thoroughly and incessantly dominating poor Phoenix, who is petrified of him. He kept it up for two hours, making sure huge but timid Phoenix knew who was Tiny Boss. I am not bragging here. It is the Other Side of Chet Baker. I have the feeling that people like him a whole lot more than most other dogs do.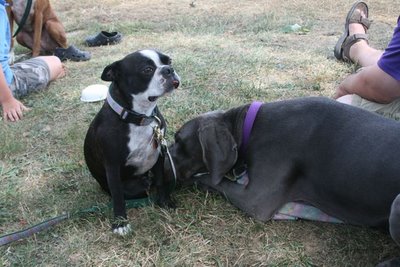 Top Dog is where I like to be.
The
paw paw festival
at Lake Snowden in Albany, Ohio was ... rough sledding this year. Please refer to the link in the last sentence if you would like to know how nice it can be. I did see some absolutely lovely things, like this pair of Percherons pulling the hayride wagon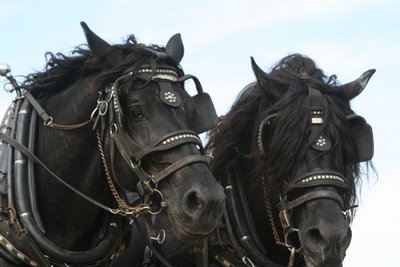 and this paw paw madonna with her glorious lucky babies. Look. Even baby hair was blowing back flat. And her little girl is acting like mine were. Mooooom. I wanna go hooooooome.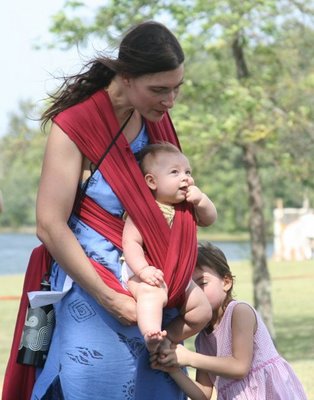 No, most of my rough time was no fault of the festival, but due to a SW wind gusting to 50 mph, the remnants of that rascal Ike, that basically blew most of the vendors and tents away. Here's the bouncy inflatable castle going down. Eeek! Liam? Are you in there? Can you breathe, honey?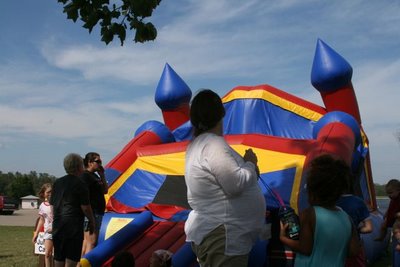 A southwest wind always puts me on edge, but this was a doozy, a hurricane, in fact. I was fighting with cranky kids and trying much too hard to have a good time despite being buffeted about the head by a hurricane when I sensed something going down inches from my back where Chet had been quietly sitting at the end of his lead. I slowly turned my head to find a huge white pit bull quietly straddling Chet Baker, staring down into his eyes. She looked exactly like this dog. (image lifted from thebullyhouse.com.), only she wasn't smiling.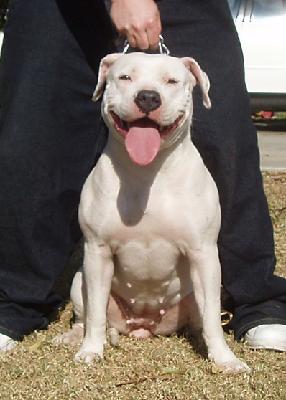 Chet's ears, characteristically, were up; he was answering stare for stare. No rolling over and peeing in submission for this American Gentleman. In interactions with other dogs, he's likely to say something rude and have a quick snarlout, hoping to assert his Napoleonic streak right from the getgo. He's great with people, but with dogs he's a bit of a schmuck. And this would be a very bad time to act like a schmuck. Did he sense that? I wasn't going to wait to find out.
Ohhhhhhh…What to do? Avoiding eye contact with the pit bull, I very slowly and quietly threaded my arms under her barrel chest, grasped Chet and in one smooth nonconfrontational movement removed him from the deadlock, hoisting him up to my shoulder. It was a terrible risk to take, but I didn't feel I had much choice, and I needed to act quickly before it got ugly. With Chet Baker, dog-to-dog interactions can get ugly in an eyeblink.
The pit bull immediately and rudely leapt up on me to what? Play with him? Remove the obstructing human? Shake him like a chipmunk and leave me to pick up his pieces? I'll never know. I looked frantically around the festival grounds to see who might own this animal and get its paws off my chest, its huge gaping jaws away from my arms. I saw a twentyish male loping by, sporting a shaved head and one of those undershirts with the huge armholes. (
What is it they call those shirts?
)
I wondered, not idly, if that person could be this dog's owner. Call it profiling, call it whatever you want, but he did in fact turn out to be associated with the dog. Cooly noting but ignoring my predicament, he whistled to the white bull and she went romping on ahead of him, stopping the hearts of every dog walker along the way, all of whom had leashes on their pets.
Precisely the point, I'd imagine. Power. Fun. A little dominance, a little mayhem on a Sunday afternoon. Just what a family festival needs, a little stir-up.

I managed to call, "Might consider leashing your dog..." before my knees buckled. Chet kissed me, then whined and strained to run after the pit bull. Sorry, Chet Baker. I'm running your social calendar, and I don't see a date with Destiny on it today.

Another woman over in the paw paw beer tent, where I repaired for a little medication, had a huge brindle pit bull on a stout leash. As it strained toward Chet and he toward it, she asked, "Is your dog nice?" I looked at the scarred muzzle and bulging shoulders of the pit bull, wondered whether it mattered, and answered, "Actually, he tends to pick fights, and this looks like one he'd lose." We went our separate ways, both of us leaning against the strength of our dogs, hoping that our leashes held. Leashes are good; leashes have a function.

I saw a woman walking a tiny Chihuahua on a pencil-thin leash when a big tan pit bull ran over, dragging its owner at the end of its stout lead, to meet and greet this little morsel. The Chi's owner knew the drill, and scooped the frail dog up under her chin before the dogs' noses touched. Oh. That's how you do it. You don't even let them meet. It's a bit more of a task to scoop your pet up when he weighs 24 pounds.
I saw the white bull for the next hour, sometimes on lead, more often off, racing from dog to dog. Nice. For all I know she was a lamb, and may have posed little real threat to other dogs. I know that pit bulls can be wonderful dogs when well-managed. They can also be deadlly. I recently read in USA Today (Tuesday, Sept. 30, "
A Fight to Save Urban Youth
" by Sharon L. Peters, that at least 100,000 young kids are fighting their dogs under the radar in America, according to Chicago-based anti-violence advocate Tio Hardiman, who has traveled to 35 states to assess the problem. Perhaps 40,000 more adults are engaged in organized dogfighting, according to the Humane Society of the United States.
I've got nothing against pit bulls, but whether they ever get to use their tremendous jaws or not, they are amply equipped to maim and destroy. We have created them thus. My problem is the people who own them for the wrong reasons, or fail to manage them responsibly. I won't waste a lot of verbiage on my thoughts on organized fighting; I think the Michael Vick hullaballoo--thank you, you soulless slimeball, for getting caught--admirably brought that under the public scrutiny it deserves. The average life expectancy of an urban pit bull is 18 months. Such an obscenity, this bloody tango, this twisting of a good dog's love and loyalty to its owner into death, destruction, moneylust.
This owner wasn't managing his dog; he was letting her do whatever she pleased, and I couldn't get past the huge masseter muscles and crushing power of her jaws, and the knowledge that, had Chet chosen to snarl at her, she could have annihilated him with a single bite and shake. How was letting her run free worth that risk for all the other dog owners present? I was angry that this person apparently enjoyed asserting his freedom, perhaps what he feels to be his privilege, by letting her run free in a dog-heavy crowd, when the other two pitbulls, Chet, the cattle dog, the Belgian shepherd, the border collie mix, the redbone hound, the beagle, the three mongrels and even the delicate little Chihuahua were properly restrained. I like the pawpaw festival because it's mellow and laid-back, but in this instance, a little uptightness would have been an asset. There are always those who think the rules are made for everyone else. Too bad they sometimes own pit bulls.