is that they're both wonderful in their own ways. Is that we need to manage them responsibly and treat them with abundant love and unfailing respect. Is that, once we allow them into our hearts, they become much more than animals occupying a space in our homes, leaving hairs on our sweaters.
"My little dog, the heartbeat at my feet." Edith Wharton
It seems a meet time, now that we have celebrated cats, to celebrate Chet Baker. We have celebrated Liam; now it's lissome Phoebe's turn.
When, in the early winter of 2004, I was thinking about what kind of dog we might get--a deliciously luxurious thing, that, to muse about just what kind of dog one might want--I remembered a fawn-colored pug I'd seen, being walked on a leash by three little girls at The Chautauqua Institution's Bestor Plaza. This pug was such an appealing little package of a dog, so clean and sweet and dear with his girls, that I thought, "I could have a dog like that. He'd be no trouble at all. I would like to see Phoebe and Liam with a dog like that."
I thought about it some more, looked at pictures both of pugs and of French bulldogs, drooled, looked up lists of their potential hereditary malformations and problems, finally made myself stop, and decided that, being active hikers and a bit rough-and-tumble, we needed something with a bit more muzzle, a bit more body and leg than a pug or a Frenchie. A dog who could breathe well enough to run with us, who was agile and sturdy and inclined to be sound. A dog who not only had brains and a sense of humor, but a dog who could wrestle, too. I remembered a vague and distant childhood memory of a neighbor's Boston terrier, Patsy, near our home in Kansas City, Kansas. I couldn't have been more than three, but I remember playing with Patsy Ebenstein. And so I Googled images of Boston terriers, found
Chet's breeder
, Jane Streett, and the rest is doggeh history. Flash forward almost four years...I think we got what we wanted.
Phoebe made a globe, a slightly oblong one, by pasting papier mache over a balloon and painting the continents on it. I'm glad kids still do stuff like that in 7th grade, odd as it seems. You never know when you might be called upon to make a papier mache globe in your post-elementary life.
Chet thought Phoebe's World looked like a lovely dog toy. Or at the very least, a superb opportunity for the Boston terrier's favorite game: Keep-Away.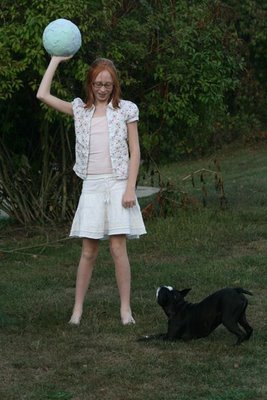 All you have to do to pique Baker's interest in an item is to hold it over your head and make eye contact with him. It doesn't matter what it is--a bone, a ball, a Webkinz, an olive, an oak leaf. You just have to make him think you don't want him to have it.