Bill brought home a box turtle he found on a nearby country road, seeing that it had been injured, but quite some time ago.
When we find such a turtle, we bring it home to evaluate it and see if there is anything we can do for it. A car had run over its hind end, and cracked the plastron near both hind legs.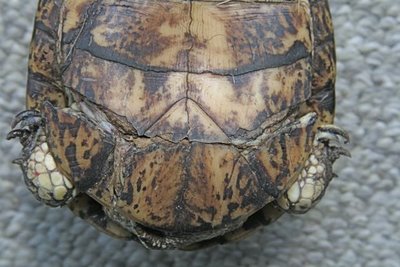 A rear view showed that, despite his injury, the turtle was fat.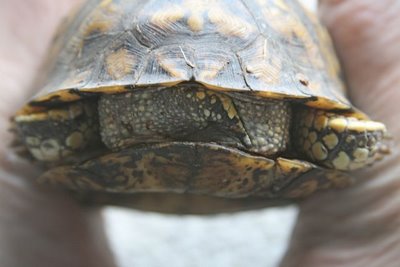 Fat is good where box turtles are concerned.
Overall, he looked pretty darn good. He didn't move much, but some turtles are intimidated by carpet and linoleum. He could move if he wanted to, but I suspected he just didn't want to.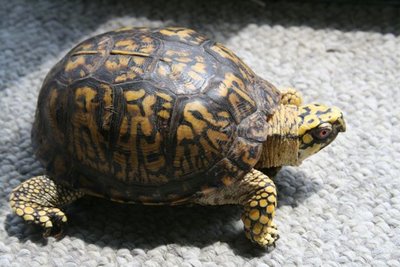 I sent pictures to an expert turtle rehabilitator in New York, and she confirmed my thoughts that this injury was healed probably as much as it was going to heal, and he was better off in the woods.
Meanwhile, Shelly, the year-old box turtle we've taken on for headstarting, is proving to be quite an eater. Here, she tucks into the first baked butternut squash she's ever encountered.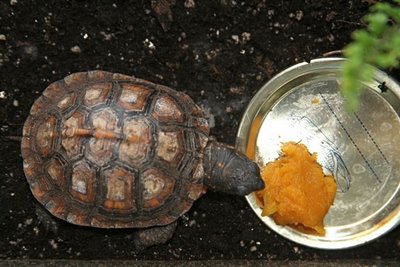 It's made with brown sugar, butter, and vanilla extract.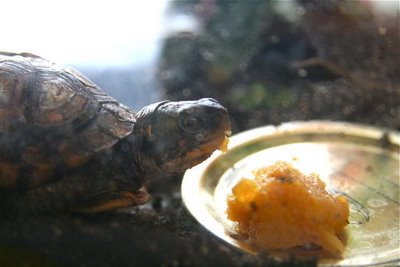 Who wouldn't love it?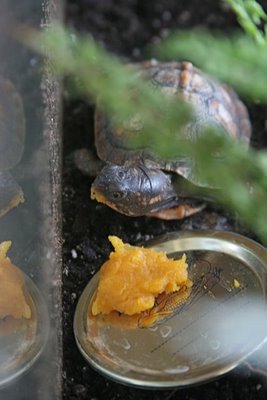 Phoebe got the honor of taking the injured turtle back to the woods where he was found.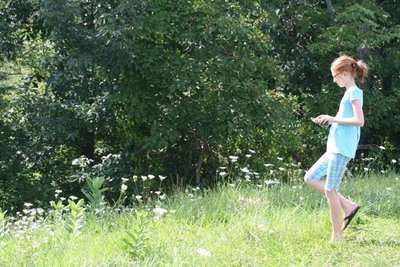 He seemed a little shell-shocked to find himself back home. (Sorry, couldn't resist).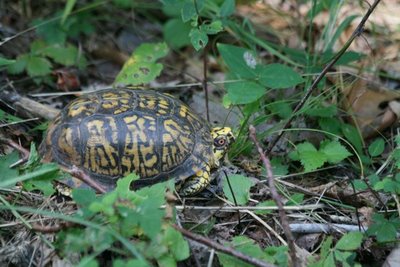 As we often do when we're messing about near Buck's pasture, we ran into one of the Warren boys, this time Jay. Every time Jay sees Chet Baker, he sings a few bars of "My Funny Valentine." Chet Baker loves Jay, and Jay lets Chet wash his face all over.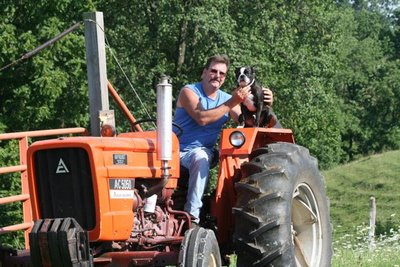 I love this picture.