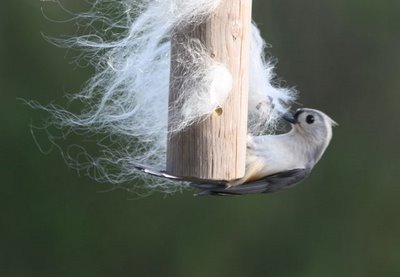 If there is a bird with a passion for fur, it is the tufted titmouse. Titmice are notorious in certain very small circles for their penchant for pulling fur or hair off animals.
Bird Watcher's Digest
once published a story from a man who was lying in a hammock trying to get a nap, and this titmouse kept flying down and yanking his hair out. They'll pull hair out of the tail of a sleeping dog. One of the best things I ever saw was a tufted titmouse on a country road in Connecticut, hopping between the legs of a turkey vulture that was feeding on a possum carcass. The titmouse was pulling hair out of the carcass right under the vulture's chin.
You can draw birds into your yard with food, sure, but it's really interesting to use other commodities they want, like eggshells (they eat them for calcium), water, nest sites, and nesting material. By providing the universal things birds need, you stand a chance of getting many more species, including ones which don't eat seed, like warblers, swallows, vireos and tanagers, to name a few.
Bill of the Birds got this groovy
nesting material dispenser
from a manufacturer (Loretta's Blue Star) who wanted us to test it. It's just a cylinder of wood with holes drilled through it. It came with a package of mohair and a sort of crochet hook with which you pull the mohair through the holes. Unfortunately we can't find any trace of the manufacturer to get more mohair, because this one titmouse just cleaned us out.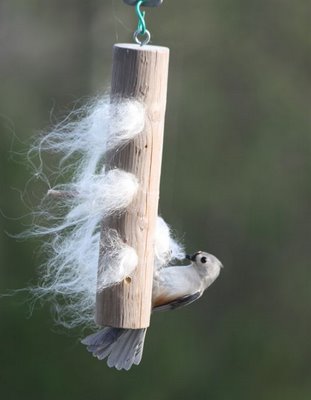 It went into a frenzy of hair gathering.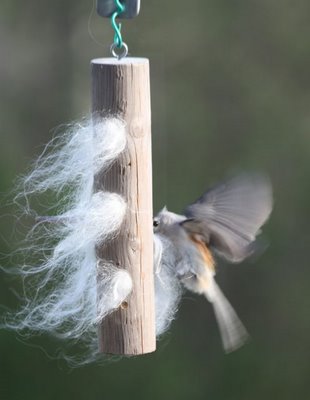 Durn stuff gets in your eyes. I love this shot.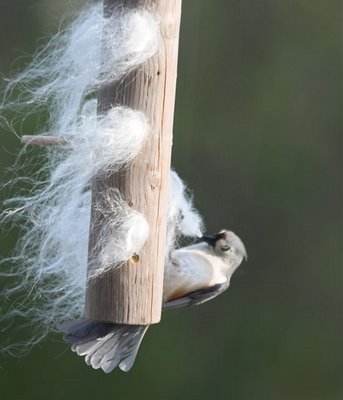 We could never figure out where she was taking it, except deep into the woods. I yearn to have another titmouse nest in our bird boxes; we've had one in 17 years and I'm dying to paint the babies. Paint portraits of the babies as they grow. Not paint the babies.  But maybe if we keep putting the high-ticket stuff out, we'll luck out.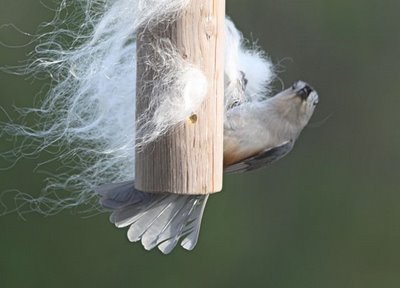 Pfft! Hair!
A low-tech version of this dispenser is a little wicker basket stuffed with animal hair--dog or horse coat trimmings, even beauty salon sweepings. I don't recommend dryer lint Hollofil since they are much too absorbent and will soak a nest if they get wet. Lord knows we have a lot of Hollofil around here that could be going to some use.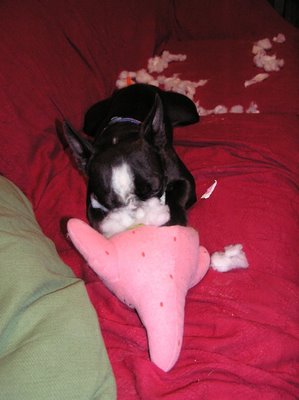 Patrick Star bites the schnitzel.