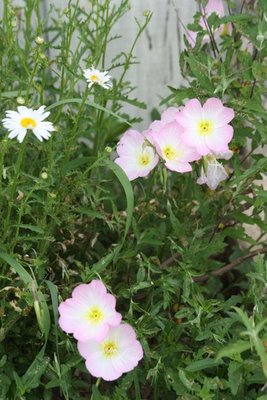 Native Missouri primrose,
Oenothera spectabilis
, in bloom by our garage. Keeping good company with a European field daisy.
A wee garden tour for you.
Every year there is a garden tour in Marietta, Ohio, the town nearest us. Well, it's still about 20 miles away. And the Marietta garden tour is one of my favorite events of the year, because the kids and I get to walk through other people's backyards and see what they think is pretty. It's kind of like watching "Cops," where you get to go inside those houses that you might only drive by with a little shudder. Well, it's actually nothing like watching "Cops," but I think you know what I mean. You get to poke around, to snoop, to see what other people do and think and plant.
I have always wanted to be on the Marietta garden tour, to open my gardens to viewing. But since hundreds and hundreds of people visit the gardens, they would have to have a set of chartered buses or the world's most bodacious carpool to get them the twenty miles out here from town. So it's never going to happen, but I always go on the tour and wish. I could give a good garden tour.
I could show everyone such a good time. I'd open my tree swallow box and voila! there would be sweetly smiling rubber swallow babies cuddled down amidst the feathers.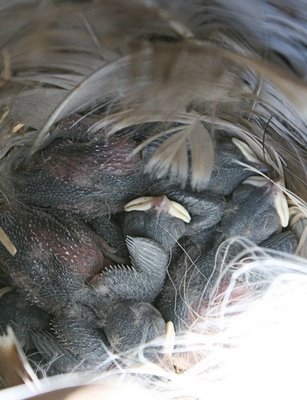 We'd take in the view of the north shade bed along the front of the house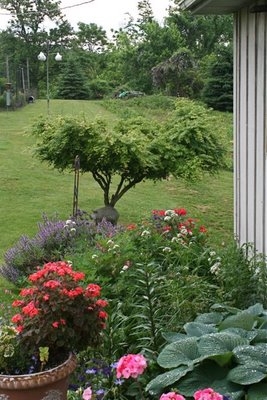 and admire the aptly-named
Salvia superba,
the culinary sage plant I grew from a seed many years ago. Put a few of those leaves in butter and throw some portobella ravioli in that butter and you have something, ma'am. And I use the leaves year-round, fresh from the plant.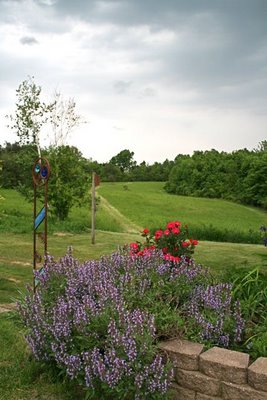 I'd have my assistant, Phoebe, go in the house and fetch the blooming
Psychopsis mendenhall "
Hildos
."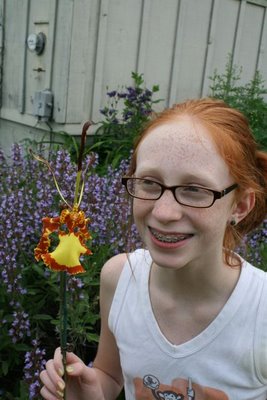 We'd set it up in front of the blooming sage plant, just for color overkill.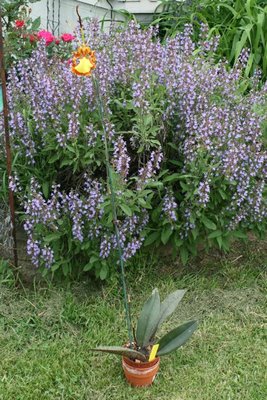 Everyone would gasp and want to photograph this chest-high wonder.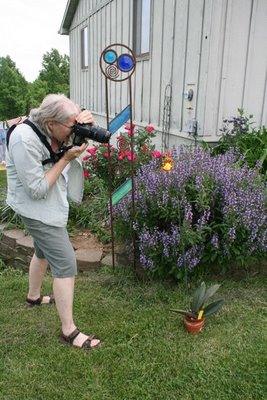 The eastern phoebe would tear some fibers from the cocoa mat planters, and pause on her way to the nest on our special shelf, put up just for her.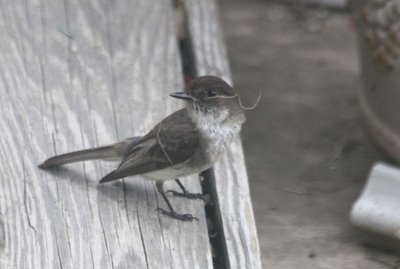 Then she'd fetch up on the Garden Forge ornament, while the Knockout rose bloomed and bloomed. Gasp!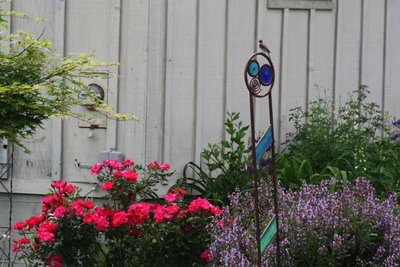 And that's just the front bed. Mmmm. Such a sweet dream. I guess I'll have to share it with you all instead. Come to think of it, that's way better than having to weed my fingers to the nubs and clean the house and try to get the dirt out from under my nails in time for the first busload to roll up. Virtual garden tour!