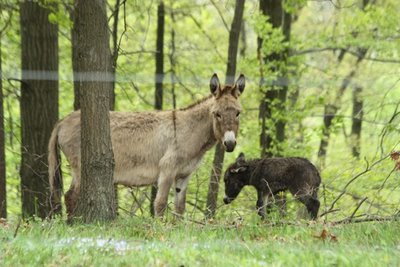 Our Big Day started out auspiciously on our own road. One of the watch donkeys in a neighbor's goat herd had given birth very recently, and Bill slammed on the brakes for the opportunity to see such a young creature. The kids were grabbing for the binoculars even as we came to a stop.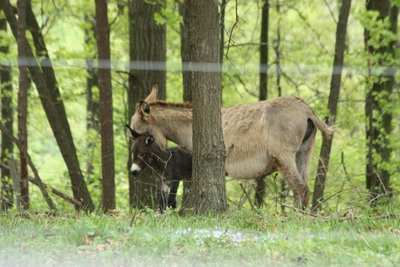 Mama was very protective of her baby, walking circles around it and nuzzling it gently.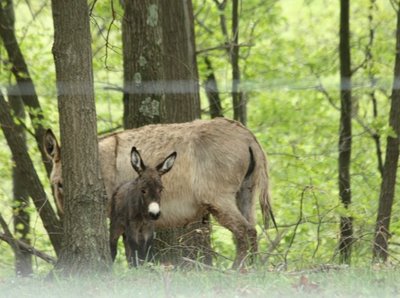 It was curious, and kept swiveling those impossibly long ears our way. I love its little white nose, and wonder if its coat will lighten as it ages, like many gray horses' coats do.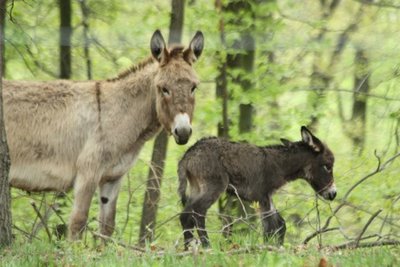 We'll enjoy watching it grow up.
We're back from the land of bison, horses, pronghorns, eagles, coyotes and mountain bluebirds, having driven 400 miles from Bismarck, ND to Great Falls, Montana, floated down the Missouri for three days on the trail of Lewis and Clark, then having driven the 400 miles back, then flown on home yesterday. Oh, and working two festivals somewhere in there, kids along for everything, trooping through, completely unplugged. It's the true test of a child's mettle, and they passed with honors. We left June 2 and got home June 15. It was a two-week odyssey with thousands of images I can't even face downloading right now, each one a postcard of stunning beauty. Oh, wild horses....they canter through my dreams. Phoebe's smitten. Liam's fixated on bison the way he used to love trains.
I'm buried in weeds and laundry and long lawngrass, needing to clean the pond and aquarium while swimming in mail and work deadlines. But I felt like we got ourselves back on that trip, spending 24 hours a day together, the four of us, and realizing that we're pretty good company. It was an amazing journey, and I look forward to sharing it with you. Picked up The Bacon from his foster mom and dad this afternoon. He has some bunnehs to correct! and a lot of kisses to make up.