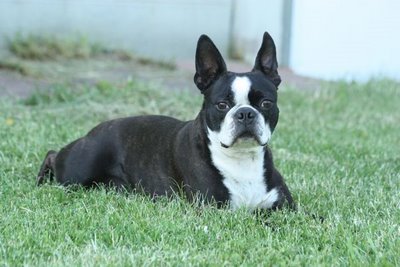 Chet Baker nabbed a chiptymunk today, the first I'm aware of in oh, about 1,000 tries this spring. Just FYI he doesn't pet them and let them go. His inner Cape Hunting Dog comes out, he gives them a quick shake and a crunch and stretches them in the grass, then trots off without a backward glance. It's the rat terrier half of him. The smooshy-wooshy sweet wad of doggeh love is his bulldog half.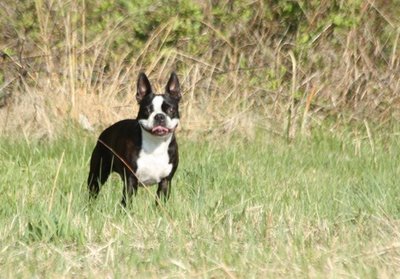 Chet Baker, Predator. Bunnehs beware!
Thank the Lord he doesn't swallow them whole, as our dachshund Volks once did with a very dead squirrel. Blecch. We caught him masticating it and as we watched in horror the entire thing disappeared down his throat, like as if he wuz a snake. You want some yaller mustard for that squirrel hummmmm?
Tuesday night, as his welcome home from two weeks at Camp Baker, Chet tangled with a raccoon that was trying to raid the bird feeders. He came slinking in with three puncture wounds on his face and throat, and the reek of coon on his neck. Thank goodness he had his rabies booster in May! Chet feels so very sorry for himself when he gets hurt, rolling his eyes and slicking back his ears. He rolls over and lets me wash him up and assess the damage. And it is the time of year when I need to sweep the yard with a flashlight before letting him out for the last time, because that rat terrier half will always go in for the tussle.
Let's face it--the animals we like to cuddle and kiss are predators. Cats happen to be much, much better at it, and better equipped for it, than dogs. But even Mr. Adorable gets a chiptymunk now and then, and a couple of rabbits a year, and that's OK with me. We've got plenty chipmunks and rabbits here. We even have rabbits that climb up on 18" high concrete benches and into my planters to demolish the rare geraniums I've been propagating, reducing a year's nurturing to nubbins in a single night. Guess what part of the geranium they eat? Just the crunchy leaf stems. Not the leaves, not the beautiful flowers nor the main stems. Just the leaf stems. Oh, that's worth killing a whole plant for.
Now those rabbits are out of line. These are the times I wish Chet were a better predator.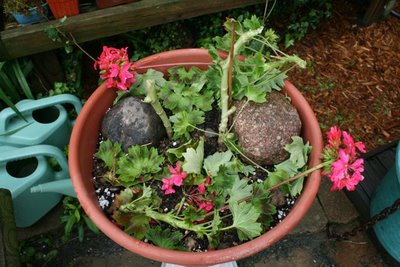 You can bet that if Chet were offing a bird or two a day, as some cats do, he'd be an indoor dog. This is why I have a dog, and not a cat. Dogs are evolutionarily much better equipped to take correction than are cats. As in: Dogs take correction, remember it, and apply it to their behavior. Cats, well...cats do what cats do, and if what they like to do happens to be compatible with being a good pet, that's lovely for everyone.
Chet has been taught not to chase birds. He wouldn't hurt one if it hopped up and perched on his nose. Same goes for turkles, officially Off Limits, ever since I caught him chewing on ol'
Naraht
when he was a puppeh. Yesterday Phoebe and I were playing with a dwarf hamster, and we wondered if we got one, whether Chet would try to give it a quick snap and a shake. Well, he might, if we neglected to tell him he couldn't. I feel confident that if we had a pet hamster, rabbit or chipmunk, we could very quickly teach Chet to leave it alone. That's the beauty of dogs. Can somebody breed trainability into cats, please?
Smart chipmunks go straight up when Chet makes the scene. Here, he's treed a chipmunk.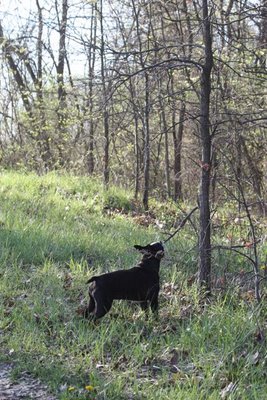 It's the dark little blob at the top center of the picture.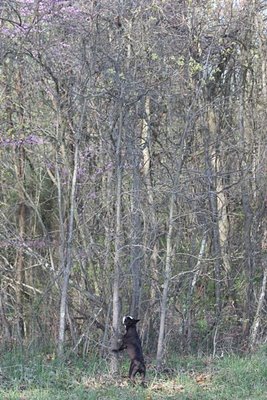 Zooming in...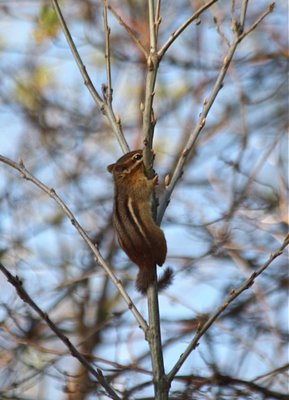 You have to love the almost prehensile tail.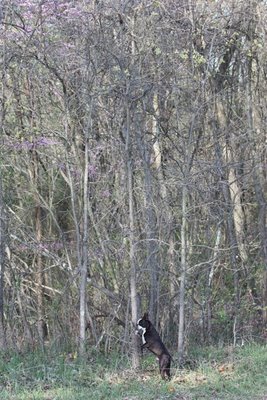 No, he didn't get this'n, like he doesn't get 99.9 percent of the chiptymunks around here.
But that doesn't keep him from running lightning-fast raids a couple of times an hour, all day long.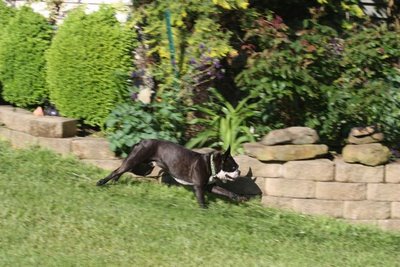 I love to chase small furry animals. It is my job, and I am very good at my job. Notice that I did not say "catch" small furry animals. I chase them, mostly.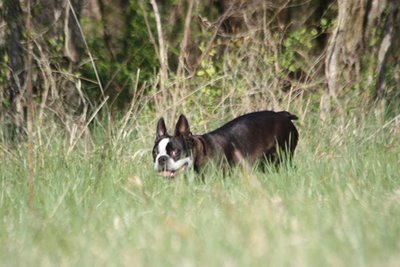 The Chet Baker commentary that aired on NPR got tons of comments, both on the
NPR website
and on
NPR's Facebook page
. (You'll have to go to "Older Posts" to find it on the NPR Facebook page). Hundreds. The overwhelming majority that came in were supportive, from people with whom the piece struck a chord. After all, who likes to have someone come up and say something mean about their dog?
As there always are in online forums, there was a smattering of snarky comments, too, from people saying how "inbred" Chet is, how maladapted; what a jerk I am to buy a purebred dog; how I should have rescued a dog instead; how sick it is that humans have selected dogs for certain traits...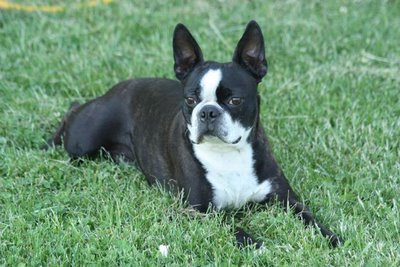 including, I assume, intelligence, beauty, tractability, forward-facing googly eyes, prickety ears, slick coat, sense of humor, kissable purple lips...how awful of us! Perhaps we should all be keeping lean, lanky wolves and jackals as pets? Somehow I can't imagine a wolf sitting on the back of the couch, watching American Idol with us.
I'm sorry, cranky people, but you make me hoot out loud, because you're so predictable. There's something about a keyboard that can inspire a kind of road rage; maybe people aren't getting enough fiber, or getting up and walking around enough, but cranky commenters all sound alike after awhile. I'm with the Obamas--having a dog is a big decision, an enormous outlay of cash over the decade or more that we own it, and we have a right to select the kind of dog we really want. Maybe your urge to rescue a dog is stronger than your desire to get exactly what you want vis a vis size, coat length, personality, temperament, and that's fine. You can go rescue a dog, and someone else can go to a
good breeder
to buy a purebred. That's what selective breeding, and personal choice, are all about. And no matter what you do, there's always going to be a cranky person at a keyboard somewhere ready to take a shot from the sidelines at the stance you take.
I'd like to invite all the holier-than-thous over to see this lean, sleek, beautiful boy go about his doggly bidness.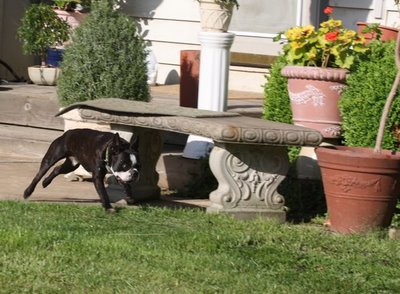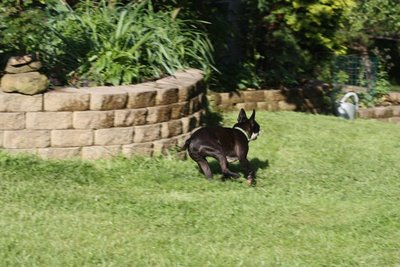 But just for a few minutes, and I'm not going to bake you cookies. Those, and sloppy Chet Baker kisses, are for the nice people; i.e., the ones who agree with me.