Meet Piglet.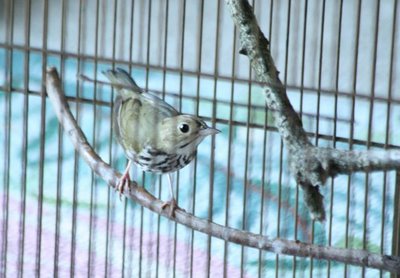 I got a phone call from my dear friend Leslie, who comments as NatureMama, and blogs
here.
We go way back--Leslie came here as a biology student at Marietta College on a field trip, and in a way she never left. I saw how she dug the place, and took her aside after the field trip and said, "Any time you just need some woods and fields and quiet, come out here. You don't have to call first, just come out." And she did. We discovered things. She found a brown thrasher nest in our forsythia bush, one I'd walked by for two weeks! Once a bobcat leapt in front of her car as she drove home after a late babysitting gig. In our driveway! Phoebe was a babe then, and Liam wasn't even started when we met, and after he arrived, Leslie used to come out once a week and give me a day of Self while she doted on the kids. It was needed. Moms need Self every now and then. Right, Les? She always says she feels like she's coming home when she walks in the door. It feels like that to me, too.
Anyway, Leslie had gotten a call, being a person who knows what to do, from her friend who runs We Love Pets in Marietta, a nice kind of pet store that sells sustainable pets, and doesn't have nasty puppy-mill puppy displays and stocks Royal Canin Mini Special 27, Chet's particular brand of fancy chowchow, which gives him such a radiant coat and bright eyes. An ovenbird had flown in the store and injured itself trying to get back out. This is a little weird, since We Love Pets is in the middle of a shopping center, but migration is weird for birds and they get turned around and cornfused sometimes. Leslie and the manager caught the ovenbird and Les was concerned because one of its wings was hanging very low. Although it could fly well, the bird couldn't seem to gain much altitude either. Double uh-oh. So she called the Science Chimp, and got in the car to bring the bird (and her three little ones, sleeping in the car) to Zick's Bird Hostel.
I set up a cage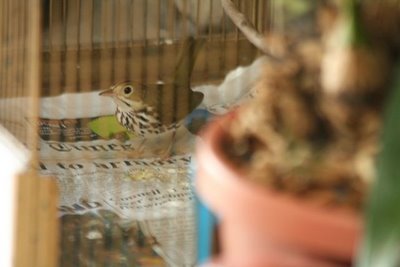 and put it on the stone fireplace in the living room, and surrounded it with potted plants so the bird would feel sheltered and protected. I put a dish of water in there, and another with 25 mealworms in it and they were all gone within two hours. I called the ovenbird Piglet, and the name stuck. The next day she ate 70 mealworms and some pillbugs and earthworms too. Yikes. Piglet indeed. My little mealworm farm sure comes in handy!
I knew Piglet had to be tired, because she'd been in the store for awhile panicking, and was probably nearing the end of her spring migration, having flown from Central America. So I figured that was most of her problem, and lots of food, quiet and a smallish cage could fix that. I also thought she might have hit a window or otherwise hurt herself, so I decided to keep an eye on that low-hanging wing. When it returned to a normal position, I'd release her. I'm not the most sophisticated of bird rehabilitators, but my hunches tend to be good.
Piglet was in constant motion whenever I was watching her, but she'd strike a pose to eyeball me, so all my unblurred photos of her look just the same.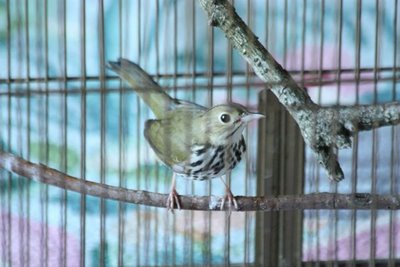 And then there's this pose: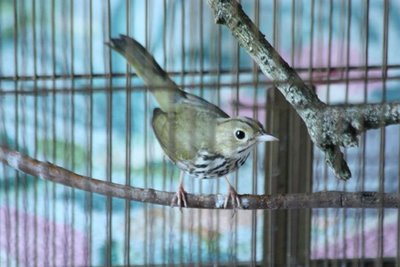 Sorry about that, but I didn't want to use flash to freeze the motion of this shy forest creature--she was stressed enough. I was standing 15' away using a 300 mm. telephoto in my living room! Feed 'em and leave 'em alone, that's the credo.
By the end of three days, Piglet's low-hanging wing was in a normal position, and she was bright and eager and crazy, and I knew it was time to release her. The weather had warmed up at long last, nights were in the 50's instead of the 30's, and it was time. Even if she needed some additional time to heal, she could make a perfectly good living in our woods eating the things ovenbirds are supposed to eat, not a diet of straight mealworms! The kids said good-bye to her before they left for school, and I took her cage out on the back deck and opened the door.
She darted out, climbed 25 feet in the air at a 45 degree angle, zigged left, zagged right, and swooped down into the woods by the Spring Trail. There, she landed on a small log and walked its length, switching her tail and chipping. That swift climb into the blue sky, the swift zigs and zags, did my heart a world of good. Piglet was going to make it.
I hope she stays here with our ovenbirds (I can hear one singing as I write), but now she's free to fly wherever she wants, and she has the wings to go.