I mentioned Guyana as a premier destination for spectacular birds, particularly cotingas. Undoubtedly one of the most magnificent cotingas of all is the cock of the rock. For sheer brilliance, it's got them all beat, and it's obliging enough to sit at eye level in the forest where you can study it for many minutes on end. The rest of the cotingas we saw were often frustratingly high in the dark canopy. The other huge bonus of COTR is that it's predictable, appearing where there are caves and rock formations in which it can nest, and displaying in a loose lek situation like many other cotingas. So you can go to Guyana and count on seeing this stunning orange dreamsicle of a bird.
There's nothing quite like walking silently along a padded forest path, knowing that somewhere along the way you are going to see a cock of the rock. It's like Christmas morning, coming around the hall corner and seeing the presents under the tree.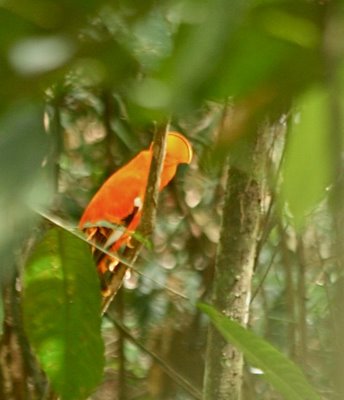 You just can't suppress a gasp when the neon-orange bird hoves into view.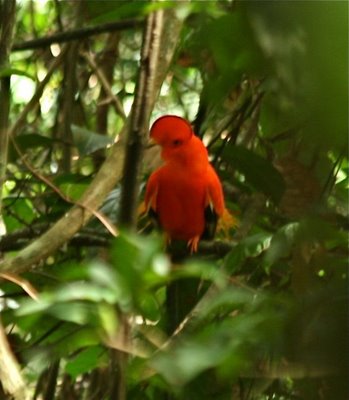 In the dark forest, he glows like an ember in the wind.
When you're brilliant orange, you don't really need to do much to impress the ladies of the rock. You just sit there and look gorgeous.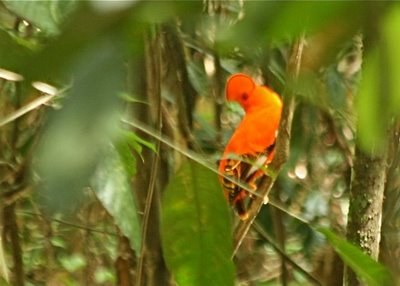 Of course, when it all comes down, it's more interactive. When a female shows interest, the male COTR will descend to the ground, dance and crouch, and the female, ideallly, will approach and nibble at the wispy foofuraw coming off his tertial wing feathers. You can see his ladyfringe backlit, here.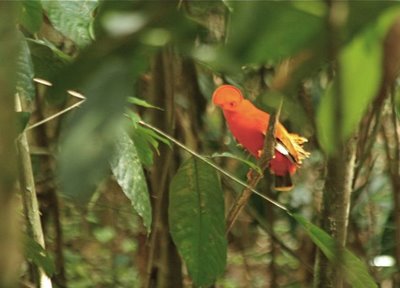 Next: The Cradle of the Cock of the Rock.
DOUBLE ZICK ALERT:
I will be talking about hunting morel mushrooms this afternoon (Thursday, April 9) on National Public Radio's
All Things Considered
, which starts at 4 pm ET. If you miss it,
go
here.
Please leave a comment on the NPR site (registration's a breeze) and hit Recommend if you like it. That helps with everything. Go, flying monkeys! Go!
And there's a brand new
This Birding Life
podcast up at the Bird Watcher's Digest site: me reading my
True Nature
column about sandhill crane hunting, "Love and Death Among the Cranes." I'm going to listen to it so I can remember what my voice sounded like before I got the chest cold to end all chest colds. Hackahackahacka. Thanks to my brainy hubs, Bill Thompson III, for creating such a cool series of podcasts for nature lovers. Be sure to download the version with graphics! Great job, B!
Listen here.