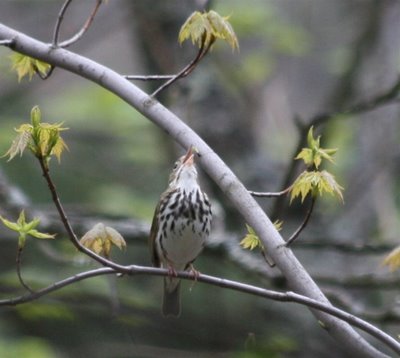 Thanks to all you readers and listeners out there, all you Stumblers who believe love rules,*
I keep getting these email alerts that I'm about to exceed my domain bandwidth. It's a good problem to have, but it does require action. So I'm migrating to HostGator, which offers unlimited bandwidth for less than a third what I've been paying to host juliezickefoose.com. I might be invisible for 24-48 hours, might have no email service, might (gasp!) not update my Facebook account. The world will keep spinning, the lilac buds will keep opening, but you might not have Zick for a little while. Stay cool.
The ovenbirds got in yesterday. And I have an ovenbird with a strained wing, found blundering around inside a pet shop(!) in town and brought to me by my sweet friend
NatureMama
.
I have had the bird for 18 hours and in that time he's eaten 70 mealworms, giving him a distinctively chesty look and earning him the name Piglet. While my domain migrates, I'll be turning over rocks looking for pillbugs and earthworms, hoping to get him in shape to continue his.
*Bruce Cockburn, again