I was good this year. I did the bulk of my tax preparation in January, surprising the daylights out of myself. I knew that, as onerous as it is to organize and figure up a million flying receipts, it would be even less fun in April.
Even if you have someone prepare your taxes, for a freelancer like me, the bulk of the work has to happen on your own desk. I crunch everything down to neat figures encased in little penciled boxes, and supply that to my preparer, Jim. I like Jim, partly because I can make him laugh any time. Much of what I do for a living actually turns out to be pretty funny.
Loyal to Rea and Associates, I don't patronize Liberty Tax Preparers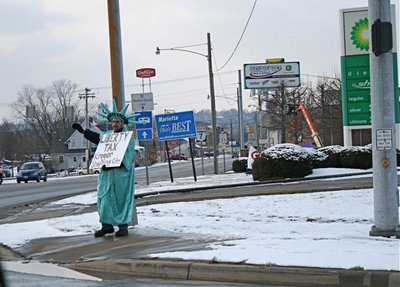 no matter how alluringly Miss Liberty, the Bearded Woman, waves from the corner of Acme and Greene. I'm sorry, but this is a major economic indicator right there--a grown man being willing to put on a verdigris gown and tiara and wave all day in the freezing cold. There's one guy who waves, who won't wear the starry crown. I don't blame him. Then there's this girl who jumps up and down, tirelessly. Makes you want to get a paintball gun.
Right across the street, there are people walking up and down with giant cardboard pizzas on their bellies. I wonder what it's like to be a pizza person. It could happen. It probably pays better than being a natural history essayist.
Yes, this is another Chet Baker post. No, I didn't find him a new home. I have gotten three private emails from people about my April 1st post, in which I said we'd made the difficult decision to find Chet Baker a new home. Sincere, tearful letters from people begging me to reconsider. Remember when Tweety Bird would put his hands behind his back and bat his eyes and say, "Dey don't know me vewwy well, do dey?"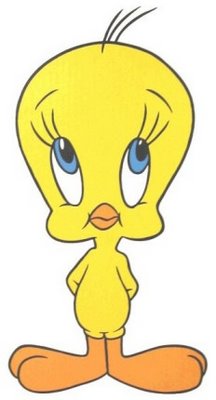 I have had Charlie the macaw for 22 years. In that time, he has perforated me more times than I care to recount. He is a preferential chewer, which is to say he chooses the most valuable thing in sight to destroy, with books and electronics his top picks. He screams like a maniac, lunges at Bill's feet, kicks Chet Baker out of his soft bed, and poops everywhere. And I haven't even come close to getting rid of HIM. I love him.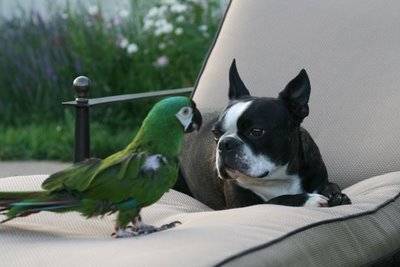 And I cannot think of anything Chet Baker could do that could move me to give him up. If Chet Baker had a rage attack and chewed off my left arm, I'd say, "Whew! Good thing I'm right handed! Here, Baker. Want a bikkit?"
So that thing about getting rid of Chet was a joke, son, an April Fool's joke, and not a very funny one, it turns out. Chet Baker (and Charlie) are here to stay, forever in my heart and home.
Like I said, I have plenty of help with my taxes.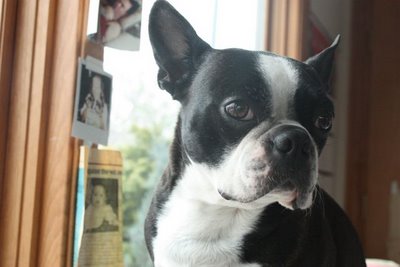 You have me, Mether. I, Chet Baker, am here to help organize your receipts. What are receipts? Are they like bikkits? May I have a bikkit? Or at least, can you mess with me right now? I would like to be messed with. Or to have a bikkit. Your choice. Or we could take a walk. It is not that cold outside.
Chet Baker. You are very talkative, and Mether is busy today. How did you get the idea that it would be all right to sit upon my tax papers?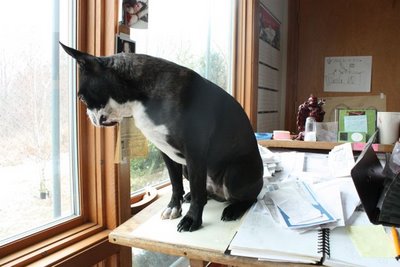 Well, it is the best place in the whole house to watch for chiptymunks, up here on your table. Oh. Are these receipts that I am sitting on?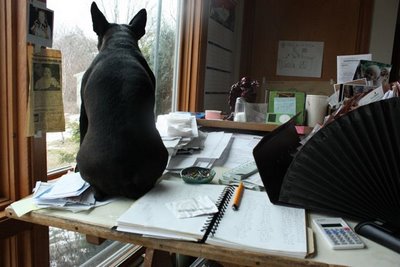 Yes they are, little Cat Dog, who is so fond of sitting up high and getting in the way of progress. But I am taking a break now. I would rather watch for chiptymunks with you for a little while than do this, any day. You smell like sunshine.
So I'd written this post and I got an email from my new bloggrrl friend Murr Brewster who writes this hilarious blog called
Murrmurrs
. She said she shouldn't be emailing because she was supposedly "finishing up her taxes"--we all know how that generally goes. So I sent her the photo directly above, of Chet Baker keeping my receipts warm with his fanny. Oh, sorry, Brits, his bum.
I wrote, "This is what tax day looks like in Whipple, Ohio."
And Murr freaked out and sent me this photo of what tax prep day looks like in Portland, Oregon: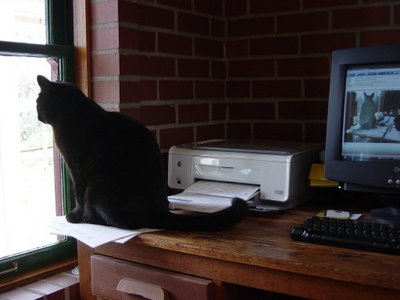 photo by Murr Brewster
Different animal, same idea. Sit on the important stuff. Get butt all over the thing they're working on at the moment. Then they can't ignore you. Now, we all know you can't pose a cat. And I beg you to note what's on Murr's computer screen. It is he, Chet Baker, whose fame stretches all the way across this great, expensive country of ours. Happy IRS Day!