Speaking of growth, rebirth and change, the
Psychopsis mendenhall
"Hildos" orchid that started blooming on my bedroom windowsill in June is STILL blooming, throwing flower after flower off its meter-high spike. I LOVE THIS PLANT. SOOOO MUCH.
It's as if all it wants to do is delight me.
I was dying to see how it opened, so I took a series of photos of Blossoms #3 and 4 as they went from closed bud to crane head to flamenco-dancing lobster dude.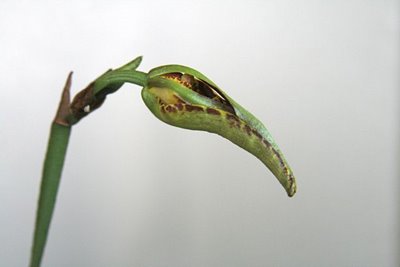 At this point the bud looks like the skull of a crazy bird, maybe an ibis or flamingo.
It doesn't take more than overnight for it to go to this folded miracle: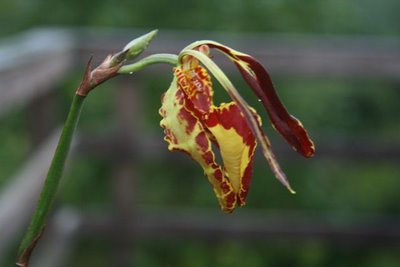 You can see the next bud cued up. How considerate of the orchid, to have another bud forming in the wings when this flower finally withers and falls with a plop in the middle of the night.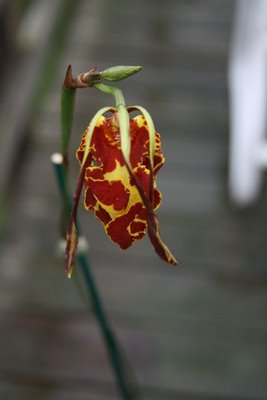 Ta-DAA! I am OUT!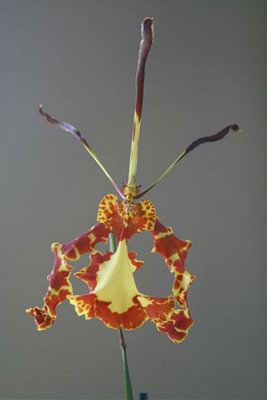 And I am the kabuki lobster dude, mixing genres, phyla and metaphors, doing my manly flamenco for your viewing pleasure for the next week and a half.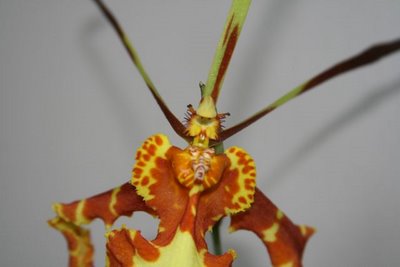 Psychopsis mendenhall
is native to Trinidad, where its brilliant blossoms dance singly on long stems in the forest gloom. Imagine such a thing, encountered in the wild.
And now, given sun, rainwater and orchid food, it opens five-inch wide blossoms on my windowsill. Life is good.