I am upset that Mether is using this picture. I think that I look like a toad in this picture. I cannot help it. They were squeezing me.
On Saturday, when Mether and I were hanging around the house, this
very nice lady
came to visit us.
She had treats, and she gave me a lot of them. They were liver, salty and chewy and good. Very good. Instead of giving them all to me, which is what I wanted, Mether took them and put them in a jar. No amount of woofing will get her to give me more than one a day. Mether is no fun.
This lady is a lot more fun than Mether
.
I am bored with Mether.

This lady knew how to give a dog a massage. When she did that, I decided to jump up on her lap whenever she sat down. I woofed at her when she got up so she would sit back down. The massage felt that good. It worked, the woofing. I got more massaging.
Which is a good thing, because my muscles are tight. I have a stressful life.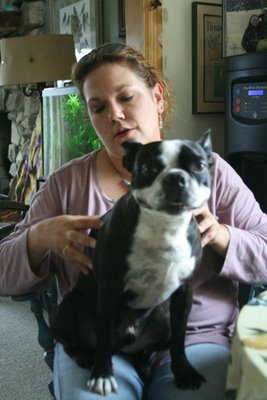 Well, I do. Do not think that you are the only person with stress in your life.
I sat on her lap as much as I could, even though she was jumping up and down too much, to look at turtles and spiders and flowers and birds. She and Mether laughed a lot and talked very fast. They talked a great deal about me, which is something that I enjoy.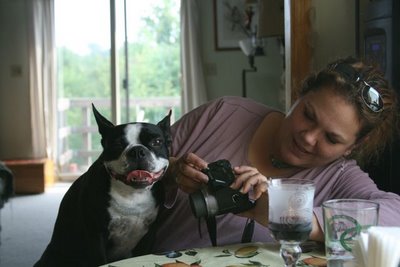 In my opinion, she is a little too busy with her camera. She took pictures of my mouth. I do not know why. But she and Mether were laughing a lot, and a Boston terrier knows one thing: Laughing is good. So I showed her the whole inside of my mouth, which is big. I think she was impressed.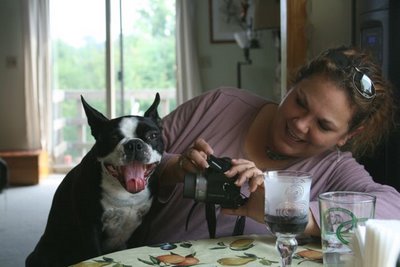 I really, really liked that lady, and I hope she comes back soon. The liver treats would be good to bring again. Also a stuffed cat, that would be good too, because the one that she brought me is already out of stuffing and the squeaker is gone. But I would settle for just some kisses. And a back rub. Do not forget to rub my tail area.