We've been starting every day with birdwatching off the deck and tower. Such joy, to spend an hour or two just watching birds. What a way to start the day. It's torture to come inside, but around 10 AM it slows down enough to let me go back into the studio. Soon enough, these little migrants, gaudy and flashy and delicate and exotic, will be gone, well on their way to their Central and South American wintering grounds. So we revel in them while we can, soaking them up and taking digital souvenirs of their stay with us.
It's a thrill to get enough pictures of a single species to make a little photoessay, perhaps get a tiny glimpse into their complex behavior, their lives. I gather what bits I may in the privileged moments I spend in their presence.
I glance at the bird Spa, which I do hundreds of times each day as I "work," and see something tiny, colorful, out of place. A warbler. Which one? Perhaps the titmouse wonders, too.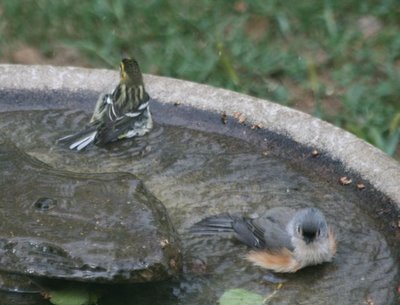 It jumps to the dry rock, revealing a cheek patch and the hint of a burning orange throat. Nice wingbars! A Blackburnian warbler. What a fine sight to greet the morning.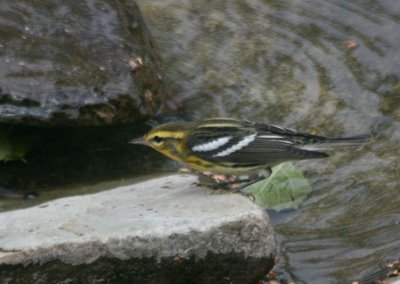 I study my books, but can't decide whether this is an adult female or a first fall male. No matter. It's beautiful.
Turning toward me, it shows its glowing throat. It takes a long, soaky bath.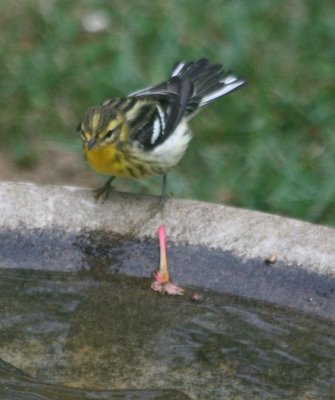 It repairs to the nearby birch to preen and fluff its damp feathers.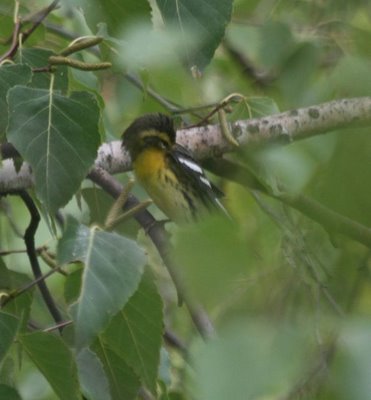 Lots of work to do under the wings.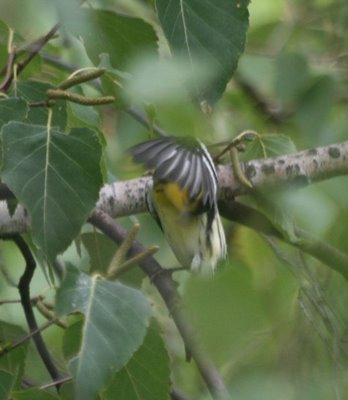 I am flabbergasted at the length and flexibility of its neck. Blackburnians are such compact little warblers, but this neck would do credit to an ibis.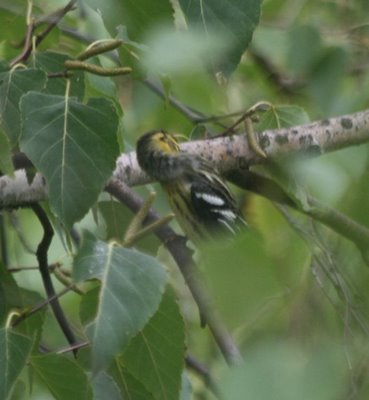 And I'm stunned again to see it twist its tiny body into the most impossible position as it surveys the yard. If I drew a bird with its leg like this, any ornithologist worth her salt would shoot me down. Including me. Yep, that's the hind toe on the outside edge of the branch.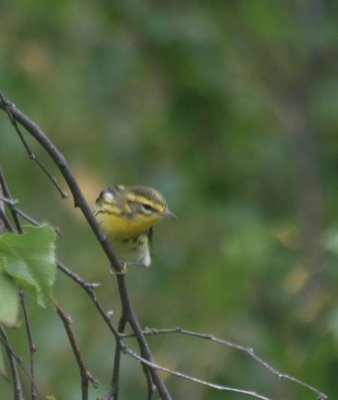 Soon, it's time to think about leaving. The warbler surveys the birch leaves for a morsel of food to speed it on its way, checks the sky.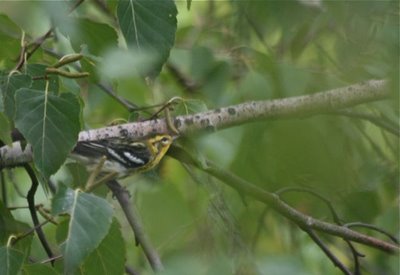 It hops up to an exposed branch, giving me a fleeting moment's more pleasure.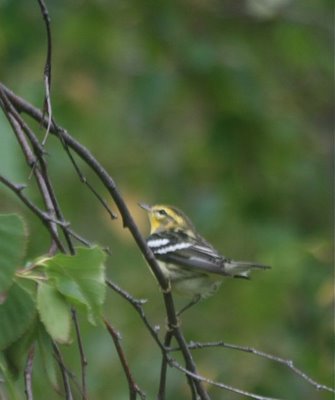 It mounts to the top of the sycamore we planted close to our deck
and is gone.