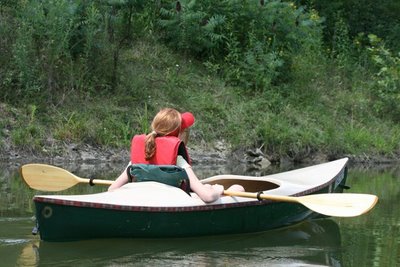 On the weekend Bill took the kids whitewater rafting in West Virginia, one of the things I did by myself was go canoeing on quiet waters. It was kind of a protest. I wasn't too happy about having my family on whitewater, being a rapidophobe myself. I had to chuckle when I saw this warning buoy at Wolf Run: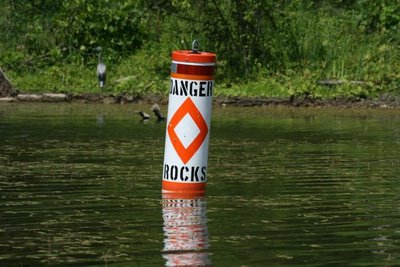 No, actually, it doesn't. Quiet waters rock.
Phoebe and I were on high alert this day when we went out together, and it paid off in spades, because the beavers I'd spotted on my last visit to Wolf Run were around again. The first thing I needed to teach her was to be conscious of keeping the paddle from hitting the sides of the canoe. I told her that you can spot a rube a mile off over the water by the clunk-clunk of paddle hitting canoe sides. You should always paddle as if you're sneaking up on something, because in all likelihood, you are.
There is great pleasure in silent conveyance on still waters.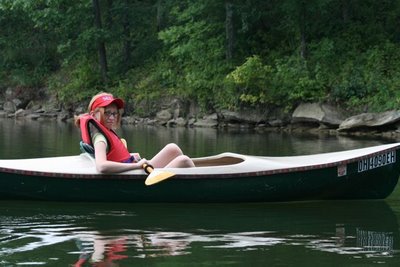 In the first cove we checked out, a beaver floated quietly, watching us. It circled, always keeping an eye on us.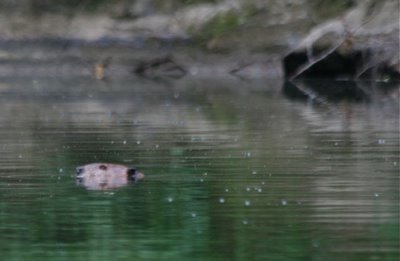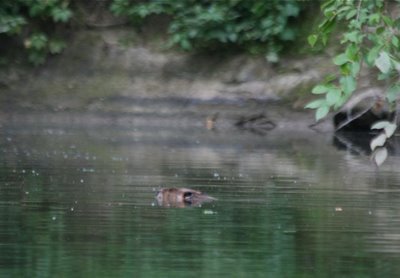 Finally, it drew close, and I could tell it was winding up to smack its big flat leathery tail on the water. I could just see it in that glittering eye. So I focused on his back and was ready when it happened!
He's taking a big breath in. Something's going down.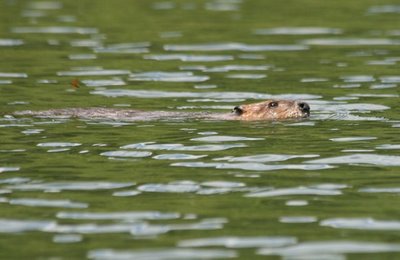 KER-SPLOOOOOSH!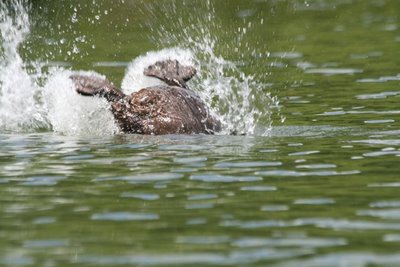 This is one of my favorite pictures of the summer--it shows the enormous webbed paddles the beaver uses to swim so swiftly and dive so deeply. There is a big roostertail of water on either side of the tail, which has been smacked down on the water. Gosh, beavers are so cool. Beavers do this to let you know they see you--it's analogous to a white-tailed deer flashing its big white flag at you. Hey you. Don't bother chasing me. I'm already gone.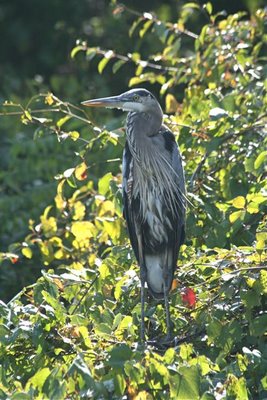 Herons were everywhere. I took a lot of heron photos. And no, I don't use the "burst" or rapid-fire/multiple frame function when shooting birds in flight--though I must try it soon. Probably would have been useful for the beaversmack.
Big birds that sit still and then flap off majestically are irresistible to me.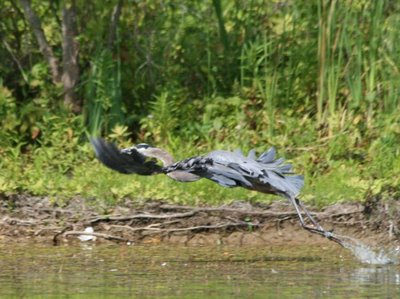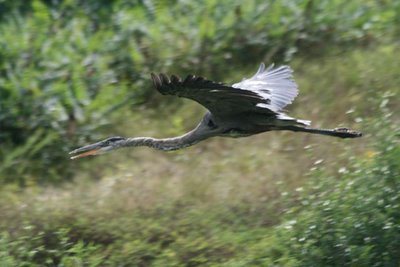 Who says pterodactyls are all gone? His croaking rasp only enhances the metaphor--it sounds like someone opening a stuck root cellar door.
Speaking of irresistible, I saw a water naiad on the shore. Where's
Maxfield Parrish
when you need him?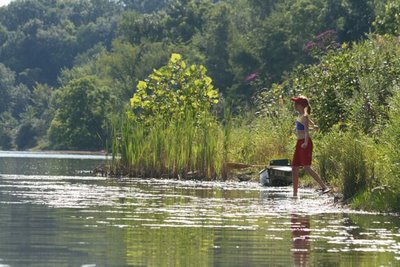 Another heartbreakingly beautiful September 11 in southern Ohio. Soon enough, rain will come--all these hurricanes have to amount to something. But for now, it's pellucid and clear and the cool afternoon air is like a draught of Riesling. This morning before dawn I stood in the dissolving dark and listened to the
calls of dozens of migrating thrushes
--pips, peeps and queerps!--headed for destinations only they know. Most of them Swainson's, but maybe a grey-cheeked in there, too. There were so many, calling unseen from horizon to horizon, just as the shivering light broke. We marvel at them, so brave! flying through the starry night, but they have a clearer idea where they are headed than do we, and they have the wings to go.
I don't know exactly what a prayer is.
I do know how to pay attention, how to fall down
into the grass, how to kneel down in the grass,
how to be idle and blessed, how to stroll through the fields,
which is what I have been doing all day.
Tell me, what else should I have done?
Doesn't everything die at last, and too soon?
Tell me, what is it you plan to do
with your one wild and precious life?