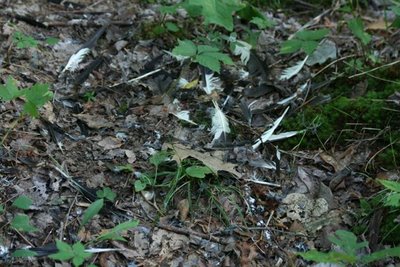 Toward evening, I happened on another thing you don't see every day. I've never seen it, in fact--evidence of a crime that is vanishingly rare, even in our birdy woods.
A big bird, black and white, met a violent end here. I can't imagine that pileated woodpeckers,
huge and wary as they are, very often become prey.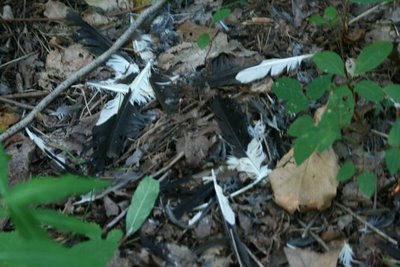 Blood sheaths on most of the wing and tail feathers indicate that the bird was in heavy molt, and probably a juvenile. The white areas have a faint lemon-yellow cast, something that I've seen on the only other dead pileated woodpecker I've seen--a roadkill.
My first hunch, that an owl was to blame, proved incorrect. When subduing and processing large prey, which can take many minutes or even hours, raptors generally relieve themselves a few times, and this one was no exception.
But instead of dropping its feces straight down in a puddle as an owl does, this raptor ejected them forcefully, creating a line of whitewash.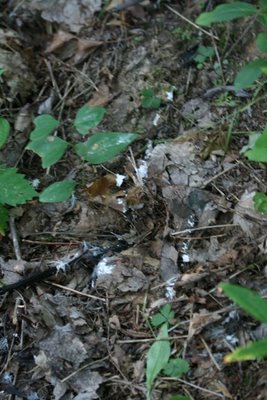 Lacking goshawks in southern Ohio, my best guess on the killer would be a Cooper's hawk, and if I had to hazard a guess as to its sex, I'd say it was a female, who'd be big and bold enough to tackle such outsized prey. Of course, an opportunistic red-tailed hawk might take a pass at a pileated woodpecker, too, so I can't rule that out. We have nesting redtails nearby, but no Cooper's hawks that I know of, and this happened in August, a bit early for the fall accipiter migration. I'd hoped to find perhaps a feather from the predator, since long struggles with big prey often knock a few of the hawk or owl's breast feathers loose, but the hawk left only its whitewash for me to puzzle over.
Hawk it was, though, and we are one pileated down from the brood that was raised on our land this summer. Though they were a daily fixture before, I haven't seen a juvenile pileated around the yard since finding this crime scene.
Today, I am blogging outside, sitting under the four Virginia pines we planted in 1992. They were tiny, only 8" tall, and now they're 20' or more, and almost as big around the middle as I am. I listen to the crickets and katydids, the chirrup and mutter of dozens of birds, and the slow kuk kuk kuk of a pileated woodpecker.
In other news, The Swinging Orangutangs gig on Friday night went wonderfully. We held down five hours of music with only three short breaks, and the sets flowed as freely as the beer at the Marietta Brewing Company. The place was packed until almost 2 AM; we started playing at 9 PM. I was so proud to be there with our band, working hard at having more fun than you could imagine. I was proud of our product, and the four long, intense rehearsals that it took to get back to gig readiness. We tackled and conquered the nitty details of arrangements and vocal parts and just exactly where the guitar solo comes in and how many times the guitar twangs before the riff...all the work that goes into making a tight band. We're like a five horse team, throwing our weight into the harness and pulling together. At one point during  "Burning Down the House" I turned around from the microphone and watched Andy's flying drumsticks and Clay's strong but nimble fingers, a blur on the bass strings; I looked over at Vinnie with his gorgeous sinewy leads on guitar; at Jess, filling the room with her keyboard and her flawless voice, and then over at Bill, fronting us all with strong and melodic guitar, voice and his unique, irreverent and hilarious personality, and I thought, yes, this is it, this is as good as it gets, that is my husband right there, and I am grateful to be here, standing on these sore old feet, sure of my own voice and ready to sing the frat boys, all young enough to be my sons, to bed.