Bill
, Phoebe, Liam, Chet Baker, Charlie and I were extremely pleased to play host to Tricia of
Trixie's View
, her mom Mary, and impossibly adorable five-year-old daughter Vivi this weekend. The allure of a Swinging Orangutangs gig proved too much for Tricia, and she, Mary and Vivi drove from Cincinnati, where she was visiting relatives, to attend. We're pretty sure that's the first and last time anyone's come from Alaska to hear the Orangutangs. Sure would have been nice to have the other Cinci area bloggrrls--but life intervenes. Bawww.
I'd had my head in a blender all week, having gotten back from Guatemala/Nebraska late Sunday, put in three super-intense rehearsals for the gig, unpacked, tackled correspondence, done laundry, bla bla bla bla. By the time the gig started at about 9 Saturday night I was pretty much fried crispy. But with the help of some MSG from Chinese takeout and a thermos of hot rooibos tea, we made our way through about 4 hours worth of material, about half of it brand new, with me marveling afresh at the skill and musicianship of the other Orangs.
Tricia (or Trixie, as we wound up calling her) was there for the whole gig, stayed until the last dog was hanged, yakked with our friends, danced up a storm, and just generally fit in beautifully. My sweet impulsive friend Martha made my night when I stopped to admire a grocery-store cymbidium orchid she'd bought to dress the party space up a bit...then sent her husband Tony out to buy me one just like it.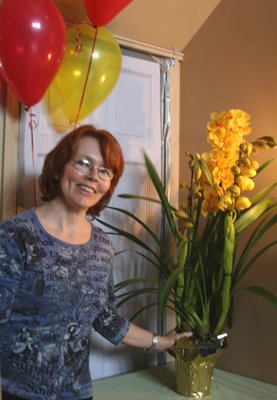 Ohhhh, yeah. I need a big cymbidium like I need another parrot, but it is ridiculously beautiful and lights up my living room! Thank you, Martha and Tony. You rock the hardest.
Let's see who kills hers first. My neighbor Beth rushed over and got one, too, and I alerted a couple of other master gardener/horticulturist friends to their presence, so I'm pretty sure they all found good homes. How anyone grows a 3' tall cymbidum with 50 flowers on it to sell at Kroger for $21.00 is a mystery to me. When I got mine home I ripped off the cheesy foil, plunked it into a tall, Asian-inspired green cachepot, and had something worthy of Smith and Hawken.
Sunday afternoon and evening, after loading and hauling our music equipment back from town, we all sat around the kitchen table watching Kid TV. Namely, a fashion show starring Vivi, Phoebe and Liam. Liam was dressed as Captain Underpants complete with flowing red cape and Cars undies, but he wouldn't let me post any of those photos. They are hilarious, but I must bow to his desire for privacy. Here he is as Venom, with Phoebe in pink and Vivi in Renaissance green. Nope, she couldn't be any cuter, or she might implode. Looks just like her mama.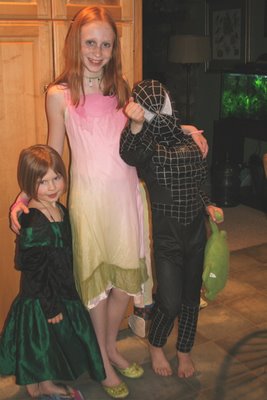 Not long after this photo was taken, a very small Spiderbaby appeared, striking muscular poses.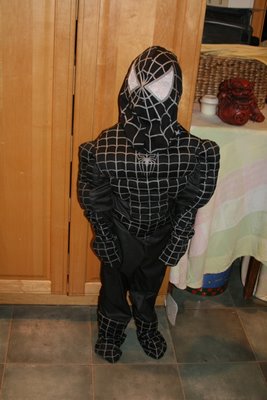 We laughed ourselves silly. Vivi ripped off the mask, Scooby-Doo style, to reveal her true identity. YAAAHHHH!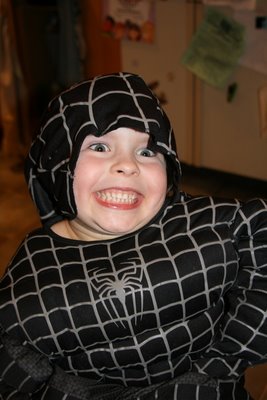 Stew was consumed, cornbread and fruit salad was consumed. Pie was consumed. Chet Baker begged shamelessly. He kept springing up into Tricia's lap, like a sudden kitty.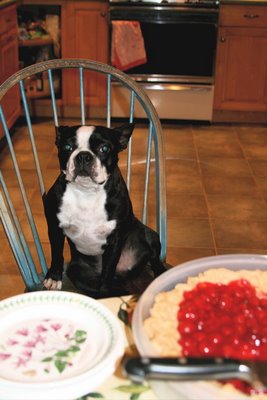 I hope you have put out eight plates. Portmeirion will be fine for me.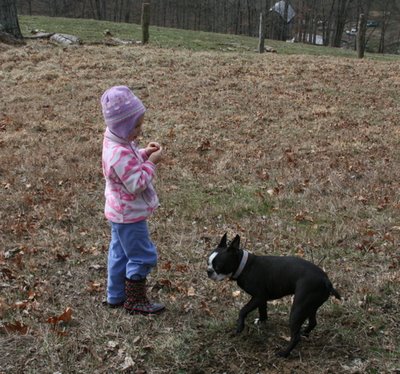 Today, we walked The Loop, still all bundled up against unaccustomed late March cold. It just will not warm up here. But we found the first tiny "Tete-a-tete" daffodil abloom in my south-facing garden, with some crocuses.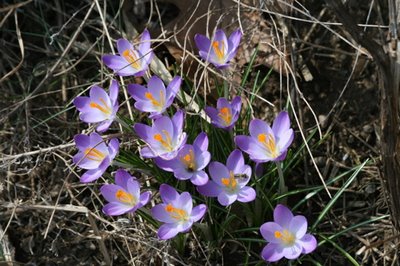 This, pathetically, is the only photo I got of Trixie, who is just as cute as Vivi, just grown up.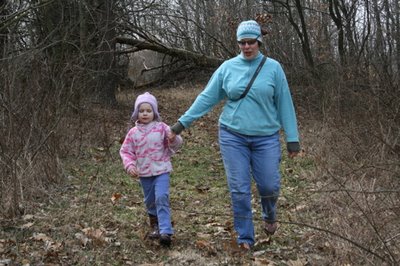 I apologized profusely for the drab weather and colorless woods, but we had fun anyway. I know Alaska has us all beat for scenery, and was wishing we could at least have offered up some warmth to thaw these snowbound Ohio expatriates. But I did manage to find some pileated woodpecker poo under a tree with fresh workings, and dissect it to show Vivi and Trix the carpenter ant bones and skulls in it. They liked that. Who wouldn't?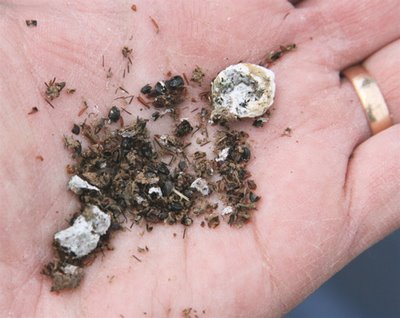 I'll leave you with the first mourning cloak of spring, a hibernator out for a brief bask in the sun March 14.
You can see from the slight wear on his forewings and tattered borders that he was born last year, and has spent the winter in a bark crevice. Another miracle. Happy St. Patrick's Day!