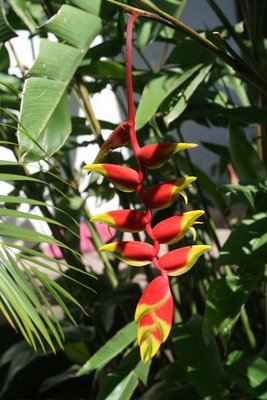 A native heliconia flower. When these are put in bouquets, they're usually inverted so they point up, but they look best hanging, I think. An enormous hummingbird called the violet sabrewing feeds at heliconias. I saw it for a shining moment, perfectly purple in the sun, its big wings beating so slowly I could discern individual beats.
I really don't know whether these Guatemala posts are up your collective alley or not. But I took something like 900 photos in four days, so you're going to get Guatemala on your plate, and by God, you're going to at least try it. Or maybe you'll sit back and wait for a Chet Baker post. Ah well...After minor diversions, we're back at Los Tarrales, the uber-cool horticultural farm/shade coffee/banana/flower plantation with fabulous habitat for ecotourism (and ecotourists!)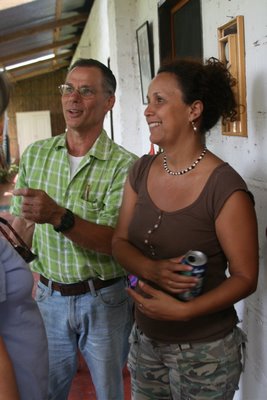 Tarrales is owned by Andy and Monica Burge. Andy's grandparents bought it about 80 years ago, and it's been in continuous family ownership ever since. A little village of about 300 people has grown within its bounds, many of them employed at the finca. Andy is kind of like the town's mayor/boss/landlord--a position that's probably as hard to describe as it is to fill. You couldn't find nicer people than the Burges, and Tarrales in many ways seems like a charmed place.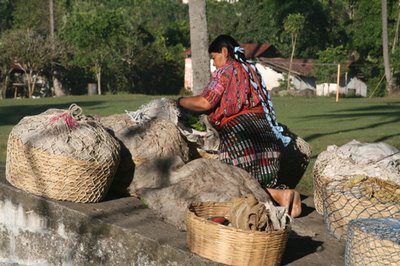 A Maya woman wraps and packs bananas for the market. These baskets will be carried in the traditional way, balanced on her head.
Other fruits abound. These are breadfruit leaves--enormous against the brilliant sky.
A gumbolimbo tree, outrageously shiny, muscular, otherworldly. I wanted to run my hands up and down it.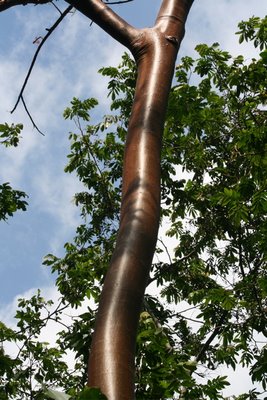 The juxtaposition of human habitation and wild second-growth habitat makes for some interesting images. I peek through a bamboo stockade to see a fine, fluffy chicken butt.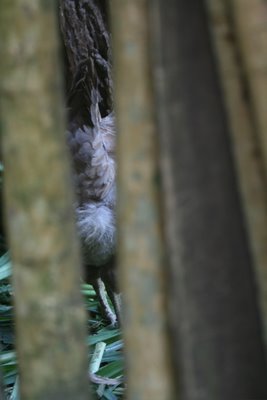 You'd better have a signed release from Henrietta, Missy. She's not going to like that photo one bit.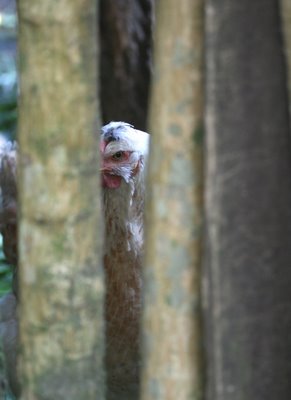 A few dozen yards away, a cinnamon hummingbird guards one of Tarrales' many feeders. Though they're kept clean and filled, they don't get much action, because there's a nasty lil' cinnamon hummingbird guarding each one. This gave me to wonder if rufous-colored plumage is warpaint to hummingbirds (in North America, rufous hummers are the feeder-guarding bullies!) We saw some fabulous nectivorous bats, species unknown, sneaking nectar from the feeders at night. We advised Andy to try grouping a bunch of feeders all together to foil the cinnamon bullies.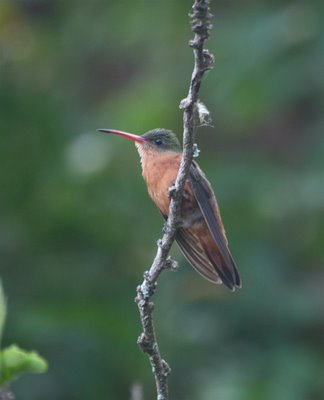 Just up a trail, a collared trogon called, jetting its tail up with each salvo of soft whoops.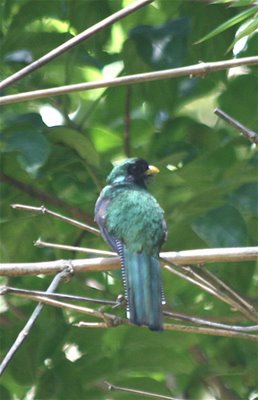 Check out the wing position. I love the Christmas colors of this outlandish bird. Trogons are among my favorite birds to draw, but I didn't get time to sketch on this trip. We were always going, moving on down the trail.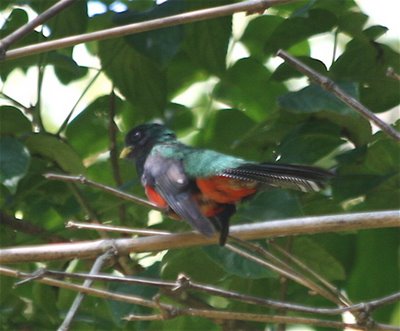 More Guatemala anon.