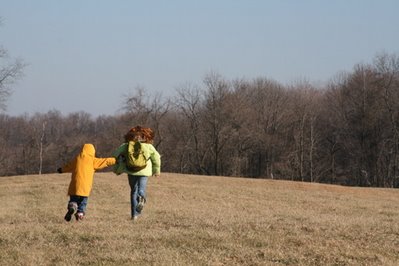 Walks with a destination: one of our favorites is a beaver dam on a county road to the east of our place. To reach it, we cross a wide, wide field. It's so nice to fall behind one's children, after so many years of patiently waiting for them to catch up. I've said elsewhere but it bears repeating: From the very start, I've told my children that I'm not strong enough to carry them. I started telling them this once they started walking on their own. I remember my first walk with little Phoebe toddling alongside. We went to the mailbox, a distance of perhaps 1/5 mile. "Boy, it's a good thing you learned how to walk like a big girl," I told her. "Because you were just about too heavy to carry any more." From that point on, she walked on her own two feet, and neither she nor Liam have ever had the option of being carried by me, unless they were hurt or asleep in the car. They take great pride in being troopers. I love to get them completely tired out.
The beaver dam is maybe a mile away, but it's fairly strenuous hiking, involving some climbs and descents. Oh, the reward once we're there! We get to see what they've done since our last visit. It's usually a considerable amount. On our first visit, this tree was almost all gnawed through.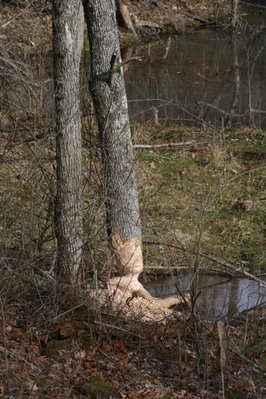 Only two days later, they'd dropped it into the pond.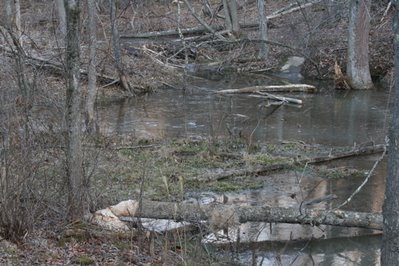 How I would have loved to see that! but I would imagine they fell trees at night. KerSPLASH! It would be interesting living near a beaver pond. The things you'd hear in the dark!
The beavers have cleared the blue-eyed heck out of the woods. They have rodent logging roads running up from the pond into what remains of the forest. This would probably be a good place to set a wildlife camera. Hmmmm.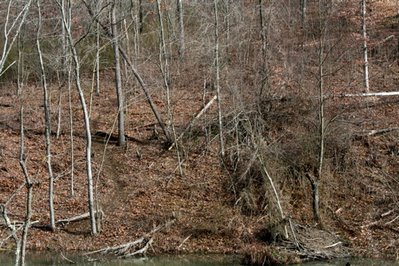 Here's the main dam for the big impoundment, quite an impressive piece of work: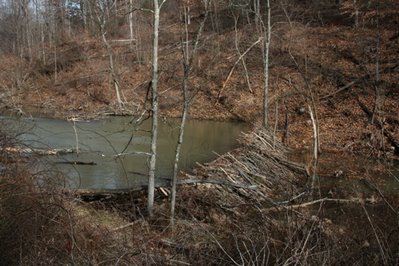 About 50' below that is a second impoundment, contained by this dam: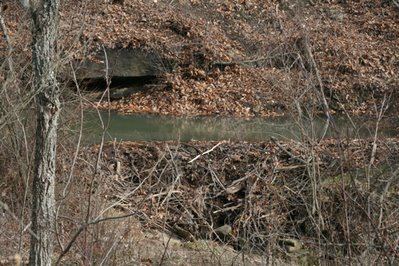 Below that, they've started to work on the hayfield, thinking to turn that into a long, shallow pond: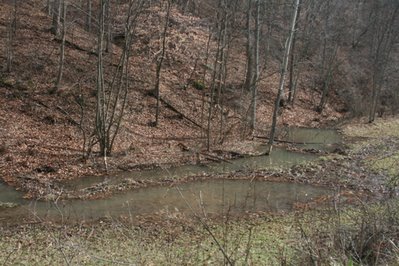 I'm not sure what their plan is here, but I'm fascinated by these long, curving earthworks they're building in the low wet meadow. I can't wait to see what it all pans out into, especially as the spring rains come on.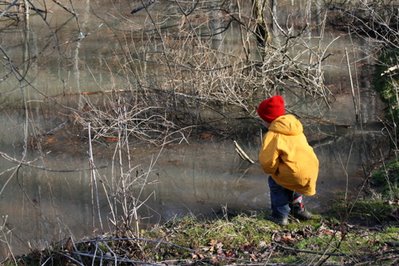 A beaver pond. What a perfect place for a boy to dream. I hope he's still coming here when he's sixteen.