One of my favorite images from Los Tarrales: a toddler-sized chicken with a chicken-sized toddler.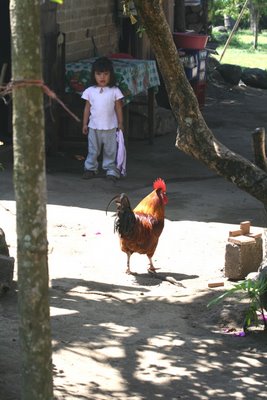 Los Tarrales is a place where an ecoutorist can feel at home, as if she is contributing something of value to a vital, functioning establishment which gracefully balances tourism with sustainable agriculture. A family goes to work in the morning, to cut flowers or hack away weeds with their machetes. They pass me, going out to watch birds. I remind myself that watching birds is part of my work. The baby has tiny diamond earrings.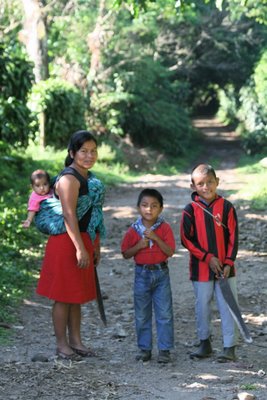 Eddie, whose older brother Josue showed us many elusive birds, arranges some freshly cut heliconias. It was hard to sneak up on Eddie; he's just as sharp as Josue.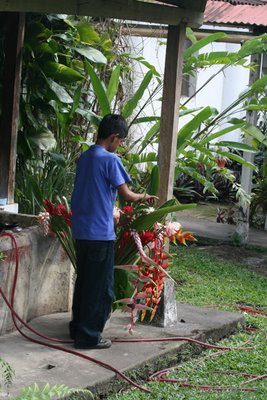 Hearing my camera, he gives me a shy smile.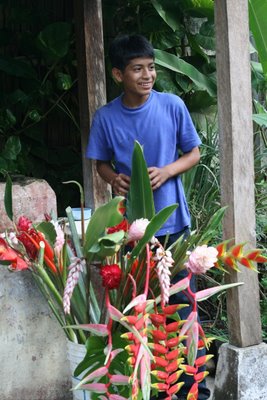 I look at the riches in the joint compound bucket, and know that a hotel in Boston or New York would willingly pay hundreds of dollars for such a bouquet of heliconias and gingers, if one could be had.
Just down the road, a white-tailed deer steps lightly across the path.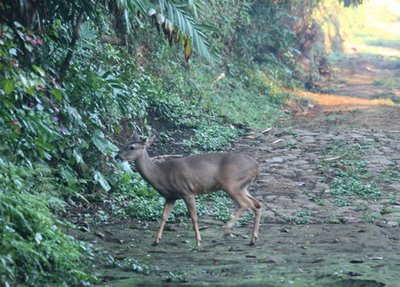 A Maya woman packs bananas for shipment, overlooking the playing fields that serve as a gathering place for Tarrales' residents.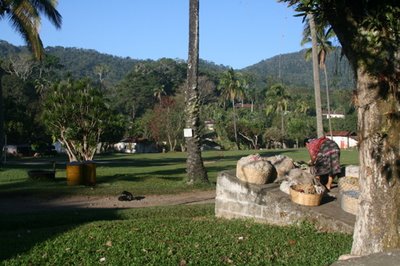 Cinnamon hummingbirds hover around a luminscent vine, its color shivering in the shadows.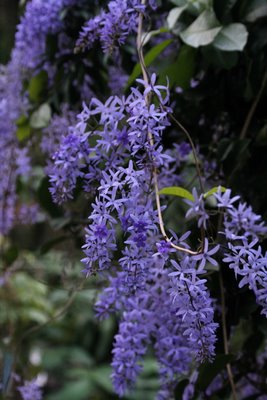 Petrea volubilis
, Queen's Wreath (Verbenaceae). The true flowers are darker blue; the calyxes are persistent, and extend the apparent bloom time by hanging on. Thanks to Liz Gordon for the ID!
A passionflower glows like a hot coal as it clambers over a fence.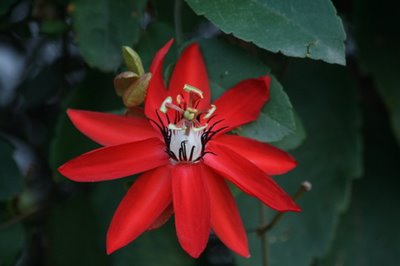 The rooster's comb is almost as bright.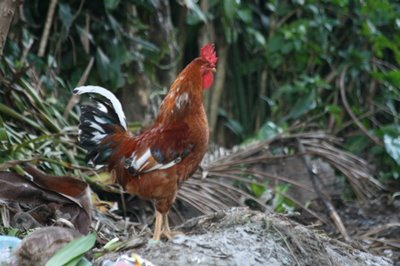 He flaps, to show me that he is king of the rubbish dump.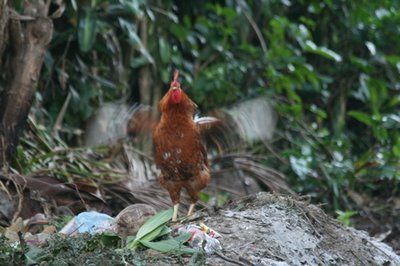 Volcan Atitlan hovers over it all. I look at its slopes, knowing that horned guans clamber in the highest reaches of the forest. Having given its rich ash to the farm fields of Los Tarrales, it is silent, for now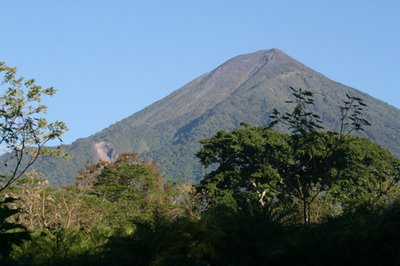 while an unquiet neighbor to the east lets off a belch of smoke to start the day.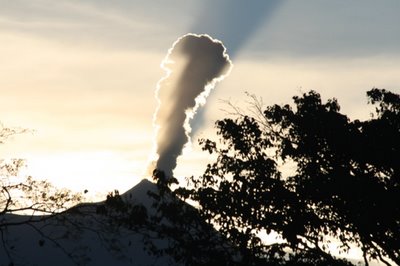 These are some of my favorite images from an enchanted three days at Los Tarrales in Guatemala. Please, consider going there, too, for an ecotourism experience that excites, then calms the soul.