As a manakin fan from way back, one of the tremendous attractions of Los Tarrales is its population of long-tailed manakins,
Chiroxiphia linearis
. These odd, impossibly cute little birds are part of a family distinguished by outrageous breeding displays (remember the
moonwalking red-capped manakin?)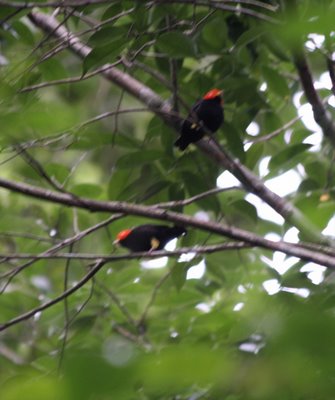 Here are a couple of photos from Tikal, last year, of red-capped manakins dancing. Gotta love those yellow leggings!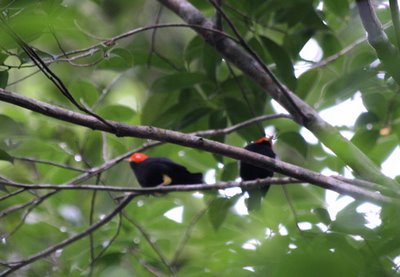 Well, long-tailed manakins have a similarly captivating dance, in which two males cartwheel over each other's backs, boinging up into the air like popcorn, making a kind of wheel of blue, black and red on a horizontal branch deep in the forest. You can watch a
video of it here.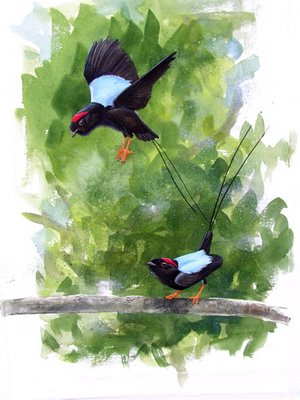 This is my painting of the dance.
Since college, when I spent a great amount of time writing papers that compared the courtship displays of manakins (without ever seeing one!), I've dreamt of spending quality time with manakins. I'd had lousy looks at long-tailed manakins in Costa Rica, and some pretty satisfying experiences watching red-capped manakins both there and in Guatemala. So when Jeff, Liz and Lisa announced their plan to climb Volcan Atitlan to try to see horned guan (
did that two years ago
, didn't want to do it again),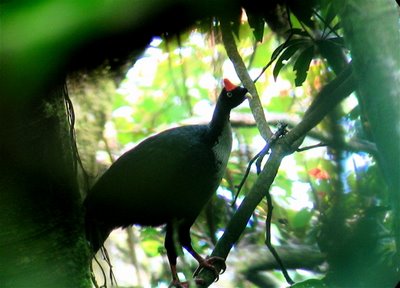 I decided to spend a day with long-tailed manakins. I have to say it was my favorite day in Guatemala, because I like to be alone with birds, and like most artists I crave unstructured time, the chance to soak up a habitat, to hear my own thoughts, to get some feel for what it's like to be a manakin. Dang, I'm glad I have climbed to see the guan though. That is a bird what am a bird.
Manakins are very long-lived birds, and males take at least three years to come into full breeding plumage. Think about it--how many other small passerines stay in immature plumage that long? We're used to such intervals with raptors and gulls, but they're very unusual in tiny birds. This hints at their interesting social system. The plumage of manakins holds many hints to their age, sex and social status. The basic female plumage is an odd, deep bronzy olive. She has elongated central tail feathers, but no red on the head. This is the only female long-tailed manakin I saw all day.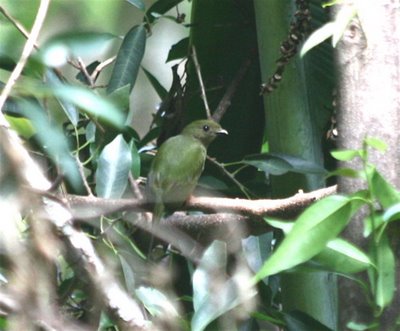 The plumage of young males is similar, except that they show longer central tail feathers and varying amounts of black and red on the head, eventually sporting blue on the back.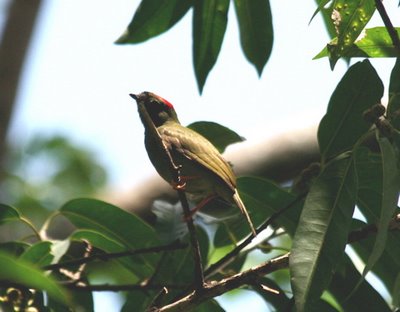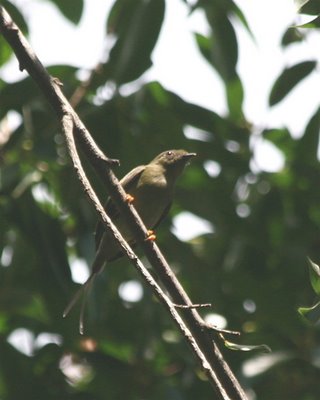 Even once male manakins attain full breeding plumage, the longer they live, the longer their tail feathers grow. So there is a continuum of social signals encoded in the birds' plumage.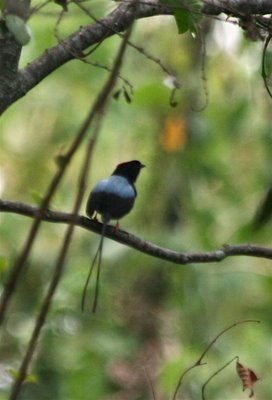 An adult male long-tailed manakin in full breeding plumage. Two words: Just Adorable. Portly, colorful, lively, noisy; just what the doctor ordered for a mind and spirit dulled by the most endless of winters.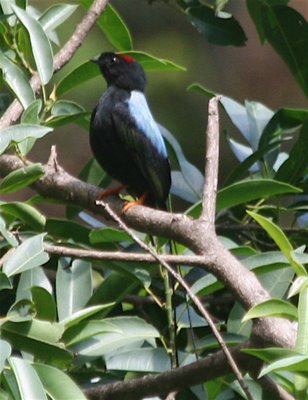 Part of the key to why manakins behave as they do lies in what they eat. They are frugivorous, taking mostly fruit with some insects. They leap and hover, plucking small fruits (they favor lauraceous, or fig, fruits) and insects from branches and leaves. A wide, flat bill and large gape enable them to swallow some pretty outsized fruits. I Can Has Figburger.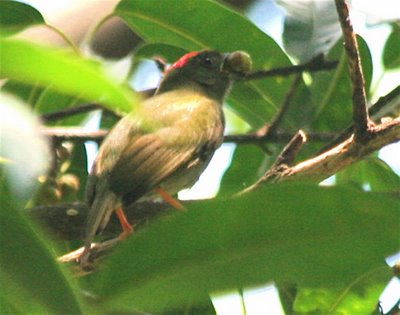 Because their fruit food tends to be abundant and patchily distributed, manakins benefit by hanging out together in loose little flocks. They can all descend on a tree they know to be fruiting without worrying about competing with each other for food. When breeding time comes, long-tailed manakins display together (see the video link, above) in a lek formation, which means that several males get together, partner up, and display within sight or earshot of each other. Female manakins are free to visit the lek and choose which male to mate with based on the splendor of his display. When males display together, this raises all sorts of interesting questions. Which of the partners gets to mate? The older one? The one who dances most vigorously? And where do immature males fit into the picture? It's all up to the females. Ladies' choice. No monogamy, no pairing up; just a quick visit to check out the hombres, pick the best one, mate, and then here comes Ms. Manakin with a baby carriage.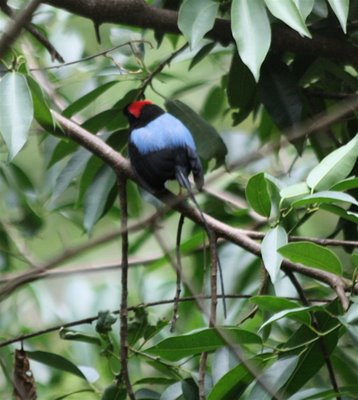 Wearing his sky-blue cape, a manakin shows off his bifurcated crest. Check out the length of his tail! He may well be dominant to a shorter-tailed bird, and more likely to pass his genes along.
Because there are so many egg predators in tropical forests, the female manakin lays only two eggs a year, in a shallow cup suspended by its rim from a horizontal fork of a limb at about eye level in the understory. She builds the nest, incubates the eggs and raises the young all by herself. A gaudy male would be no help in such a predator-rich setting. It may take a female her entire 20-year-plus lifespan to replace herself; it may take a young male manakin years of understudy at the lek to attain his right to mate. This is part of what's so fascinating about tropical birds; they often operate on entirely different time frames and feeding regimes, with much higher site fidelity, than our more fecund, ephemeral, migratory temperate birds.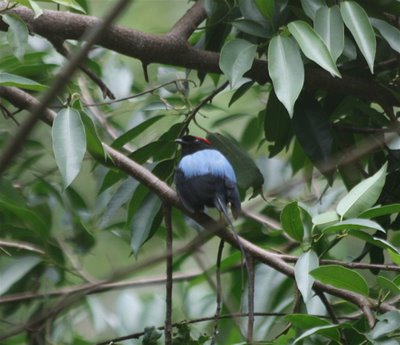 All these questions and more swirled about my head as I spent the day watching and photographing long-tailed manakins. As I prepared to leave, the nasal
nyaaaah!
and hauntingly rich whistle--
t0-LE-do!
of displaying long-tailed manakins chimed from a brushy hillside above me. It was impossible to see more than a glimpse of the dancing birds, but knowing they were dancing, finally hearing the song I'd read about for years, filled me with joy. The air was warm, bird song rang out all around me, a few blackflies buzzed, and I stayed and listened and smiled, immersed in the peace of being among wild things.
Have a lovely Easter. I've been in town all afternoon, being a bunny.