Most of our walks this winter have started sunny and ended cold and cloudy, like some of our days. Day after day, it dawns gray and freezing. I raise the blind, sigh, "Just another day in Paradise!" and start my day anyway. Boy. Am I ready for spring. This feeling seems not to be mutual.
On the way back from one such walk, I snapped some pictures of Chet Baker in his groovy red sweater. I like the way the sweater gives a punctuation mark to the winter scene. The acrylic yarn actually seems to flouresce in low light. Thank you, Sue, for your knitting artistry. Your art has kept Chet warm on many an adventure.
Baker usually starts a long walk by lightening his load. Poor dog. Can't escape the paparrazzi.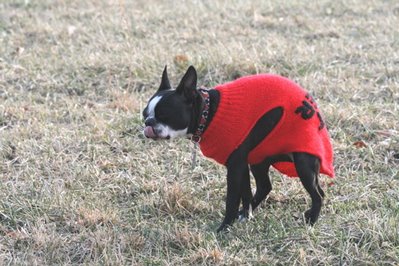 There was so much to investigate, like this little Pooh Corner style house. We lifted the bin with a bit of trepidation, though not as much as we'd have felt in copperhead season, and decided it was home to an upscale chipmunk.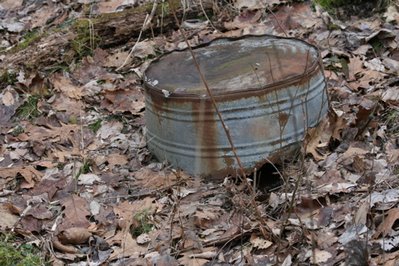 Baker can't pass this tree without walking the plank.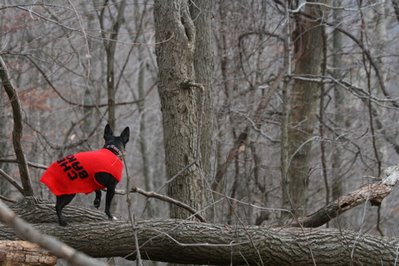 Which is no small thing, once he gets to the place where it broke off.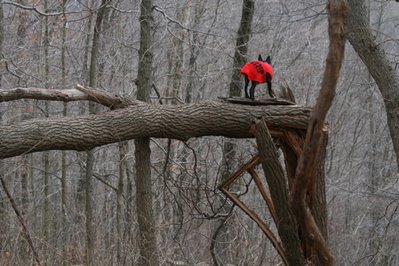 I always hold my breath until he turns around and comes back. But I like watching someone, be it dog or child, explore his potential without too much nattering or nagging from me.
Coyote. I know it. I don't much like coyotes.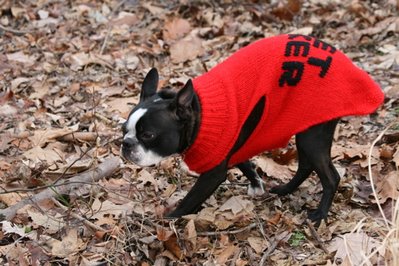 Chet in the shadow of a hill, looking into sunlit woods.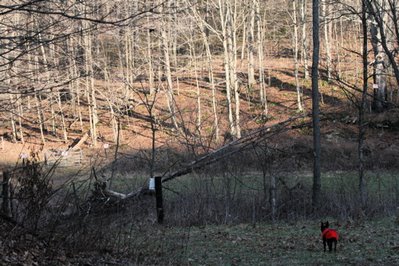 We start for home, up the twisting road. We've never met a car on this township road. When we hear one, we melt into the woods.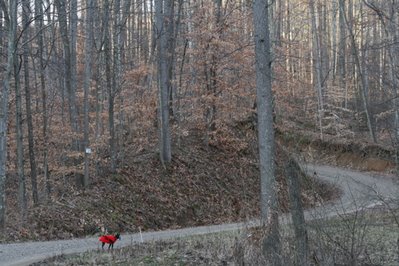 Are you coming, Mether?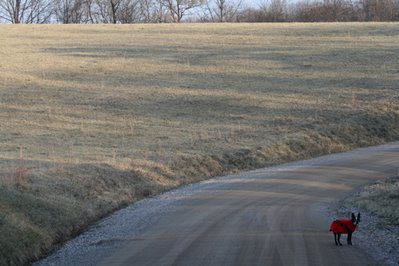 Last hill toward home.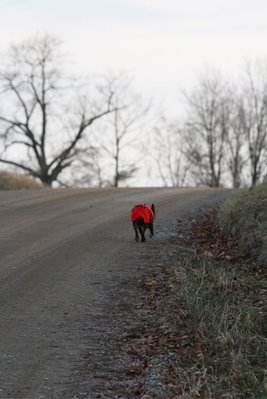 The big oak looms.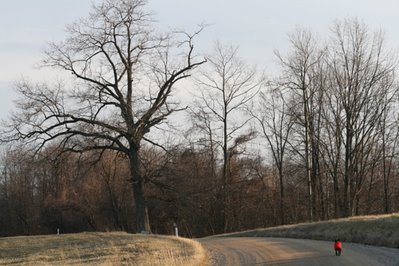 Little dog, home.
I'm posting this from Nebraska, where Bill and I will be performing music at Bluebirds Across Nebraska's hosting of the North American Bluebird Society's meeting. It's being held in conjunction with the Rivers and Wildlife Festival at the Rowe Sanctuary near Kearney, Nebraska. We literally blew in from Guatemala at midnight last night, to be greeted by a whirling blizzard and single digit-degrees. Somehow, that's just what we'd expected, so it wasn't a shock, except for my sockless ankles in cropped pants. We just gave back-to-back seminars and are due to play music in a couple of hours. Much scurrying around after rental guitar, cords, microphones, lyrics, scribbled set lists. Why anybody would want to hear a couple of people who have been sitting on airplanes for 20 hours try to sing is beyond me. We'll give it the ol' college try.
It's beautiful here, though; the air is thick with snow geese and cranes, and we're looking forward to seeing some tomorrow, after a few hours of that thing we fondly remember as sleep.
I notice that my blog elf, who was supposed to post while I was gone, seems to be sleeping. Sorry about the hiatus. I'll try to make up for it over the weekend.