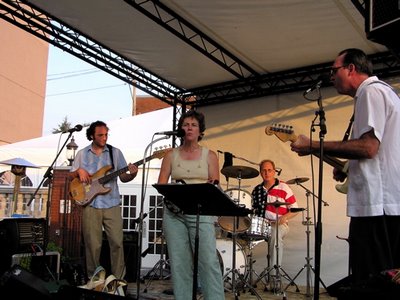 We started in daylight, mellow and soft, and slowly built in intensity as the night came on. We like dancing in the dark.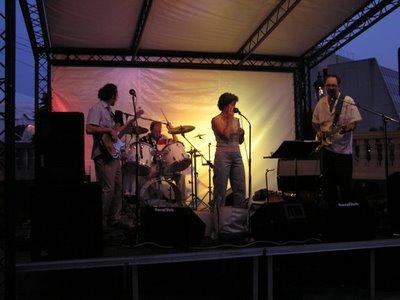 Such a weekend! The Swinging Orangutangs returned to active duty on July 1 at the historic Blennerhassett Hotel in Parkersburg, WV. I can't imagine a more ideal venue. In summer, we're outside on a real stage--like a tiny Woodstock. Nighthawks and chimney swifts beep and twitter overhead. People sit outside, eating good food and drinking real drinks. Any smoke wafts away on the humid night air.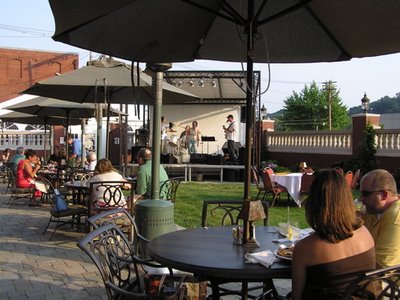 You can get about any kind of martini there you might want. And we play from 7:30 until 10:00--humane hours for musicians and patrons alike. When you look at the alternative: playing on the floor in a cacaphonous, smoke-filled bar, starting at 10 and going until 2 AM, dodging fratboys who keep falling over the monitors, shouting out requests and knocking mike stands into your teeth (all of which we've done to surfeit), playing the Blennerhassett is like dancing on clouds of cotton candy.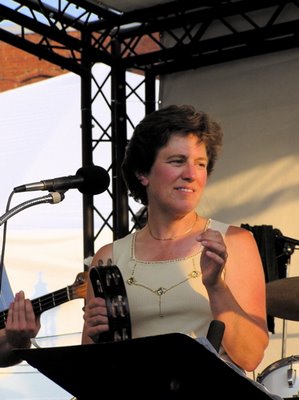 I owe all these pictures to our wondrous and beloved friend Shila Wilson, who took our cameras and made hay with them all night. Thank you, Sheels!
It was hot as Hades when we started, the evening sun wringing sweat from all of us,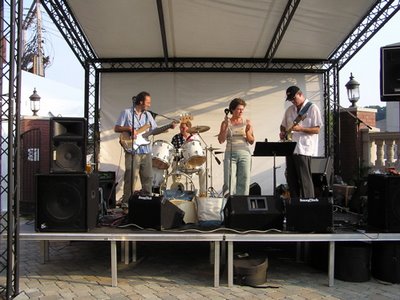 but bassist (and incredibly versatile keyboard player, singer, guitarist and sax player) Vincenzo Serafino Mele held it down. Only wish I had a picture of his dazzling smile.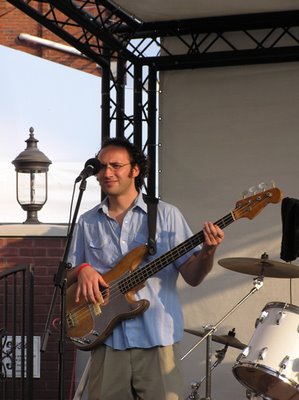 Steve McCarthy pounded the skins and occasionally made us all whirl around and laugh with delight at his inventive fills. He's much more fun than Shila's elegant portrait might suggest.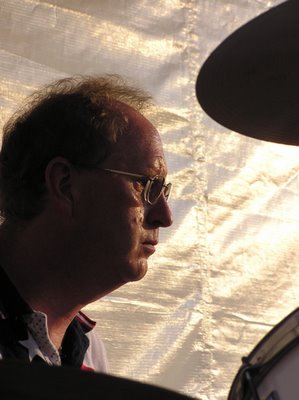 Bill's Uncle Bruce DeMoll, granddaddy of Mid-Ohio Valley music, veteran of the Glenn Miller Band, graced us with his artistry on saxophone.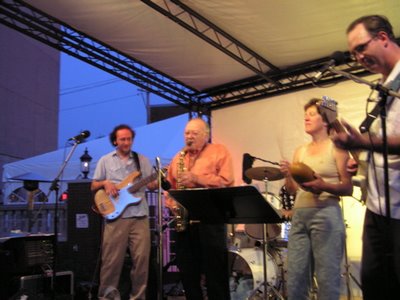 Doesn't matter if Bruce has ever heard the song. He'll play it into the stratosphere on the instrument of your choice. By the way, he was Vinnie's teacher! And the beat goes on. At this point, everyone was up and dancing barefoot on the grass. Musically, we had shucked our shoes off a long time ago. No pain!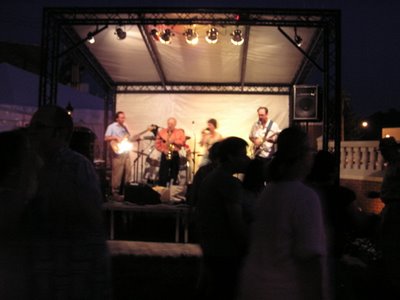 Bill was en fuego, as hot as the July sun. His Stratocaster "Creamy Delight," growled and echoed and purred.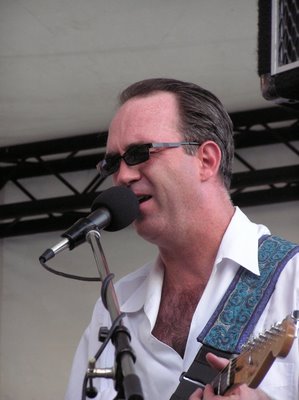 If there is anything better than playing music with your husband, than being able to lean over and give that guitar wizard a kiss after a particularly nice solo, I don't know what it is.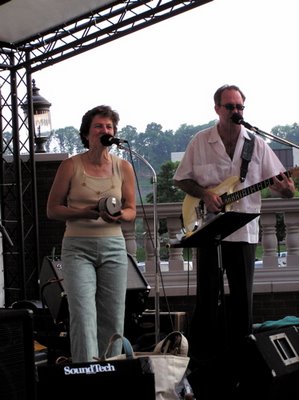 I am grateful to my bones to be part of this band. I love to sing, always have, and would probably be reduced to lurking around karaoke bars were it not for Bill's drive and commitment to keep our band a going concern over these past 14 years.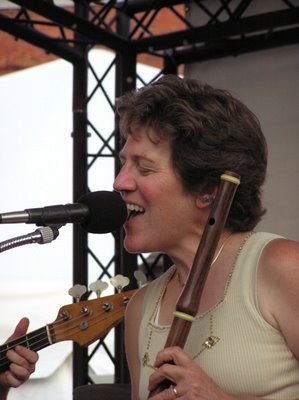 It's a lot of work--hauling equipment, setting up rehearsals, devoting four-hour chunks of time to learning new material and relearning old. We schlepp tons of music equipment in and out of our basement, haul it to the stage, set it up (speaking strictly for Bill here), load it in the van, and haul it back to the basement. We give weeknights and Saturdays to rehearsal. And the payoff for all that is pulling off a three or four-hour performance, and watching happy people dance on the lawn, taken to a different place by the music we are able to give them. Anyone who plays music on a professional or semi-professional level knows that the pay is hardly commensurate with the work. I hand fully half my take to the babysitter, who has been lounging on the couch most of the evening, as soon as I walk in the door. We don't do it for money. We do it for joy.
When the music ends and the loadout is finally over, we sit and stare over the empty chairs, happily exhausted, aswim in sweat and afterglow.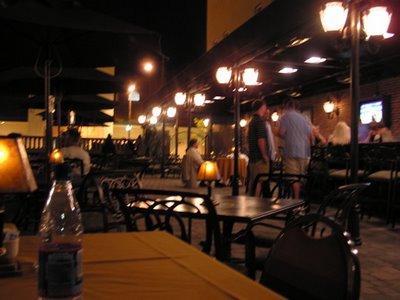 And I get to go home with that lead guitarist. Life is very, very good.