from afar, with little Will Salter, my grand-nephew. Here is a picture of Will with my mom, Ida, my beautiful, kind and lovely niece, Karen, and my sister Barbara. Since I was the youngest, Barbara was almost as much my mom as Mom was. I remember being crushed flat when she went to college. But oh! how I loved visiting her in her exotic, slightly wild college digs. I found her friends to be the most interesting people I'd ever met. They still are.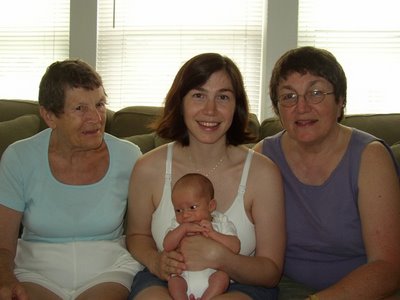 We must make our way to Rhode Island before Will develops Michelin rolls. How adorable is he? And Karen is a child development specialist by profession. And his daddy Jason is the sweetest doctor. And the only person on earth who loves babies more than Karen is his wildly delighted grandmom Barbara. Well, it's a dead heat between all of them. This is one lucky little boykin.
I have lots of baby bird pictures on my blog. This is only because baby humans are scarce in the greater metropolitan Whipple area. I for one am fresh out of them. The situation is no better in Dalzell, or Fifteen. Darn! So I shoots what I gots. Barbara sent these pictures. I suspect Jason is behind the camera, and deserves credit for their fabulosity.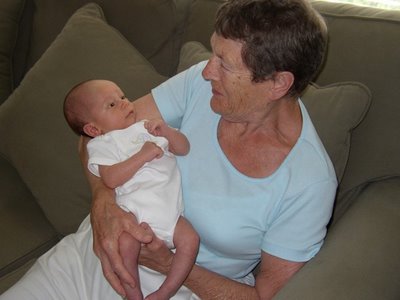 My sweet mom: still a natural brunette at 86. Will is checking her out with every immature neuron he's got. It's pretty obvious they're all firing. This baby probably got a perfect 10 on his APGAR test. Ida Zickefoose walks three miles each and every day. They call her Speedy at her independent living community. I hope to grow up to be an old lady just like her. Perfection, thy name is Will Salter.
Bill is home. I am complete, woozy with love and relief. Let the pre-prepared blog posts roll!