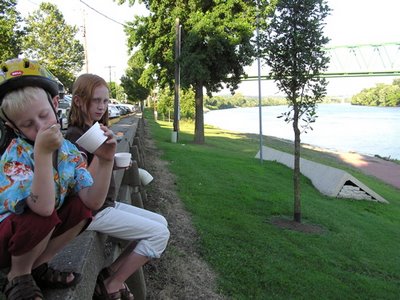 Today is Amelia Earhart's birthday. It is also mine. However I am here to celebrate and for that I'm thankful. The fun started last evening when Bill and I took Phoebe and Liam on the bike trail that winds along the Muskingum and Ohio rivers that back Marietta. The day was pellucid, clear, cool, just like today. We reveled in the breeze on our faces as we tooled along. We ended up at the levee, where there is an ice cream stand, and there is always flood debris to be turned into boats and pitched into the river.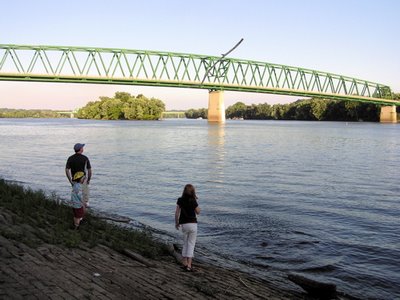 What a lovely town this is. If only the river would stay in its banks it would be perfect.
There is a mural of sorts at the levee. Dancing hot dogs, doing the mashed potato, or something. It seemed to need a live re-enactment.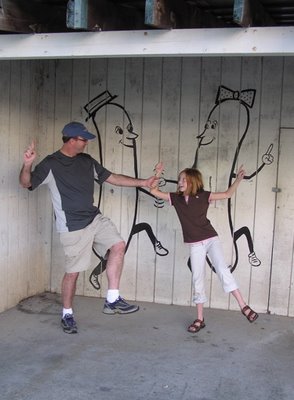 Phoebe took a picture of Bill and me dancing like weiners, but I'm not going to show you that one. I look like I've escaped from somewhere, the kind of place where they shave your head and dress you in white.
First birthday present: I saw a dog wearing shoes.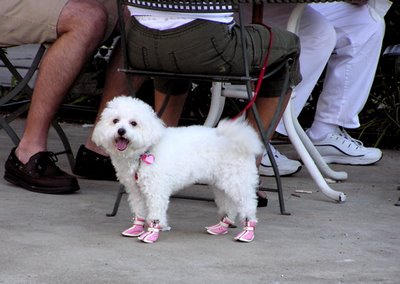 The dog seemed remarkably cheerful, despite the tappity tappity tappity noise it made whenever it moved. But I could see something in its eyes, something that told me it would one day turn on its owners and kill them in their sleep. I winked back at it and wished it good luck with its plot.
Today will be amazing. It already started auspiciously. I walked out the meadow to check on the formerly starving bluebirds, now 9 days old. Big present: The three remaining nestlings are looking skinny, but healthy.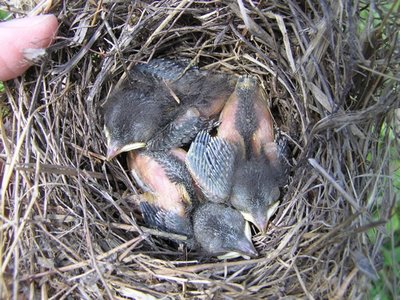 I changed the nest, which still had some blowflies and mites. I fed two of the young, who were just a little hungry. All the mealworms I'd put out yesterday were gone; they were also in the nest where they'd been dropped. And scolding and chittering from a nearby pine were their mother AND their father. I don't know where he was, or what he was doing, but he's back. Oh, glory hallelujah. I left them with clean kids, clean house, and food for the rest of the day. Their future looks bright.
Bill and I sat out this morning, watching birds. The first one to appear in the willow was a juvenile male cerulean warbler. Ahhhhh. They have a turquoise green that is theirs alone. Next was an
Empidonax
flycatcher who would definitely leave comments as "Anonymous" if he read blogs. Next was a yellow-breasted chat, feeding a baby so young it had virtually no yellow on its throat at all. Whee! Confirmed! And next was an exquisite summer tanager, a bird of the year, and I finally had my camera awake and ready to record the moment.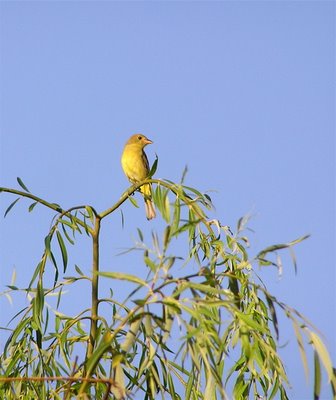 Happy birthday to me!
As if that weren't enough, BOTB has planned a terrific evening. The cocktail dress, dress shirt and tie, and shoes of Spanish leather will be deployed. Little does he know that all I want is right here.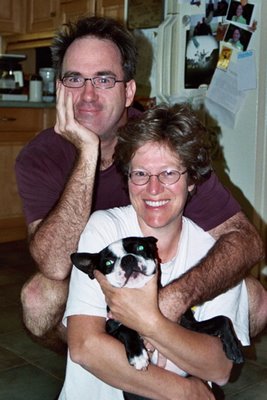 Photo by Lisa White.