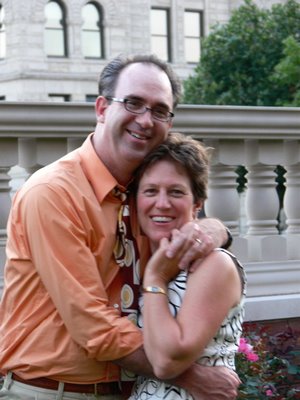 photo by Shila Wilson
Last night, Shila came over bearing two things. One was a big laeliocattleya that will, at some time to be determined, produce fragrant huge magenta blooms with blue throats. I can wait. Orchid people learn how to wait for gratification. We think it's part of the fun.
The other thing Shila brought was a disc with her photos from my party. I felt like a bride who just got her album. T0 have that evening and the slanting sun and the laughter and fun captured on a piece of plastic was magical. Shila is queen of the beau geste. And such a photographer.
Here we are, the birthday witches: Shila, me, Ali and Margaret.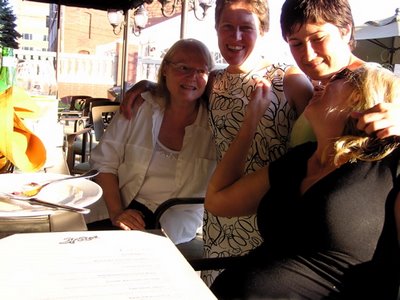 Here's Ali, laughing. I love this shot.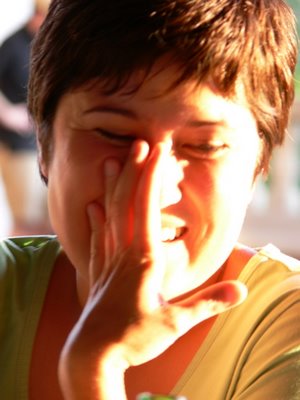 photo by Shila Wilson

The boys: Zane, Bill, and Matt.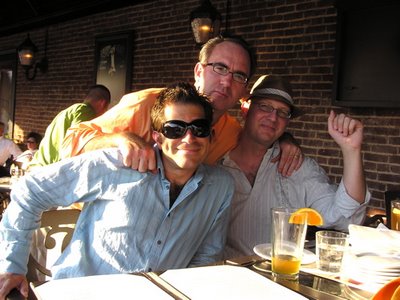 Margaret and Zane. Shila is there for the moment, as ever.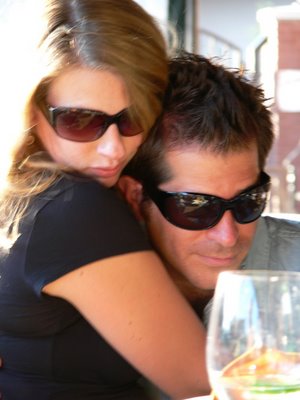 Bill, cracking up. He's wearing a tie that my father gave him, when Dad realized he wasn't going to need a whole lot of ties going forward. Talk about vintage; this thing is probably from the 1940's. You have to love somebody to wear a tie like that on a hot July afternoon.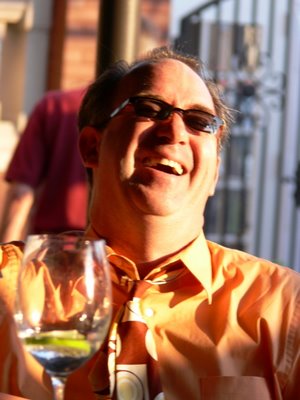 Shila Wilson, again
The evening sun was hot; we were all sweating, but it felt lovely. Summer is supposed to be hot.
I can really understand how people become barflies. You find a place that's just exactly right, and your friends go there, too, and it's such an escape from everyday life (which isn't saying that everyday life isn't wonderful; it's just full of things that you have to do, some of them dull). And before you know it, it's like Cheers, and you're there at the same corner of the bar every afternoon, having your martini or your beer...which can never happen to me, too much to do, too many other fun things vying for attention, too darned expensive and far from home...but I do understand how people turn into barflies, regulars.
The Blennerhassett Hotel is an island of sophistication and gentility, quality and attention to detail--live music, great food, perfect atmosphere. I know we can't do this every week; I know it's more a once-a-year thing, but thank you, B, for this little dose of true romance.