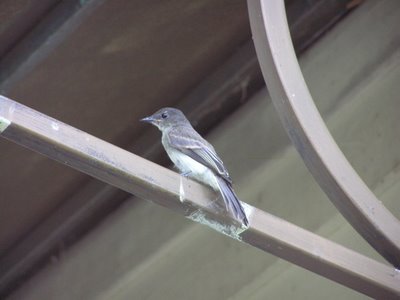 Luther checks out our front awning. He's all grown up. Note the rusty wingbars--hallmark of a juvenile eastern phoebe.
On the morning of July 24, I was sitting in the Air Chair, dangling and doing nothing but watching birds. A phoebe came to the nearby sycamore. I got out of the chair and called Luther's name. The bird flew out of the sycamore, straight toward me, then thought better of it and turned the flight into a loop, landing in a birch. I had time to see its cinnamon wingbars--sign of a juvenile phoebe. Again it came toward me, landed in the mulberry, and then flew off. It was my birthday, and that bird was Luther.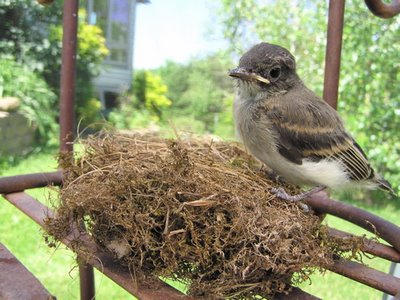 Luther on his first day in the tent, clinging to his old nest.
July 25, afternoon. Bill and Phoebe are out playing in the yard and grilling hamburgers. A phoebe landed on the wire over Phoebe's head. When she called Luther's name, the bird flew down at her, then landed on the wire again. Phoebe came running into the house, breathless. "LUTHER'S BACK!" she squealed. I came out, a dish of mealworms in my hand. The phoebe watched me. Through my binoculars I saw cinnamon wingbars again. It lingered, then flew up into the ash where Luther always sat in between feedings. Then it darted out, bill snapping, and caught an insect. No need to come down for mealworms.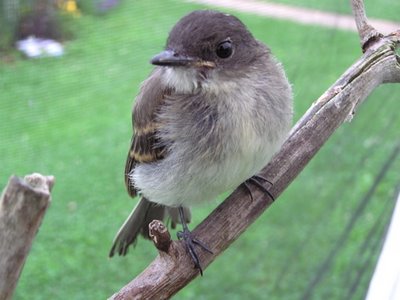 Luther has a knowing look, to this day. Here he is on June 27.
When my orphans come back to visit, it fills my heart. When they politely refuse food, I know they're on their own. Wildness overrides hunger. But they do come back to say hello, and that is a beautiful thing.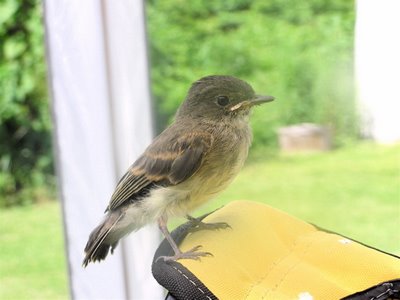 Hard to believe he ever looked like this. June 19.