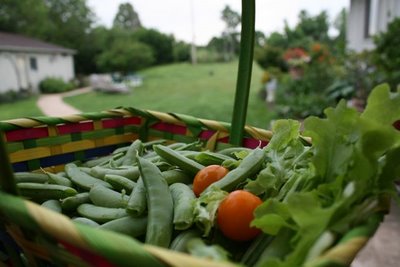 On a menu in Port of Spain, Trinidad recently, we saw an entrée called The Pleasures of Vegetables. I didn't order it, but probably should have. It's always hard to leave home in spring and summer, but it's especially hard when the sugar snap peas and green beans and tomatoes are in. Mid June is murder. We're always on the plane to North Dakota then, and usually with a few quart Ziplocs of our own snap peas to pass around between rows. I have to say they beat dry-roasted pilot pellets or those darn pretzel things as an airline snack.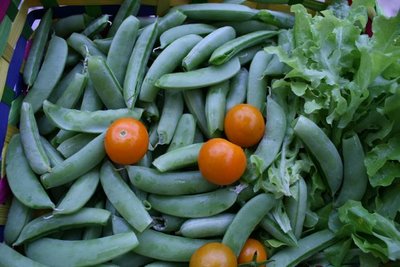 It was the best sugar snap pea year I can ever remember. The vines grew well above my head for the first time ever. We gorged. I almost got to the point of freezing some, but we managed to eat them all fresh. By the end of the season I was shelling them and even serving some in cream sauce.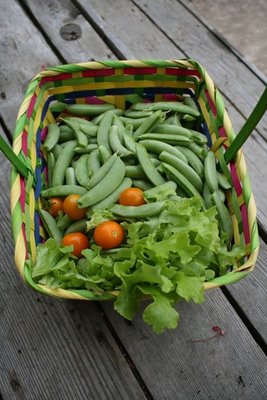 Durn good lettuce year too, but we weren't here for most of lettuce season. I bought seed labeled Buttercrunch and got oakleaf, grrr. I haven't found good Buttercrunch seed in years. I get this lame stuff that looks like Buttercrunch on the package, but lacks the buttery, convoluted texture and grows straight up like romaine. This year, oakleaf. Double grrrr.
I brought a big bag of our Sungold cherry tomatoes on the flight to Trinidad. This was the first year I ever had a tomato ripen in June! They taste best warmed by the sun, right out of the garden, but they tasted mighty fine thousands of feet up over the Caribbean, too.
I'm all for slow local food, the kind you grow yourself. Chet Baker loves green beans, but he much prefers them steamed and buttered, or sautéed with garlic. Like us, however, he prefers his sugar snap peas raw.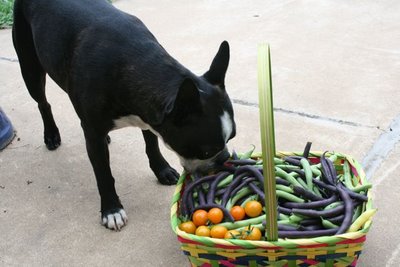 Here, I'm wallowing in the fruits of our garden (and the neighboring you-pick blueberry farm).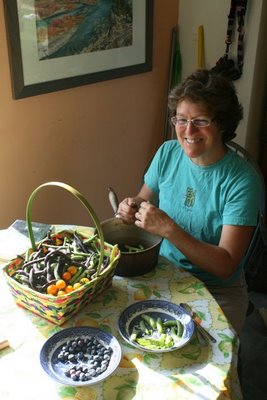 photo by Bill of the Birds
Snapping beans is one of my favorite activities—it's contemplative, productive, and mindless all at once.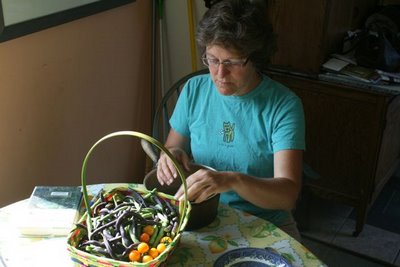 Photo by Bill of the Birds.
The old Wear Ever pot I'm using belonged to my mom. She used it to make popcorn, and I still do. The sound of the first kernels being dropped into it, of its wiggly-handled lid clapping on, will bring the kids and dog at a dead run, just like it did 40 years ago in a kitchen in Virginia. Different kids, different dog, same feeling of surprise and delight. Mom's making popcorn! My mom used to make enough to fill a turkey roasting pan half up, and then she'd sit on the couch with it on her lap and we'd all dive in. Sweet memories.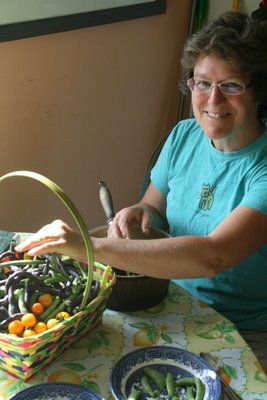 Here, you can cue the first soft piano notes of "A Summer Place."