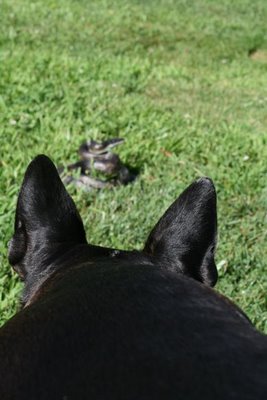 Not long ago, Bill was backing his van out of the garage in the morning when I heard him give a yell. ZICK! ZICK! It was his snake yell. I hoped it wasn't a big black rat snake hopelessly mashed in the garage door track again. Not going to talk about that time. I also hoped it wasn't another big snarly copperhead disappearing into a tangle of garden tools.
This time, he'd apparently nicked a big female black rat snake with a tire as he backed out. She'd been under the car, and there was no way he could have known she was there. Two eggs popped out. One was crushed, and the other was fine. So, strangely enough, was the female snake. I watched her carefully and could discern no injuries. She moved normally, slithering away, leaving her two leathery white eggs for me to deal with. I cleaned up the busted one and buried the other in a flower pot with dampish soil and a mix of sun and shade. You can always hope…It was such a beautiful snow-white package with its leathery shell. I had to believe there was a snake embryo in there that might hatch. So far, not so good. It's looking stained and dented and feeling kind of hard. Probably too much rain for it to develop properly.
Still, we worried about the female snake, and Bill asked me every day if I'd seen her again after she coiled up behind a garbage can to sulk. Finally, I could say yes. She was making her way across the lawn, fine as frog's hair, identifiable by her still-gravid belly and beautiful reddish cast.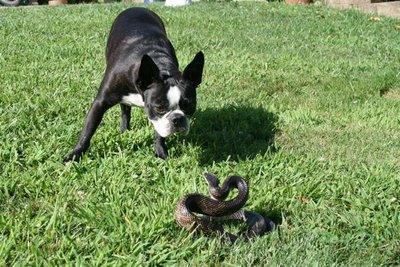 Chet Baker played Offisa Pupp, and went into full snake alert mode, circling and circling her 4 ½' length.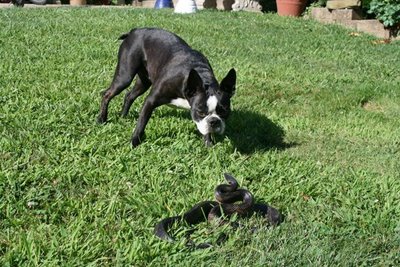 Black rat snakes are normally phlegmatic and cool, but this old girl puffed right up. It had been a rough week for her. You couldn't blame her for feeling put upon. First, they run over me, then they let their impertinent pooch niggle away at me.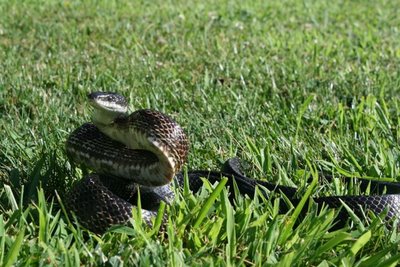 Careful, dog. I will bite you.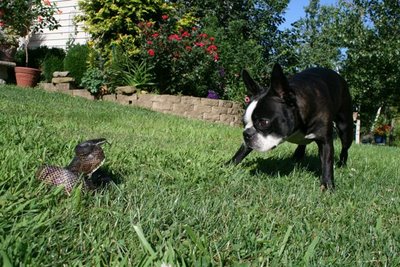 I know that, Mrs. Snake. I just want a sniff and a closer look.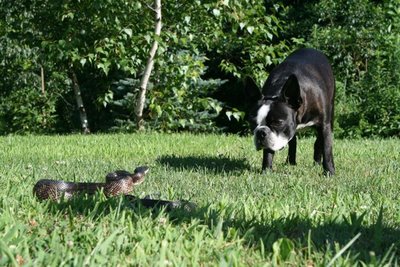 You do not have to worry about me. I am a gentleman, a well-mannered smallish dog, and only curious.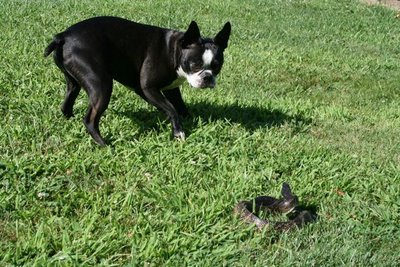 Well, go be curious with someone else. I will swivel to face you no matter how many times you circle me.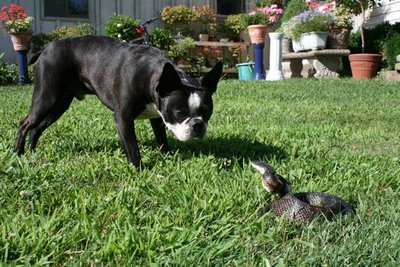 I am so curious. I want to touch you, but I am afraid of you, too.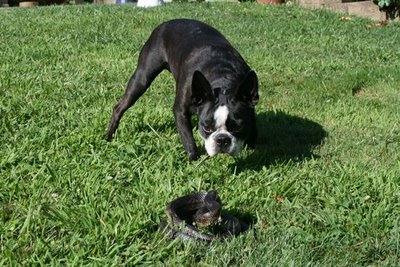 Go ahead. Come closer. Here are my little white teeth. If you want me to sink them into your muzzlepuffs or that shiny black jellybean nose, just keep it up.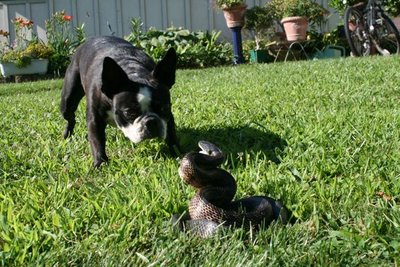 All right, Chet Baker. It's time to let Mama RatSnake go find a place to lay her eggs.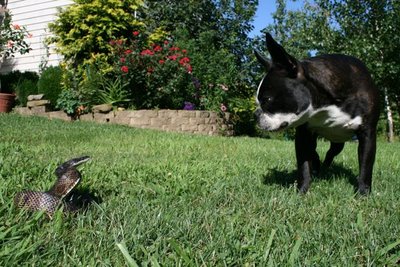 All right, Mether. I am a terrier, but I am only half a terrier. Since you asked, I will back off.
And she climbed the terrace wall and rested for a long time in the shade of a big purple coneflower, and for all I know she will leave the rest of her precious eggs there in the loose soil. And I was happy to know she was all right, and still had her babies inside her.
Sometime during the day on August 4, 2009, this blog had its one hundred thousandth unique visitor. I'd been keeping a desultory eye on the little counter at the bottom of the blog page as the unique visitor count crawled through the 90,000's, then forgot about it. It must have happened yesterday, because when I looked at 10:30 pm there had been 100,057 unique visitors since January 8, 2006. At 10: 37 pm there had been 100,087 visitors. Dang. That's a lot of people. I thought that was pretty cool, even if many of them are just clicking through and forgetting, to know that more than 100,000 people have been here, and 30 more in just seven minutes. And that some of you have come back again and again. And some of you have gotten Boston terriers, and some have put up bluebird boxes or tried growing orchids or identified a sleeping ball of feathers or stopped and wondered about an unknown animal dropping or just had fun you might not have had, if you hadn't been reading. Thanks, y'all. I've had fun, too. I think of the people I've come to know through this funny little medium and it makes my heart fill up and about beat through my ribs.